Miles of Antarctic ice are collapsing into the sea as scientists try to understand speed of change
Computer forecasts suggest parts of the frozen continent could break up rapidly by the end of this century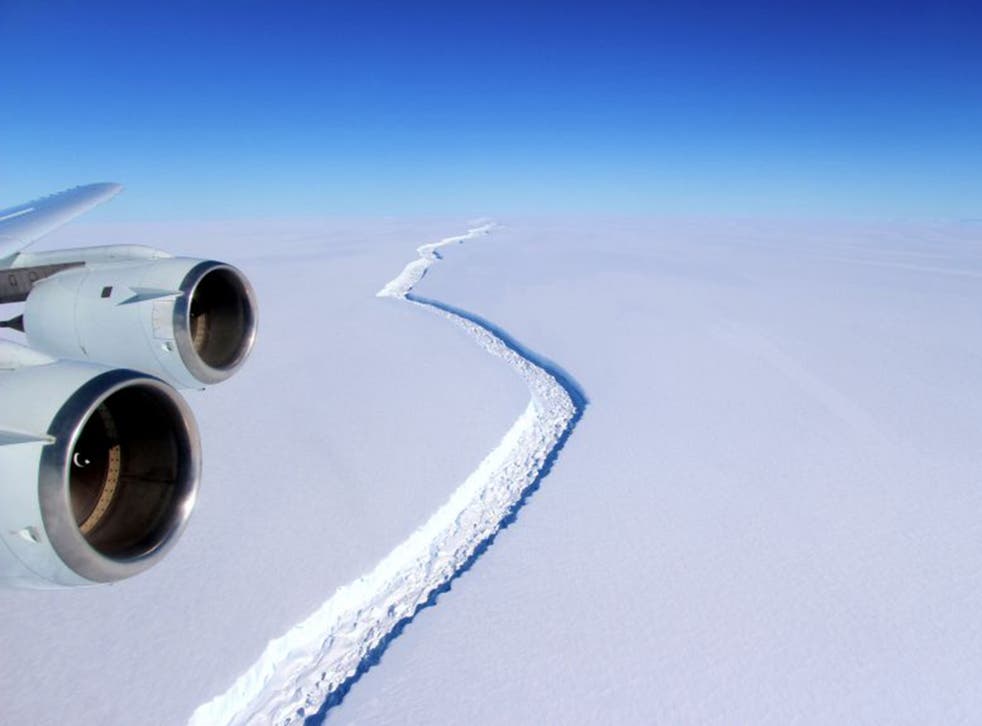 Miles of ice sheets in the Antarctic are collapsing into the sea in a trend that scientists fear may indicate the early stage of an unstoppable disintegration.
The collapse of the most vulnerable parts of the ice sheet would cause the rising of the sea level, threatening some of the world's biggest coastal cities such as Miami, New York, Mumbai and Shanghai.
While the melting of the ice cap is widely known, scientists are trying to gather information about the rate at which it is occurring.
Although the predictions are worrying, The New York Times reports scientists still lack information over the future trajectory of the climate in Antarctica.
Computer forecasts suggested that if emissions continue at this rate to warm up the atmosphere, parts of Antarctica could break up rapidly, which could see the ocean rise six feet or more by the end of this century.
This would be double the maximum increase that an international climate panel projected four years ago.
Robert M. DeConto of the University of Massachusetts, Amherst, told The New York Times the latest forecast "could be decades too fast, or decades too slow".
Since 1950, temperatures in the Antarctic Peninsula have risen by about half a degree Celsius each decade, which is much faster than the global average.
With the ocean getting warmer and speeding up the ice flow, American and British scientific agencies are now working together to get a better understanding of the rate of the collapse in the most vulnerable areas.
It could be years before this study brings a set of answers but urgent insight into the potential speed at which sea level could rise is crucial.
According to the US paper, scientists from Columbia University are now mapping the structure and depth of a specific ice shelf, a floating chunk of ice larger than California called Ross.
World news in pictures

Show all 50
Studying the shelf will help scientists gauge how vulnerable the shelf is to collapse and when this could happen but also to gather much-needed information on the flow of land ice from Antarctica into the ocean.
Some of the worst-case computer predictions forecast the collapse of the Ross shelf ice as early as the middle of the century.
But so far, the scientists do not know what could happen to the ice sheet and at what rate.
Part of the research is also to measure the role of climate change in weakening the ice sheet and how the warming of the surrounding seas could damage Antarctica.
Antarctica has not finished to surprise scientists. In the latest study, scientists found the frozen continent is turning green as rising temperatures have led to a dramatic growth of moss.
Register for free to continue reading
Registration is a free and easy way to support our truly independent journalism
By registering, you will also enjoy limited access to Premium articles, exclusive newsletters, commenting, and virtual events with our leading journalists
Already have an account? sign in
Register for free to continue reading
Registration is a free and easy way to support our truly independent journalism
By registering, you will also enjoy limited access to Premium articles, exclusive newsletters, commenting, and virtual events with our leading journalists
Already have an account? sign in
Join our new commenting forum
Join thought-provoking conversations, follow other Independent readers and see their replies