Mining giant's AGM under siege over rights abuses
Institutional investors in Vedanta echoed concerns of environmental activists outside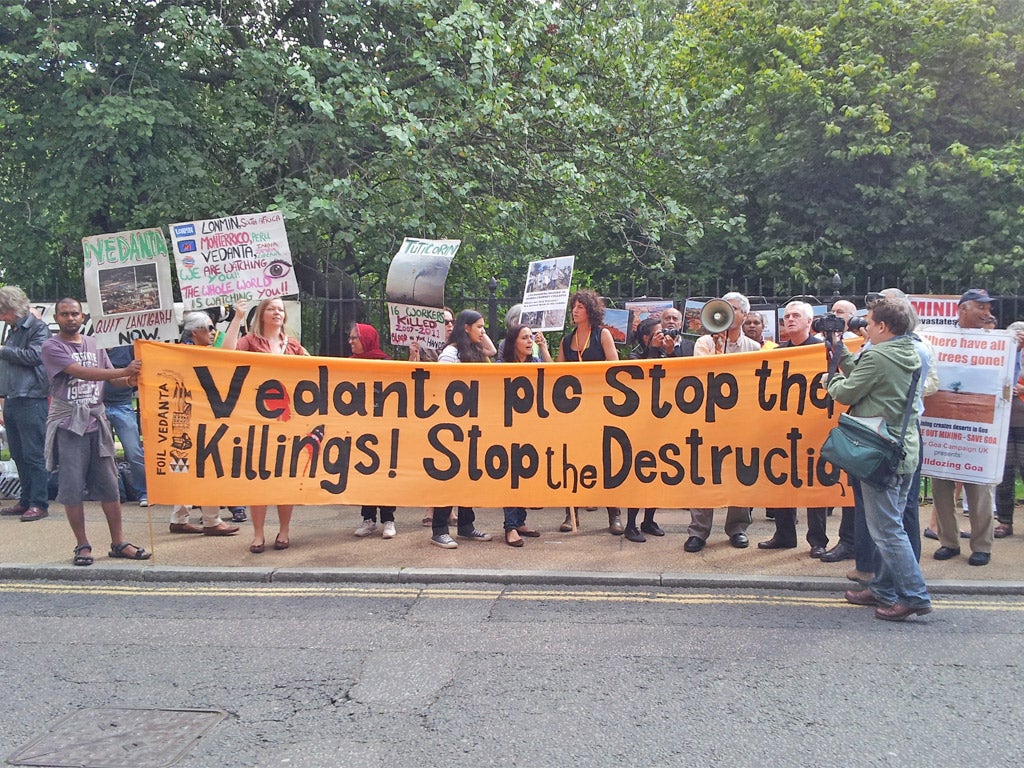 Vedanta Resources, the controversial London-based mining giant accused of serious abuses at its sites in India, came under sustained attack at its AGM yesterday as big institutional investors echoed the complaints of eco-activists demonstrating outside.
Protesters poured red paint on the steps and chanted angry slogans. They included Indians who had travelled from Goa and Tamil Nadu, where Vedanta iron ore and copper mines are blamed for causing toxic floods and other major pollution incidents.
From Zambia came villagers angry that a Vedanta mine there has all but killed off the local river. The issue that united protesters in years past, the company's plan to mine bauxite on the sacred Niyamgiri Hills in Orissa, is on hold, but complaints from Dongria Kondh villagers in the area, where the company has already built a bauxite refinery, continue to pour in.
The prominent human rights campaigner Bianca Jagger, who visited the area in 2010 and was present at yesterday's AGM, told The Independent, "The company has a terrible record on human rights and the environment but it is so deeply entrenched that it is difficult to change it."
When Ms Jagger repeated the charges during the meeting, Anil Agarwal, the former scrap metal dealer who founded the firm that has made him a billionaire, denied them and claimed the company took its environmental and human rights responsibilities seriously. Meanwhile the firm fired its own counter-attack over Niyamgiri, in the form of an investigation, published in tandem with the annual report, defending its activities around the Orissa mountains.
But if Vedanta has grown more skilful in containing the assaults of its environmentalist accusers, it could find the displeasure of the City more difficult to handle.
Representatives of institutional investors Aviva and Standard Life – both holding millions of Vedanta shares – stood up to question company policies including its commitment to sustainability and the appointment of a new non-executive director, Geoffrey Green, with no relevant experience. The non-executive director Naresh Chandra defended the appointment of Mr Green on account of his financial expertise.
Their comments indicate that, after nine years as a FTSE-100 company, Vedanta has entered new and possibly treacherous waters. Earlier this year, the former director general of the CBI, Richard Lambert remarked, "It never occurred to those of us who helped to launch the FTSE-100 index 27 years ago that one day it would be providing a cloak of respectability for companies that challenge the canons of corporate governance such as Vedanta."
Yesterday, outside the AGM, the Labour MP John McDonnell said the climate for companies such as Vedanta is becoming hostile, however healthy the bottom line. "After the exposure of the misbehaviour of banks that followed the crash, this is the next sector whose ethical practices are going to be looked at," he told The Independent. "Vedanta is a good example of the problems with mining companies, for their abuse of human rights as well as degradation of the environment."
A spokesman for Vedanta said: "We take any investor concerns extremely seriously and sustainability is at the absolute core of what Vedanta does. There has been a significant number of new sustainability policies introduced this year and Vedanta focuses on responsible stewardship, strong relationships and adding value. We expect all our employees to adhere to our sustainability framework. Vedanta development initiatives benefit three million people in areas such as healthcare and infrastructure."
Join our commenting forum
Join thought-provoking conversations, follow other Independent readers and see their replies