Coronavirus: Denmark culls 2.5 million mink amid outbreak on dozens of fur farms
Pandemic could threaten the country's industry, say export bosses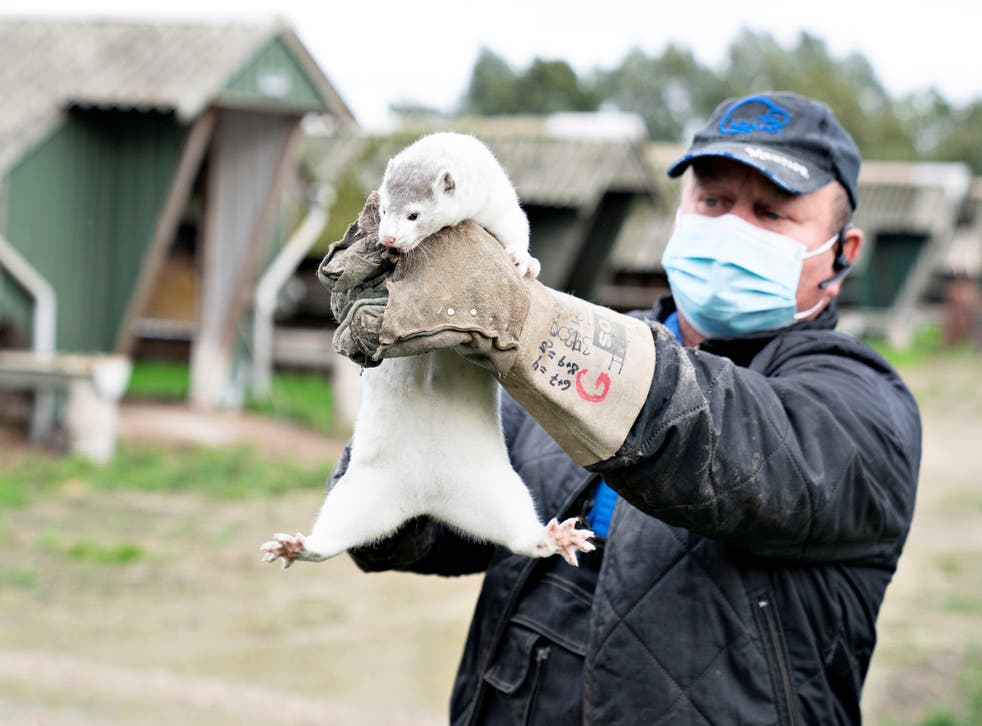 At least 2.5 million mink in Denmark, the world's second-biggest producer of the animal fur, will be culled because they are infected with coronavirus.
Fur bosses say the outbreak, reported in at least 63 farms, could threaten the country's industry.
Since the summer, tens of thousands of mink have died or been culled on fur farms in the US and elsewhere in Europe after the disease spread rapidly.
In Denmark, farmers and vets are culling animals on infected farms, while breeders who have clean animals on a farm within five miles of an infected farm must put them down themselves, government officials say.
Scientists are investigating how the mink became infected and whether they can spread it to people, but in the US it is believed the animals caught the virus from infected workers.
The coronavirus pandemic could "threaten the entire profession", said Tage Pedersen, chairman of Danish Fur Breeders' Association. "All breeders are right now in a huge amount of uncertainty and frustration over this 'meteor' that has fallen on our heads."
Denmark produces an estimated 17 million furs per year. Kopenhagen Fur, a cooperative of 1,500 Danish breeders, accounts for 40 per cent of global mink production. Most of its exports go to China and Hong Kong.
The country is second only to China in the number of mink farmed for their fur, according to Humane Society International.
A Danish government spokesperson said the culling, which started in the village of Gjoel, in the north of the country, could last months, depending on the spread of the virus. There were no immediate figures on how many animals have already been killed.
On Friday, one mink farmer refused to let authorities enter his farm to cull the animals and a padlock had to be cut, a police spokesperson said. At the weekend, a handful of protesters were removed outside two mink farms, he added.
The government says breeders with non-infected mink will be given 100 per cent compensation, while those with infected animals will receive less as an incentive for farmers to keep the infection out of their stock.
Four months ago, 11,000 mink were culled in Denmark's first outbreak on fur farms.
In August, the Netherlands brought forward the mandatory end of mink farming by three years to next year, after a number of coronavirus infections at fur farms.
In the past three months, 10,000 mink have died at fur farms in the US after a series of coronavirus outbreaks. At least 8,000 of the animals were culled in Utah, and 2,000 died from the coronavirus at a Wisconsin farm. 
In Spain, more than 92,000 mink were slaughtered after about 90 per cent of them contracted coronavirus.
In Poland, the world's third-largest mink fur exporter, the ruling right-wing coalition and the opposition are deeply divided over a new law that would ban fur farms. Opponents say the law will destroy the livelihoods of hundreds of fur farmers.
Joanna Swabe, of Humane Society International, said: "In addition to fur factory farming being inherently cruel, the potential for zoonotic disease spread, and for mink fur farms in particular to act as reservoirs for coronaviruses, incubating pathogens transmissible to humans, is an unavoidably compelling reason for the world to call time on fur farming."    
Join our new commenting forum
Join thought-provoking conversations, follow other Independent readers and see their replies