Monsanto chief admits 'hubris' is to blame for public fears over GM
Monsanto CEO : 'We never thought about our place in the food chain'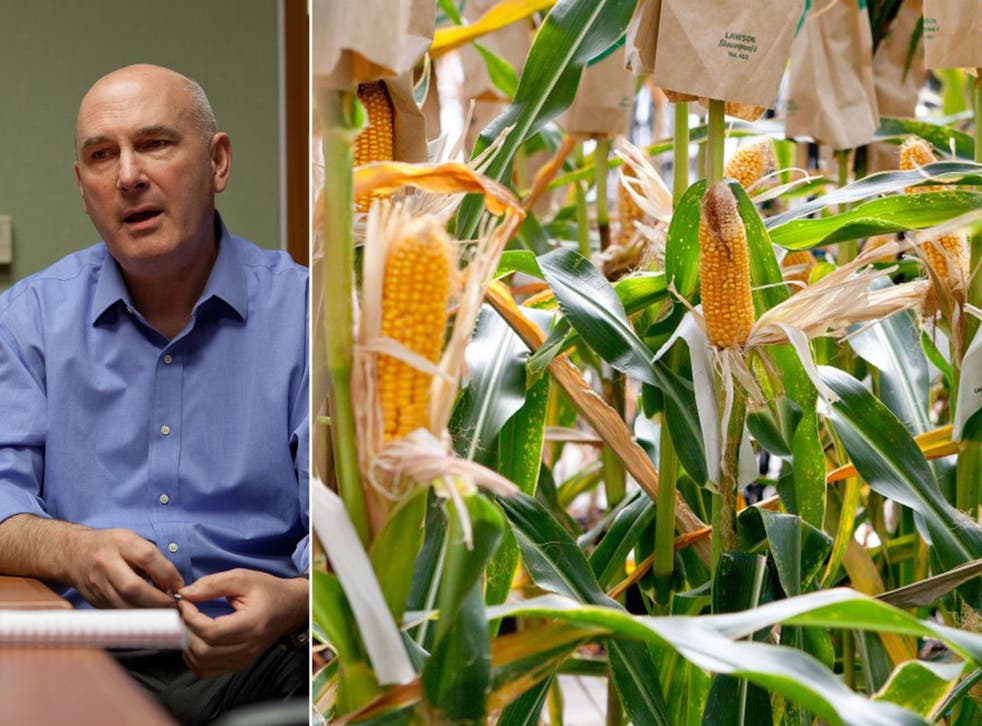 The American company that produced the world's first genetically modified crop has admitted for the first time that its "hubris" in promoting the technology contributed to a consumer backlash against genetically modified food.
Speaking to The Independent, the chief executive of Monsanto conceded that the company had failed to appreciate public concerns over GM technology when it was introduced nearly 20 years ago.
And he also said that the company had suffered by making "the wrong call" when it failed to rebrand itself in the aftermath of the botched launch of GM in Europe.
But Hugh Grant claimed that unless public attitudes towards biotechnology changed it would be impossible to feed the world's growing population and called for a more nuanced debate on the potential uses for GM technology in the developing world.
"There never had been a lot of trust in companies, particularly not big companies and certainly not big American companies," he said.
"[But] we were so far removed from that supermarket shelf, that was never something we gave a lot of thought to. We never thought about our place in the food chain."
"I think as an agricultural community in general – and Monsanto in particular – there is so much more to do to explain where food comes from and how it is produced and how much more we're going to have to make."
The Independent visited Monsanto to speak to its senior executives as part of a series on GM food.
Asked how the company had dealt with public concerns over the introduction of the first GM varieties 20 years ago, Mr Grant replied: "Hubris and naivety. They are sort of opposite sides of the same coin. We did really cool science and we worked within global regulatory requirements. From where we were the conversation with consumers was an abstract."
But he claimed that companies like Monsanto would be needed if the world was to feed a growing population. "If you look at (farming) growth in the last 15 years, about 70 per cent came from new land cultivation. When you go from six to nine billion over the next 30/40 years there is no new land. Can you do it without biotech? I don't think so."
Mr Grant hoped some form of consensus could be found between environmentalists and big biotech companies. "There is a middle ground in all this and if the shrill noise could die down my hope is there is an opportunity to engage in this. Maybe this is optimism but I think there is a chance that we are going to look back fondly and say, 'God – some of those arguments. They were intellectually interesting but practically ridiculous'."
Addressing European anti-GM activists who have long targeted Monsanto as the face of the biotech industry, Mr Grant said they had to explain how the world could be fed without such technologies. "I would say (to them), if you step back from your daily life – and Tesco or Waitrose or Sainsbury's – and you think about your kids and your grandchildren, then if not this, then what? How are we going to crack this thing? If Monsanto and this entire industry did not exist then what would the alternative would look like."
Mr Grant added that he was also frustrated that the anti-GM lobby had failed to adequately answer the question of how to feed more people with finite land without using new technology. "The thing that often frustrates me in the debate is that there is never an alternative... The other side of this is still pretty empty."
Register for free to continue reading
Registration is a free and easy way to support our truly independent journalism
By registering, you will also enjoy limited access to Premium articles, exclusive newsletters, commenting, and virtual events with our leading journalists
Already have an account? sign in
Register for free to continue reading
Registration is a free and easy way to support our truly independent journalism
By registering, you will also enjoy limited access to Premium articles, exclusive newsletters, commenting, and virtual events with our leading journalists
Already have an account? sign in
Join our new commenting forum
Join thought-provoking conversations, follow other Independent readers and see their replies