Climate crisis: Motorway speed limits 'to be cut to 60mph' to reduce emissions and pollution
Reductions to come into effect on M1, M5 and M6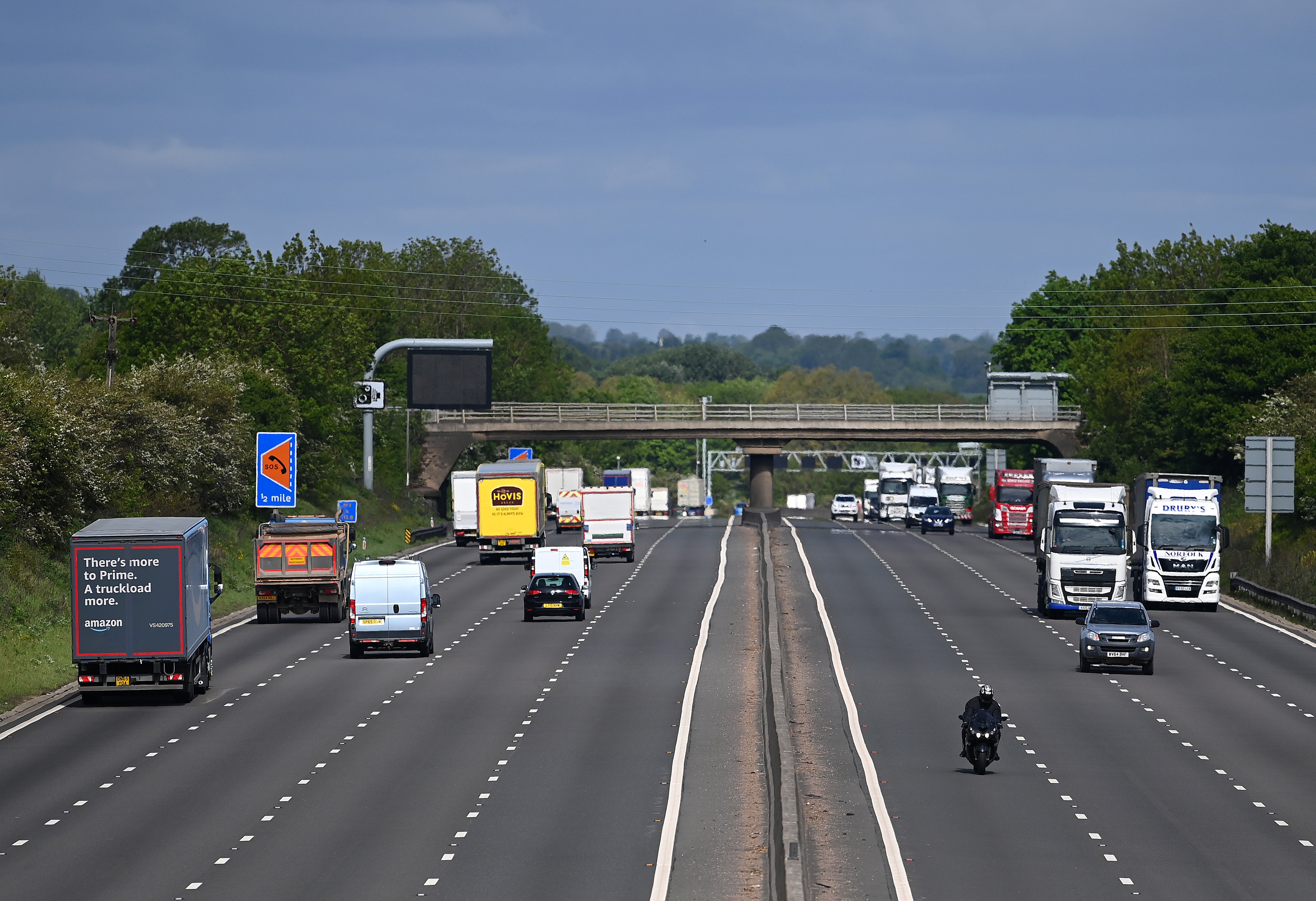 The speed limit on parts of England's motorway network is to be cut to 60mph in a bid to reduce emissions and air pollution.
Highways England is planning to reduce the speed limit in four locations by the end of September in a trial aimed at tackling motoring's impact on the climate.
Over the next 12 to 15 months, the organisation will test the impact of lower speeds on localised pollution and, if proven effective, could remain in place and lead to speed reductions elsewhere.
Drivers could be fined £100 and receive three penalty points on their licence if they fail to comply with the lower limit. Enforcement will be a matter for the police, Highways England said.
It is the first time that the government has attempted to reduce the upper speed limit for cars on England's motorways to reduce emissions.
It comes after The Independent reported exclusive analysis this week showing that nearly 60 per cent of the population in England live in areas where levels of toxic air pollutants exceed the legal limit.
Legal limits for nitrogen dioxide – the vast majority of which comes from road travel – were broken in 142 local authorities last year, potentially affecting as many as 33 million people, Labour Party researchers found.
"Ultimately the air-quality challenge will be solved 'at the tailpipe' by vehicle manufacturers and changes in vehicle use," said Highways England's head of environment, Ivan Le Fevre.
"Until this happens we will continue our programme of research and solutions.
"The speed limits trial will stay in place until the shift to cleaner vehicles means we can remove the restrictions and maintain cleaner air."
The reductions will take place on up to four-and-a-half mile stretches on the M6 near Birmingham; the M5 at Oldbury, the M1 at Rotherham and the M602 near Eccles.
The new limits will not affect larger commercial vehicles, which are limited to 56 mph. 
Levels of nitrogen oxides in each of the chosen areas exceed the recommended limits, and the trial feeds into the government's plan to reduce NO2 emissions, a Highways England spokesperson said.
The World Health Organisation calculates that air pollution was thought to have caused 64,000 deaths in the UK in 2015, including 17,000 fatal cases of heart and artery disease.
According to a 2019 study in the European Heart Journal, air pollution could be responsible for more deaths globally than smoking, with as many as 8.8 million fatalities attributed to harmful compounds in the air we breathe.
Fine sooty particles and nitrogen oxides pumped out by car exhausts – as well as factories and power plants – can form a damaging cocktail that significantly increases rates of heart attacks, strokes and severe asthma attacks.
Join our commenting forum
Join thought-provoking conversations, follow other Independent readers and see their replies