Green is the new black: How eco-friendly funerals are becoming the only way to go
People who sought to reduce their environmental impact in life are now looking to do the same in death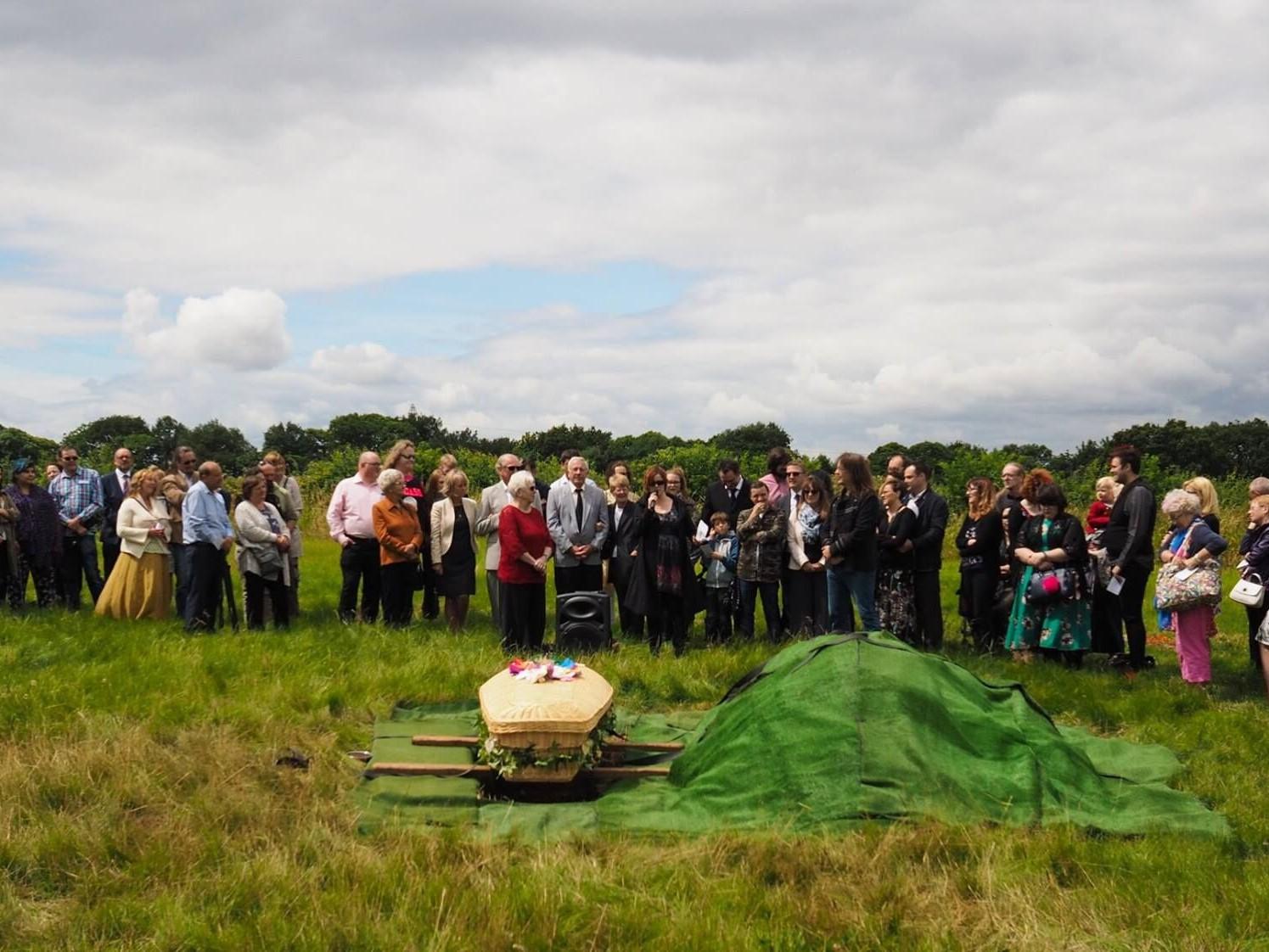 It is a beautiful July morning and, in a rolling wild meadow in rural Nottinghamshire, nature is running rampant in the sun.
Butterflies flutter by and bees buzz amid the knee-high grass and Cotswold-mix flowers. An occasional pheasant can be seen poking about distant hedges. Up above, a buzzard circles in the sky from its nest in the bordering woodland.
But there is something unusual about this unspoilt country scene.
Stood in the middle of the meadow are a small group of 20 men, women and children. They are dressed smartly and have their heads bowed. Four of them are lowering a shrouded body into a hole in the ground.
"What a wonderful place for Mum to spend eternity," one tells me a little later. "She's gone back to nature now."
This is a green burial – an increasingly popular form of eco-funeral where the emphasis is on pared-down, environmentally friendly send-offs in which the deceased is, essentially, returned to the untamed, oft-unmarked earth.
Under this 36-acre meadow – Tithe Green Burial Ground, near the village of Calverton – there are, astonishingly, 932 other bodies, and room for another 2,000.
Each one is marked with nothing more than an optional piece of inscribed Welsh slate hidden flat beneath the grass or a planted tree in a specified copse.
Everything else left by mourners – from bouquets of flowers to occasional plastic mementos – are removed and disposed of. There's not even a building here, or a toilet. The only real sop to human activity is a discreet gravel car park for mourners and a wooden sign at the entrance.
"Mum was a big believer in ecological causes," Leon Hemingway says shortly after this funeral of mother Patricia, who passed away, aged 81, last month. "She was one of the earliest members of Friends of the Earth in the early Seventies – some of my first memories as a child are being taken on big 'save the whale' and 'ban the bomb' marches. She was a quality before her time in many ways."
For this reason, when the grandmother-of-nine from Nottingham – a poet by profession – was diagnosed with multiple myeloma in 2011, she reiterated a previously expressed desire to be buried without coffin or tombstone left littering the planet. She did not want, she told her four grown-up children, Finn, Yasmin, Leon and Daryl, to be interred in a cemetery full of man-made memorials. Rather she asked to be left somewhere she would become as one with wildlife.
"Somewhere the sun would shine on her and with wild flowers all around," says Leon, a 47-year-old web developer. "She liked simple things and informality. She was a humanist. She was a remarkable woman – and I think her burial here really reflected that. It was perfect for her."
Natural funerals are on the rise in the UK.
When Ken West, the then manager of Carlisle Cemetery, opened an eco-burial area there in 1993, it made headlines because it was the first such site in the country. Many of those headlines, it should be said, were dismissive. Today, 26 years on, there are more than 360 of them. Orchids, woods, coastal trails and even farmland – as well as wild meadows – have all been turned into final resting places in the intervening period.
As people have sought to reduce their environmental impact in life, so too have many looked to do the same in death.
Natural burials offer this chance by getting rid of much of the excess traditionally associated with funerals.
Large, polished (and expensive) hardwood coffins are replaced by simple biodegradable caskets or shrouds, while headstones and concrete vaults are got rid of altogether. Graveside memorabilia is kept to a minimum or, often, not allowed at all to ensure burial grounds remain entirely natural habitats. Bodies themselves are not embalmed – a rule that means chemicals do not poison the soil as the corpse decomposes.
"The essence is age-old elemental simplicity," wrote Mr West in his definitive 2010 book on the subject, A Guide To Natural Burial. "It rejects the so-called traditional funeral with its stuffy, Victorian, urban look, in favour of an outdoorsy, homespun, back-to-nature look. It prefers an unspoilt landscape to that of a regimented conventional cemetery."
Some families, like Mrs Hemingway's go further. They also do away with a fume-spewing hearse, choosing to transport the body themselves; and decline the formality of a funeral director stage-managing things. Some carbon-offset the whole ceremony.
Because things are left in the hands of loved ones, meanwhile, send-offs tend to be less formal and more varied than traditional services.
"I've seen all sorts," says Steve Barnes, manager at Tithe, a transformed farming estate which was named best burial ground at last year's Good Funeral Awards. "I had one family bring music and dance round the grave; and another came armed with several bottles of prosecco which they polished off while the tributes were being read. Every time they poured themselves a glass, they threw a splash down to mum too."
He thinks about it a moment. "People ask if this is a morbid job," he says. "Well, no, it's not. I spend my days listening to people talk about how much they loved someone, about all the love in their hearts. All you see is the good in people."
Harp-playing, pagan ceremonies and a family who let out dozens of butterflies as dad was lowered into the ground have all taken place here, he adds. "That might be why we do well for butterflies, actually," he says. "Maybe they liked it and stuck around."
After funerals, he reckons, there is greater informality around visiting loved ones in green burial grounds.
"We have one chap comes here every week with his deckchair to spend a couple of hours, just him, his wife and the fields and trees," says Steve, a one-time police officer. "I've had families bring picnics in. We don't mind as long as they leave the place as they found it. But you couldn't do that in a graveyard. I don't think it would feel right laying out your blanket and picnic basket there.
"That's why people fall in love with it here. They want something pure and peaceful. They don't want to be mourning in a place that can look like Blackpool illuminations with all the memorials."
This is something Dr Sally Pollard had in mind when, while still in her 30s, she found herself having to discuss her own burial arrangements with husband Tim.
The mother-of-one, who passed away a few months before her 40th birthday in 2017, said she did not want their daughter Scarlett – then aged three – visiting her somewhere morbid.
"She was adamant it had to be a place Scarlett could run around and enjoy the fields," Tim, 55, tells me. "Somewhere joyous, basically. And with a tree on top of her, she said. Must have a tree."
Sally was a lecturer in molecular genetics at the University of Nottingham but, in her spare time, was the city's official Maid Marian, playing the character, alongside Tim as Robin Hood, in a variety of annual engagements.
"So, of course, we got her an oak," he smiles.
At the ceremony itself – in the Dale Hill eco natural burial ground in Derbyshire – a portable speaker played "Badass", a song by Finish glam rock band Reckless Love, as the body arrived, while small wooden hearts were attached to the slim hand-woven casket.
"Because you're outside and there are no constraints, you have this freedom to concentrate on the person," says Tim. "It was a celebration of Sal's life. It was beautiful actually. She spent 39 years making the world a better place, and then we returned her to it. I can take comfort in that, and I think so can Scarlett."
Indeed, it seems certain that, for more and more of us, green will become the new black when it comes to funerals.
Apart from anything else, the UK's current stock of cemeteries and graveyards are simply becoming too crowded. One estimate suggests that, without new ones, the country would run out of burial space in five years.
"Going natural is the perfect solution," says Rosie Inman-Cook, manager of both the Association of Natural Burial Grounds and the Natural Death Centre charity. "What I always say is that this way is gentler on the earth and gentler on the family, so it makes such sense."
The biggest obstacle to their rising popularity, she says, is people simply not actually being aware such send-offs exist.
Support free-thinking journalism and attend Independent events
"Funeral directors often don't volunteer these options because they are not always necessarily good for business," she says. "Generally, they're the least expensive option and, in some cases, cut the funeral director out altogether – so a lot of people simply never get to hear about them.
"But when you go to a natural funeral, you can guarantee almost everyone there is nudging each other, saying, 'Oh, I didn't know you could do this but when I go, this is how I'd like it to be'. People come away from them with real positivity."
Back at Tithe, that is just how Leon Hemingway is feeling. "I'm not sure funerals can exactly be good things," he says. "But, if they can, I think Mum has just had one."
Join our commenting forum
Join thought-provoking conversations, follow other Independent readers and see their replies