California and New York counties top the list of riskiest places in the US for natural hazards
Loudoun County, a suburb of Washington, DC, has the lowest risk of any county from natural disasters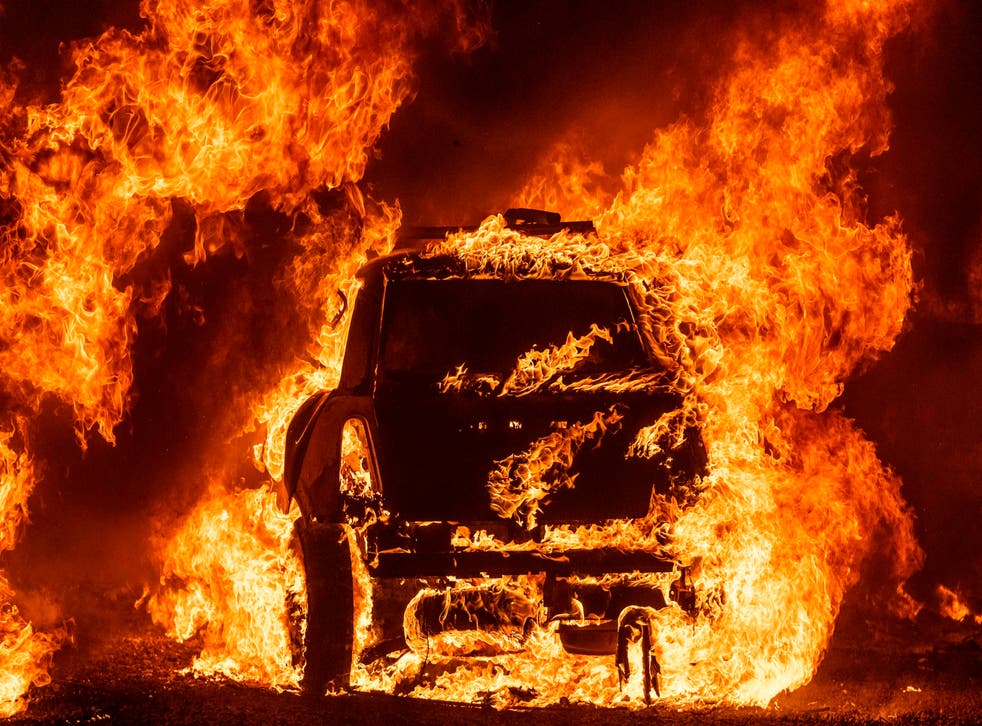 Counties in New York and California make up most of the top ten riskiest places in the US for natural disasters, according to the Federal Emergency Management Agency's new "National Risk Index".
Los Angeles county is number one in FEMA's analysis of the 3,006 US counties which looks at each area's exposure to 18 types of disasters including coastal flooding, drought, heat wave, hurricane, landslide, tsunami, and wildfire. 
A number of hazards are becoming more frequent and more extreme due to the climate crisis. While the index doesn't appear to factor this in, FEMA officials told Associated Press that climate change was taken into account in flooding calculations and will probably be incorporated in future updates.
Second place on the "National Risk Index" goes to New York's Bronx county following by New York county (Manhattan) and Kings county (Brooklyn). Miami county is in fifth place followed by Philadelphia, Pennsylvania, Dallas, Texas, and St Louis, Missouri. The final spots go to Riverside and San Bernardino counties, both in southern California.
On the flip side, Loudoun county, a suburb of Washington, DC, has the lowest risk of any county. Three other Washington suburban counties rank among the lowest risks for larger counties, along with suburban Boston, Long Island, suburban Detroit and Pittsburgh.
FEMA's calculations underline popular assumptions about risk, such as California's unprecedented wildfires and heat records in 2020. 
And some of the rankings for disasters appear obvious. Miami has the highest risk for hurricanes, lightning, and river flooding. Hawaii County is tops in volcano risk and Honolulu County for tsunamis, Dallas for hail, Philadelphia for heat waves and California's Riverside County for wildfires.
The index scores how often disasters strike along with the number of people and how much property are in the path of destruction. The analysis also factors in how vulnerable the population is socially and the area's likely resilience when it comes to getting back on its feet.
Therefore, big cities with low-income residents and high property prices results in a high-risk assessment, down to the fact they are likely to be ill-prepared to be hit by once-in-a-generation disasters.
Seemingly counterintuitively, the index places cities like New York and Philadelphia in the north-east higher on the risk scale for tornadoes than "tornado alley" states, Oklahoma and Kansas.
Two New York City counties, Philadelphia, St. Louis and Hudson County, New Jersey, are FEMA's top five riskiest counties for tornadoes.
Oklahoma County, Oklahoma — with more than 120 tornadoes since 1950, including one that killed 36 people in 1999 — ranks 120th on the list.
In general, Oklahoma is twice as likely to get tornadoes as New York City, but the damage potential is much higher in New York because there are 20 times the people and nearly 20 times the property value at risk, FEMA officials said.
When it comes to breaking down the risks from specific hazards, there are also some unexpected results. The county with the biggest coastal flood risk is in Washington state and is not on the ocean, although its river is tidal.
Natural hazards are defined as environmental phenomena that impact people and places, not to be confused with man-made hazards.
For example, flooding from a coastal storm surge is a natural hazard whereas flooding from a dam failure is a man-made crisis.
FEMA, which oversees disaster response in the US, has spent six years calculating the risk level by combining multiple hazards with socioeconomic and environment factors.
The Index is intended to help improve plans for emergency operations and educate residents on how to mitigate risks and become more resilient. For example when it comes to flooding, only 4 per cent of the population has federal flood insurance when about one-third may need it.
"It's that risk perception that it won't happen to me," FEMA's Mike Grimm told The AP. "Just because I haven't seen it in my lifetime doesn't mean it won't happen."
Associated Press contributed to this report
Join our new commenting forum
Join thought-provoking conversations, follow other Independent readers and see their replies