Nature Studies by Michael McCarthy: From Wales to Niger via the Po valley. Twice. Nice one, Indy
After a 1,700-mile journey to nowhere, his signal showed him in Tunisia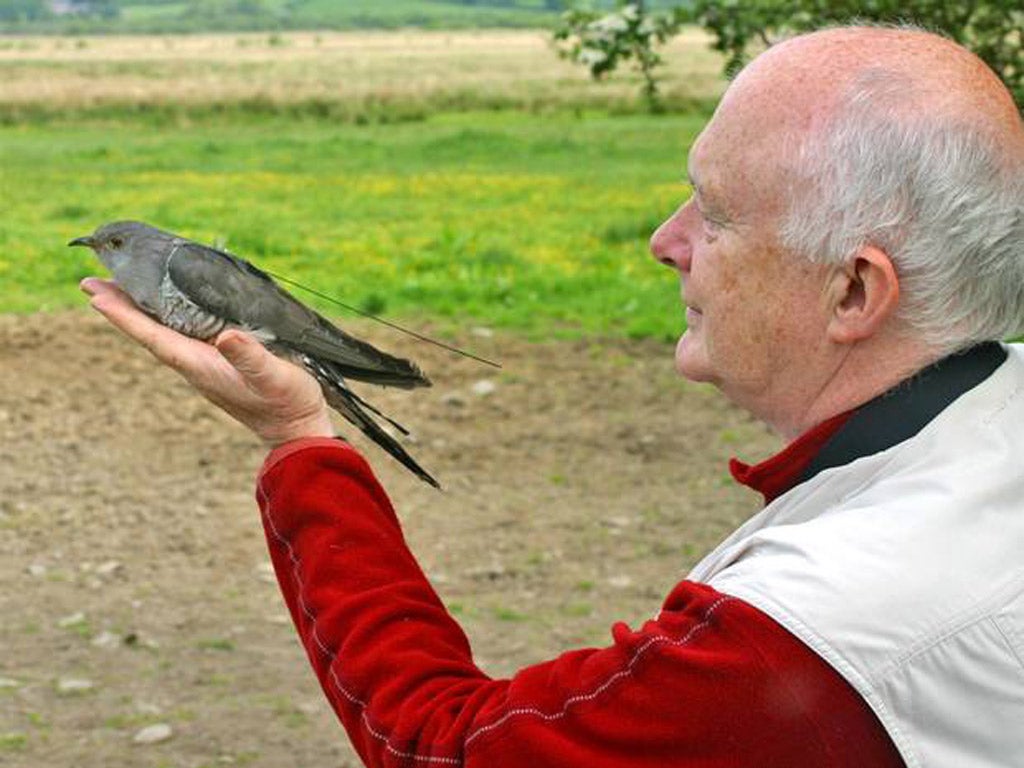 Sometimes only a phrase which needs its grammar polishing will do, and thinking of Indy, the cuckoo adopted this summer by The Independent for its migratory journey to Africa, it's a football phrase which comes to mind: the boy done good.
Click HERE to view graphic
For a month ago, the prospect of African winter quarters – vital for British cuckoos which would find none of the insect food they need in a European winter – was beginning to look like an impossible dream for our bird, ringed and fitted with a lightweight satellite transmitter in Wales by the British Trust for Ornithology (BTO) at the end of May.
Indy had left Britain in mid-June, and winged his way down to the heavily wooded Po valley in northern Italy, which the BTO scientists who are tracking cuckoos, in a bid to find out the reason for their decline in Britain, now realise is a major cuckoo staging post, or refuelling stop.
Italian food is clearly as attractive to cuckoos as it is to us, although in their case the menu is mostly caterpillars; and they need an awful lot of them to fuel the toughest leg of their journey, the crossing of the Mediterranean and then the formidable 1,000-mile-plus barrier of the Sahara, before they get to the Congo, where they spend most of the winter months.
Indy set out on the Big One (as perhaps cuckoos would term it if they spoke English and were happy with clichés) in mid-July but, as we reported at the time, something remarkable happened after he had journeyed the length of Italy and then flown 200 miles out over the Med, to within 100 miles of the African coast: at five in the morning of July 23, he turned back. And he not only turned back; as the satellite transmitter showed, and as you can see on the map, he flew all the way back – 850 miles – to the Po valley, completing a 1,700-mile journey to nowhere.
BTO researchers believe he probably felt his reserves failing, when dawn broke and he was still not in sight of land, and then followed an evolutionary rule for such circumstances: go back to last good feeding place (even if it's a ridiculous distance away).
My own view, for the tuppence it's worth, was that the chances of Indy successfully getting to Africa after this were fairly remote. But I have been confounded: for after another three weeks' refuelling on Italian caterpillars (perhaps with a little basil and oregano, we may be allowed to fantasise), Indy set off again, and blow me down but on Monday 20 August his satellite signal showed him in Tunisia: he had made it across the Med. Two days later, he had made it across the Sahara, and was in Niger, where he currently remains.
Just how tough this odyssey is for cuckoos is being demonstrated by the BTO project. Last year, all five birds being tracked reached the Congo, but of the 13 birds being followed this year, three – Mungo, Iolo and Lyster – appear to have come to grief in the sweltering heat of the desert, Mungo and Iolo in Chad, and Lyster, who last year was tracked all the way from Norfolk to the Congo and back, in Mauretania.
Under the circumstances, Indy's performance seems all the more remarkable. In scientific terms, says Dr Chris Hewson of the BTO, it probably means that the decision he took in turning back, which might seem amazing to us, was right.
Not being a scientist, I would express my own view in simpler terms. Even, indeed, in footballing terms.
Nice one, Indy. Nice one, son.
Dispatches from a quarter century on the frontline
Memoirs of people's professional careers tend to be boring – the single most boring book I've ever encountered in my life was one such – but a memoir that is anything but is the newly published Fighting For Birds (Pelagic Publishing, £12.99), Mark Avery's account of his 25 years at the Royal Society for the Protection of Birds, the last 12 of them spent as Director of Conservation.
Dr Avery, now Britain's premier wildlife blogger, was thus at the very heart of all the conservation and wildlife protection battles of recent times, from windfarms to persecution of birds of prey by landowners. Indeed, he was a prime mover in many of them, and his spiky and opinionated account – there are quite a few people he doesn't like – is not only immensely instructive, but gripping.
These 300 pages, with their relaxed and fluent prose and the constant presence of wild birds with all their beauty and wonder, slip by in an instant. This is a book not to be missed by anyone in Britain seriously interested in the natural world and its conservation.
I will be away from this column for the next month, but I hope to be back on this page in October
Join our commenting forum
Join thought-provoking conversations, follow other Independent readers and see their replies