Nature studies: Stay away from the dolphins kept in tanks. The only ones to see live wild
It was all part of a zoological craze that swept the world at the end of the 1960s
Michael McCarthy
Tuesday 27 May 2014 06:26 Comments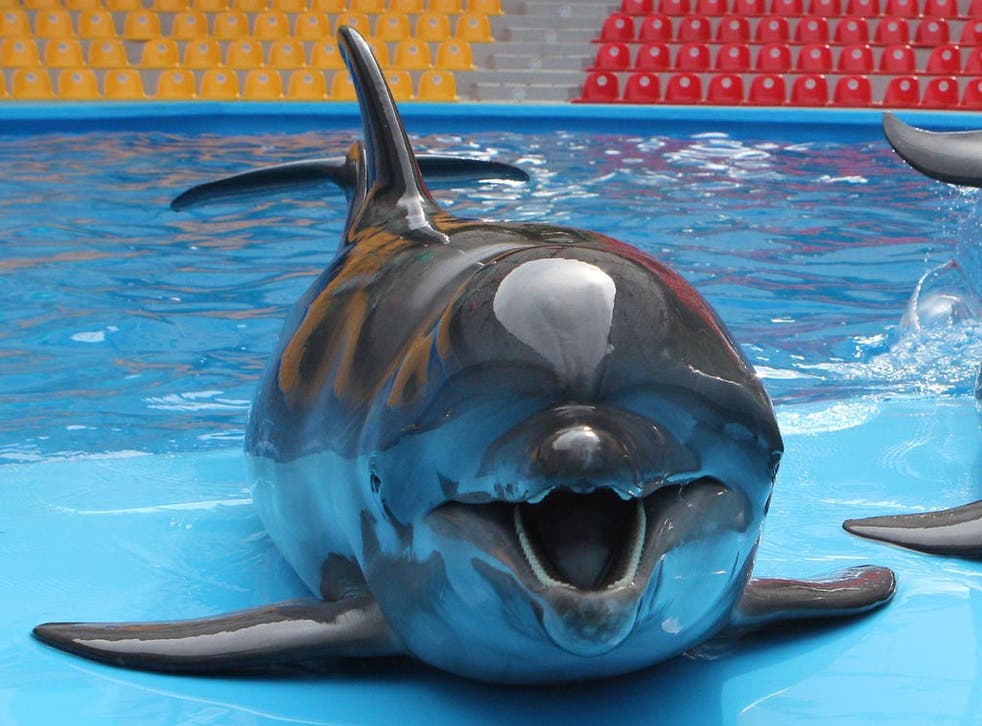 Sometimes features of our lives with which everyone is familiar can disappear so completely that the next generation has no idea they ever existed. So it is, thankfully, with the dolphinarium.
You need to be fifty or over to remember the time when every other British theme park or seaside resort seemed to have an aquarium that housed performing dolphins, with the peak year being 1972, when – believe it or not – there were no fewer than 36 of them operating in this country, from Brighton to Battersea Park in London, and from Knowsley Safari Park near Liverpool to Windsor Safari Park. Now they've all long since gone, every one of them; the last closed its doors in 1993.
It was all part of a zoological craze which swept the world at the end of the 1960s, following the international success of the US TV series Flipper, the story of a fictional bottlenose dolphin which was the wild pet of a marine park ranger in Florida. In a few short years, dolphinaria appeared in every major country, with wild dolphins and later orcas, or killer whales, being captured by the hundred so they could perform tricks for tourists in their concrete tanks.
Such is the delight that dolphins naturally spark in us, spectators were generally too enthralled at the sight of such wonderful creatures to think much about their welfare in captivity. But I remember in the mid-1980s looking at a dolphin in its tank at Windsor and thinking it was one of the two unhappiest animals I had ever seen (the other was a polar bear in its pit in London Zoo at about the same time, which was pacing up and down relentlessly and appeared to be going mad).
The Windsor dolphin was lying motionless in a narrow section of its tank, not much bigger than the animal itself. It suddenly dawned on me what this must feel like to a highly intelligent creature which in the open ocean may swim well over a hundred miles a day. From that moment I thought that keeping dolphins in captivity should be banned.
The reason the practice shrank and disappeared in Britain was that a Government review in the late 1980s laid down minimum tank sizes which would have cost the remaining dolphinaria substantial sums of money, and in the end they went out of business rather than spend it. Three cheers for that.
But at the weekend I came upon some telling research indicating that outside the UK there is still a flourishing business of keeping captive dolphins, porpoises and whales, collectively known as cetaceans. According to a new report from the wildlife charity Born Free and the travel company responsibletravel.com, more than 2,000 dolphins, 227 beluga whales, 52 killer whales, 17 false killer whales and 37 porpoises are currently being held in 343 captive facilities in 63 countries across the world.
The details were released to accompany a poll (with 2,050 respondents) which indicated that a majority of British tourists no longer wish to visit marine parks showing cetacean displays. When first asked, 61 per cent of respondents said they would avoid tourist attractions abroad showing whales and dolphins; when they were shown a short statement about the difference between conditions for the animals in the wild and conditions in captivity, and asked again, the number of those against a day out at a dolphinarium rose to 86 per cent.
Born Free's president, Will Travers, said on the release of the poll that he hoped the days of the dolphinarium were over, and it was time to bring the curtain down on the exploitation of whales and dolphins in captivity – just like the exploitation of wild animals in travelling circuses.
I couldn't agree more, especially as the alternative – whale and dolphin-watching in the wild – is infinitely more attractive.
The last time a survey was done, in 2009, 13 million people were found to have travelled in search of wild whales (and the number has almost certainly shot up since then). I was one of them, with my children, and I have to say that close encounters with cetaceans at sea have made up some of our most unforgettable holiday experiences.
So if you want to see dolphins this summer, get on a boat. It's vastly preferable to watching these magnificent creatures do tricks in a concrete tank.
But at least, in Britain today, that is merely a memory.
Register for free to continue reading
Registration is a free and easy way to support our truly independent journalism
By registering, you will also enjoy limited access to Premium articles, exclusive newsletters, commenting, and virtual events with our leading journalists
Already have an account? sign in
Join our new commenting forum
Join thought-provoking conversations, follow other Independent readers and see their replies