Neonics: Controversial pesticide 'affects ability of bumblebees to pollinate fruit trees'
Scientists found that exposed bumblebees collected pollen less often and visited flowers less frequently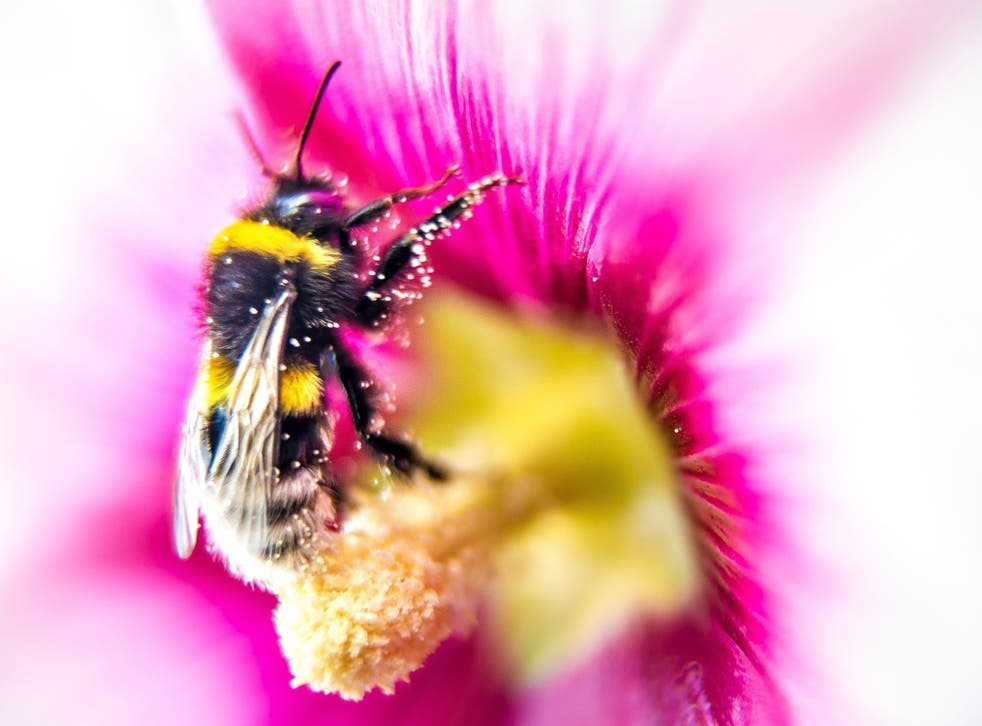 A controversial pesticide that was temporarily banned by the EU but supported by the UK Government has been found for the first time to affect the ability of bumblebees to pollinate fruit trees – with a warning that it could have even greater impacts on wild flowers.
University scientists have found unequivocal evidence that neonicotinoid pesticides affect the pollinating efficiency of bumblebees exposed to "field realistic" concentrations of the chemicals, which are designed to poison the nervous system of insect pests.
Experiments have shown that bumblebee colonies exposed to relatively low doses of neonicotinoids, which were considered too small to kill them but are within the range they would experience naturally, are significantly hampered in their ability to pollinate apple trees.
The study, published in Nature and conducted by the universities of Reading and Royal Holloway in London and Guelph in Canada, found that the exposed bumblebees collected pollen less often from apple trees and visited flowers less frequently.
The scientists also found that the fruit trees pollinated by the affected bumblebees produced apples with 36 per cent fewer seeds, a factor linked with fruit quality in most varieties of apples, compared to trees pollinated by un-exposed bees.
UK news in pictures

Show all 50
Researchers said that the impact on the successful pollination of wild plants can be expected to be even more severe given that many of these flowers are totally dependent on insect pollinators to set seed.
Previous research has shown that exposure to sub-lethal doses of neonicotinoids can affect bees directly, either by altering their homing ability, their reproductive success or their foraging behaviour, but this is the first time a study has shown a direct impact on the "service" of pollinating crops and wild plants, said lead author Dara Stanley of Royal Holloway University of London.
Mike Garret, a co-author of the study from Reading, said: "We found that bees exposed to pesticides returned from apple flowers with less pollen than bees in the control group. This suggests that bumblebees exposed to pesticides must somehow behave differently on flowers."
Insect pollinators are estimated to provide a crucial service in making sure crops worth an estimated £233bn globally are produced each year, and the study's findings have important implications for both society and the economy, said Professor Nigel Raine of the University of Guelph.
An implication of the findings is that farmers using these pesticides, as well as their neighbours who are not using them, could be unwittingly reducing their yields as a result, said Professor David Goulson of the University of Sussex.
"There may also be knock-on effects for pollination of wildflowers growing on or near farms," Professor Goulson said.
The study used a neonicotinoid called Thiamethoxam, made by the Swiss agrochemical company Syngenta. Peter Campbell, a scientist at Syngenta, called the peer-reviewed study inconclusive, premature and un-representative of realistic field exposures in the field.
Join our new commenting forum
Join thought-provoking conversations, follow other Independent readers and see their replies