Neonics pesticide poses 'substantial risk' to wild bees, studies claim
Chemicals allegedly impact on nest-building and colony growth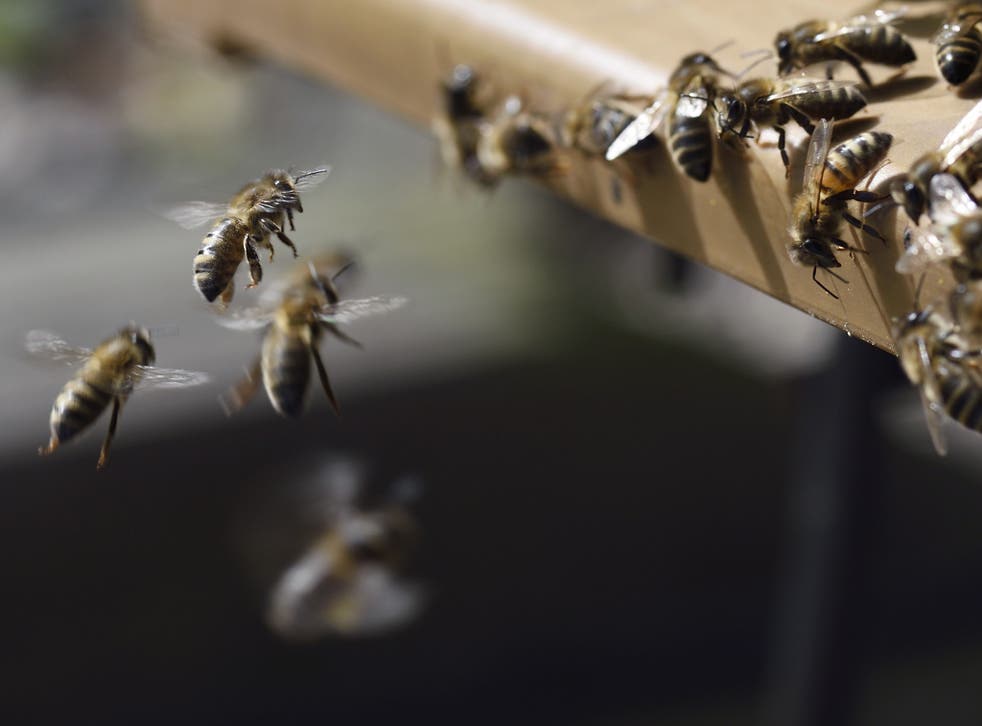 A widely-used pesticide poses a "substantial risk" and "sizeable hazard" to wild bees according to two independent studies into the effects of the controversial neonicotinoid insecticide.
The largest outdoor field trial yet into "neonics" has found that the pesticide has a significant impact on the ability of wild bumblebees to form colonies, and on solitary bees to build their nests.
A separate laboratory study discovered that bumblebees cannot taste neonictinoid-laced sugar solution and so are unable to avoid the pesticide. The scientists also found that bumblebees seem to prefer toxin-laced nectar to food untainted with neonics, possibly due to drug-like effects on the insect's brain.
"Bees can't taste neonicotinoids in their food and therefore do not avoid these pesticides. This is putting them at risk of poisoning when they eat contaminated nectar," said Professor Geraldine Wright of Newcastle University, who led the food-tasting study published in Nature.
UK wildlife winners and losers

Show all 7
"Even worse, we now have evidence that bees prefer to eat pesticide-contaminated food. Neonicotinoids target the same mechanisms in the bee brain that are affected by nicotine in the human brain," Professor Wright said.
"The fact that bees show a preference for food containing neonicotinoids is concerning as it suggests that like nicotine, neonicotinoids may act like a drug to make foods containing these substances more rewarding," she said.
The outdoor experiment on wild bees took place in southern Sweden and involved 16 fields of rapeseed, eight of which were planted with crops where the seeds were treated with Eldo, a systemic pesticide containing the neonicotinoid clothianidin made by the German company Bayer.
Scientists monitored three species of bee near each field; the buff-tailed bumblebee Bombus terrestris, the solitary bee Osmia bicornis and the honeybee Apis mellifera. They found significant impacts on the bumblebees and solitary bees, they said.
"The most dramatic result we found was that bumblebee colonies almost didn't grow at all at the clothianidin-treated sites compared to the control sites," said Maj Rundlof of Lund University in Sweden, the lead author of the study published in Nature.
"The other thing was that there were no solitary bees that returned to nest at the treated site, while at the control fields we had solitary bees returning to six of the eight sites," Dr Rundlof said.
"This study is important because bees are pollinators of crops and wild plants, and the wild bees are actually more important than previously thought so it is worrying that there are reports worldwide of declines in the distribution and diversity of bees….Pesticides would be one of these multiple pressures that bees are under," she said.
The EU ordered a Europe-wide moratorium on the use of neonicotinoids for flowering crops two years ago, which is to be reviewed at the end of this year. The UK Government, however, has taken a more relaxed view of the pesticide based on its own scientific advice, which was that there was no hard evidence to support such a ban.
Professor Lin Field at Rothamsted Research in Hertfordshire said: "I think everyone would agree that direct exposure of neonics to bees will be damaging – and indeed potentially lethal – as some neonics are very toxic to bees. What is debated is whether the relatively small amounts that bees encounter in pollen [or] nectar are enough to have 'sub-lethal' effects."
Join our new commenting forum
Join thought-provoking conversations, follow other Independent readers and see their replies