Five dead fighting Nepal wildfires that are 'worst in a decade' due to climate change
More than 2,700 wildfires have been reported in Nepal since November
Stuti Mishra
Friday 09 April 2021 14:41 Comments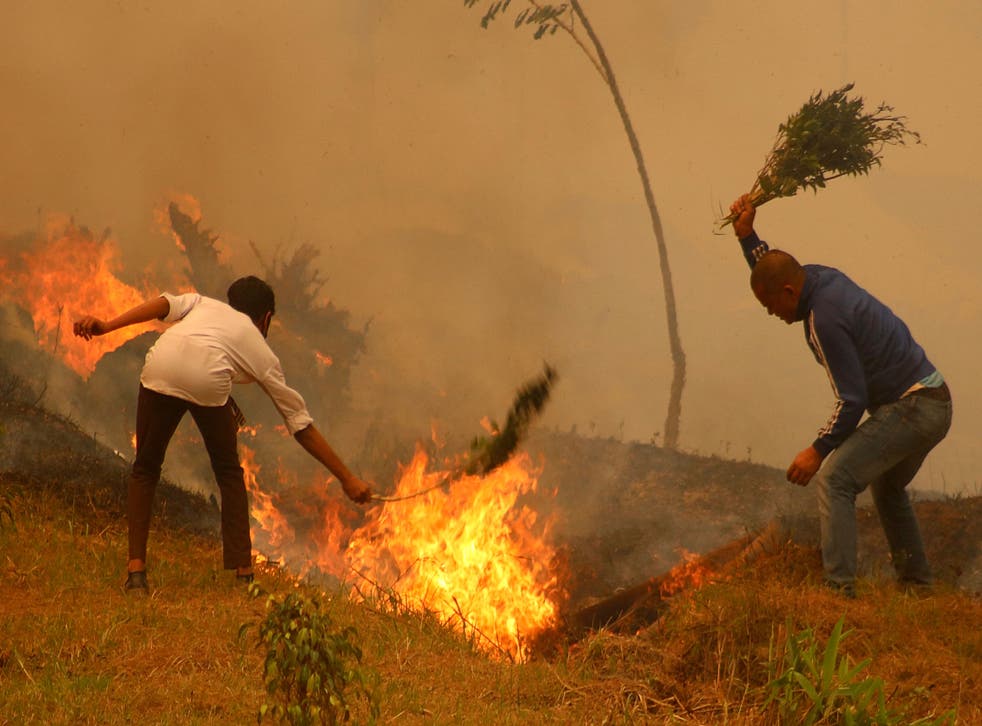 Five people have died fighting Nepal's wildfires, the worst in almost a decade, with the mountains of the Himalayan country covered in a thick haze and the air turning toxic.
According to the national disaster officials, fires were burning in at least 60 places across 22 of Nepal's 77 administrative districts and at least 15 times more fires were reported this year as compared to 2020.
Five people died trying to put out the fires that have been raging since January, Sundar Sharma, a senior official of the National Disaster Risk Reduction and Management Authority told Reuters news agency.
"Forest fires are the main reason for the rising air pollution in Kathmandu and many other places," Mr Sharma said.
Forests in Nepal have been burning constantly since late November 2020, however, this year has been the worst for wildfires, the authorities said, since Nepal began recording these incidents in 2012. 
More than 2,700 wildfires have been reported in Nepal since November, the government said. 
"The smoke blinded me and I could not see who started the fire," 46-year-old Tara Pakhrin, a resident of Makwanpur, a village 50 km south of Kathmandu, told Reuters as she watched the fire from her home. 
The officials say they are still in the process of assessing the damage caused by the fires. The dry season from January to May is forest fire season in Nepal when villagers burn dry leaves in the woodlands to prompt fresh grass growth for their cattle.
However, there can be several factors that exacerbate the wildfires, most of them related to climate change. Experts believe that with the environment getting drier, lack of rain and increased pollution will lead to heatwaves and droughts, making the environment more susceptible to wildfires. 
"Studies have conclusively shown that climate change has induced a higher weather-related risk for forest fires that happened in Australia and even California," says Aarti Khosla, director of Climate Trends, a Delhi-based consultancy. "In this case, it's also evident that warming is a reason since fires are happening in the winter season which wasn't the case before."
"It's also been shown in many cases of forest fires that heat extremes have become more likely due to long term warming trends. The Himalayas are the heart of the planet and these fires are a clear indication of the long term warming of the region," she says.
The smog has also disrupted daily life in Nepal with schools being shut and several flights delayed due to toxic air quality.
The air quality index (AQI) in Kathmandu was at an unhealthy level of 174 on Friday, with several other cities being in the unhealthy bracket for weeks, according to data published on iqair.com, a site that monitors air quality. An AQI level below 50 is considered good.
"The pollution levels have come down in many places but this is not adequate enough for healthy breathing," said Indu Bikram Joshi, a spokesman for the department of environment.
"Wildfires could hit the peak later this month if the ongoing dry spell continued," Mr Sharma said.
Forest fires burning in India's Uttarakhand, which borders Nepal, have killed four people, according to the government. In April alone, there have been 657 incidents of forest fires in Uttarakhand, a bulk of them in the state's Garhwal region near Nepal border.
Recently, Brazil, California and Australia have also witnessed uncontrolled wildfires where it took months to control them.
Additional reporting from wires
Register for free to continue reading
Registration is a free and easy way to support our truly independent journalism
By registering, you will also enjoy limited access to Premium articles, exclusive newsletters, commenting, and virtual events with our leading journalists
Already have an account? sign in
Join our new commenting forum
Join thought-provoking conversations, follow other Independent readers and see their replies