Netherlands considering paying people to cycle to work in effort to cut road congestion
Dutch government wants to encourage people to cycle 'three billion kilometres more' than at present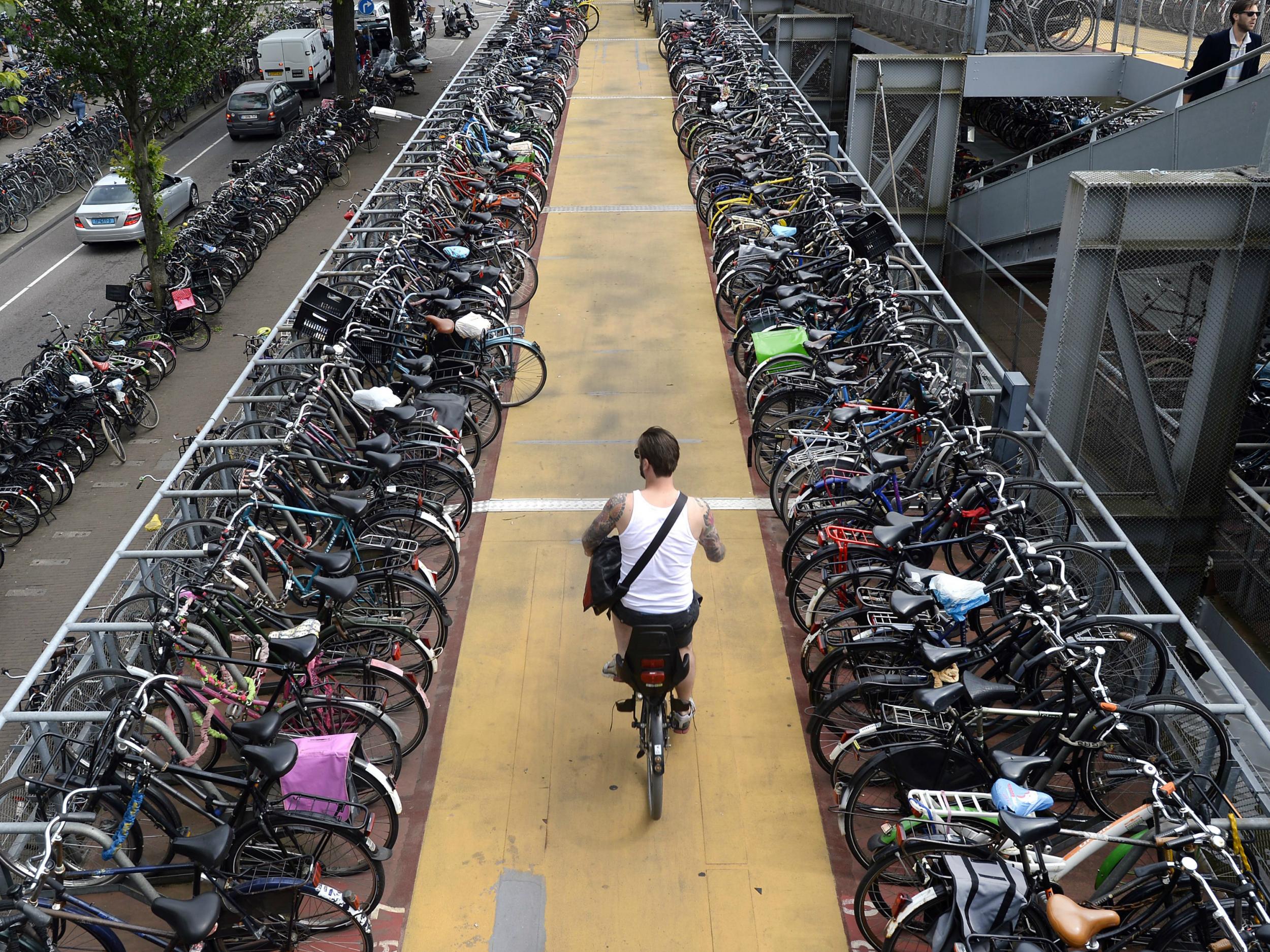 The Dutch government is encouraging companies to pay people to cycle to work as part of a national initiative to fight worsening congestion on the roads.
"Let's get out of our cars and onto our bikes", Dutch deputy infrastructure minister Stientje van Veldhoven said this week as she announced new measures to encourage cycling.
She has proposed a compensation scheme for working adults in which they receive 19 cents (17p) for each kilometre they cycle as part of their commute.
According to AFP, Ms Van Veldhoven is to discuss the proposal as well as other ways of promoting bicycle use through fiscal rewards such as subsidies to buy bicycles "with major national employers and small and medium enterprises".
"I want to stimulate cycling with the aim of getting 200,000 extra people out of their cars to cycle 3 billion kilometres more on their bicycles," she said.
The Netherlands already leads the way when it comes to cycling. There are an estimated 22.5m bicycles in the Netherlands – more than the 17.1 million people who live there, while more than a quarter of the country cycles to work.
Since 2005, the number of bicycles has increased by 11 per cent, and in Amsterdam, 32 per cent of all journeys are made by bike.
According to the Netherlands' government website, a regional trial is already in place which has shown that even after the financial rewards stop, people continue to cycle to work.
It states: "Various regions are promoting the use of bicycles by means of mobile phone apps. A case in point is the B-Riders project in the province of Brabant. B-Riders are commuters who switch from car to bicycle. They are coached by an app, and receive a financial reward for each kilometre cycled during peak hours. Experience has shown that most people continue to cycle even after the reward ceases."
The scheme benefits employers, the government says, as "employees who cycle are in better shape and are less prone to absence through illness. In addition, bicycle use often enables companies to save on parking costs."
"For that reason, the government is encouraging employers to provide adequate bicycle facilities, and introduce a mileage allowance for cyclists. Employers may provide cyclists with a (tax free) mileage allowance of up to 19 cents a kilometre, as is the case for car commuters," the website says.
"Bicycles play an important role when it comes to reachability, quality of life and health," Ms Van Veldhoven said. She added: "It reduces traffic jams and gives people forced to use cars more space."
World news in pictures
Show all 50
More than half of all daily trips in the Netherlands are less than 7.5km in length and more than half of all people live less than 15km from their work places, according to the government.
"With the development of the electric bicycle, this distance can easily be covered," the ministry said, adding that €100m have been budgeted to increase dedicated bike roads and bicycle parking spaces.
Join our commenting forum
Join thought-provoking conversations, follow other Independent readers and see their replies