Network of 'plant sentinels' on the lookout for pests and diseases that threaten species native to Britain
Plants susceptible to invading beetles, fungi, bacteria and viruses are being grown near ports as part of an 'early warning' system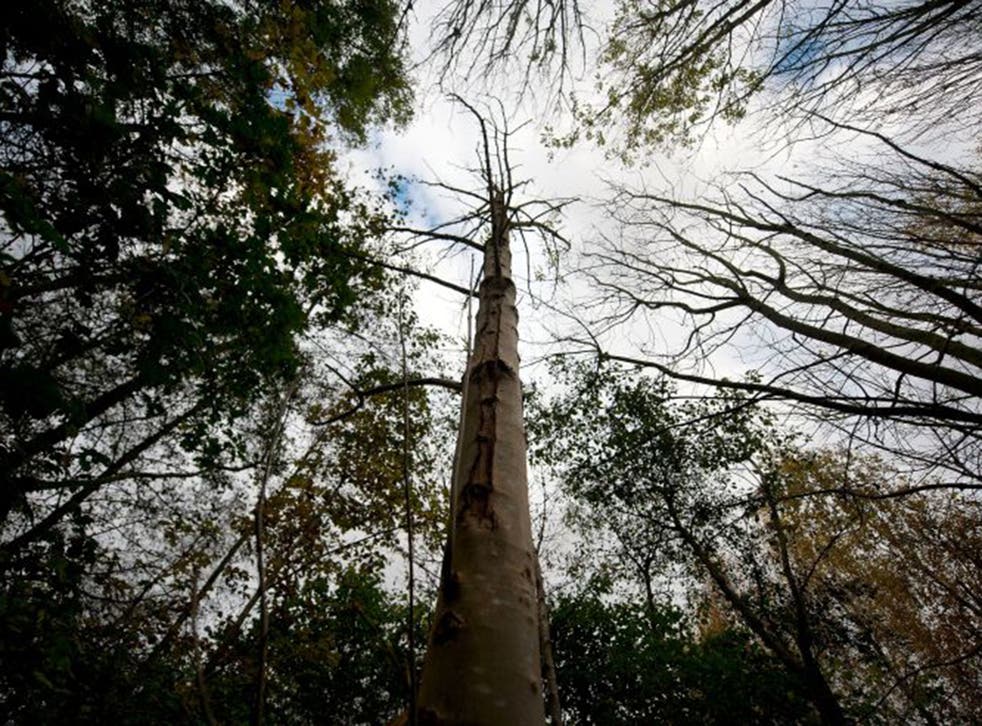 A network of "plant sentinels" is being set up to detect hundreds of new pests and diseases that experts fear could invade Britain in cargoes and as the climate changes.
The arrival of ash dieback in the UK in 2012 prompted fears that the tree could suffer a similar fate as the elm, which was almost wiped out by Dutch elm disease. And experts fear trees such as oak, birch and pine could be next.
A "risk register" of potential and emerging threats, set up in 2013, already has nearly 800 entries. Plants susceptible to the invading beetles, fungi, bacteria and viruses are being grown near places such as ports as part of an "early warning" system.
Botanic garden staff are also being asked to monitor their plants. An international network has been created to flag up pests that attack British native species in overseas gardens in case they turn up in the UK. British gardeners are performing the same role for other countries. The Government has committed £16.5m over five years to research tree diseases.
The problem will be highlighted at the Chelsea Flower Show in May in a garden commissioned by the UK's Animal and Plant Health Agency called Beyond Our Borders. It will feature three climate zones separated by water representing the oceans. Metal springs that can "walk" will be used to represent the pests' ability to move from one zone to another.
Among the non-native pests and diseases at the top of the risk register are the Asian longhorn beetle, from China and Korea which has caused extensive damage to trees in Italy; the emerald ash borer, which has killed millions of trees in the US and Canada; and the pine processionary moth, seen twice in Britain but thought to have been controlled. The moth has been expanding north through France since the 1990s, "possibly as a response to climate change" according to the Forestry Commission.
Ash dieback was first detected in a Buckinghamshire nursery in February 2012 which led to a ban on all imports of ash seeds and trees. However, Professor Nicola Spence, the UK's chief plant health officer, said increased efforts were being made to stop such threats from arriving in the first place and to catch them sooner if they do by creating an early warning system. "We need to know our highest risks and make sure we do everything we can to act pre-border or at the border," she said.
Professor Spence said it was more difficult to deal with spores or flying pests that can cross the English Channel and things able hitch a ride on a plane. "If they did come by that route, where should we look? We've got a network, a sentinel plants network, working with botanical gardens," she said. "And by planting certain species and plants, we can start looking for these things."
The sentinel network is being created by Botanic Gardens Conservation International. So far, 18 botanic gardens in countries including China, Australia, South Africa, Italy and Germany have signed up.
Register for free to continue reading
Registration is a free and easy way to support our truly independent journalism
By registering, you will also enjoy limited access to Premium articles, exclusive newsletters, commenting, and virtual events with our leading journalists
Already have an account? sign in
Register for free to continue reading
Registration is a free and easy way to support our truly independent journalism
By registering, you will also enjoy limited access to Premium articles, exclusive newsletters, commenting, and virtual events with our leading journalists
Already have an account? sign in
Join our new commenting forum
Join thought-provoking conversations, follow other Independent readers and see their replies