Recently discovered African bird already facing extinction due to forest destruction
Farming and political unrest pose significant threat to future survival of Willard's sooty boubou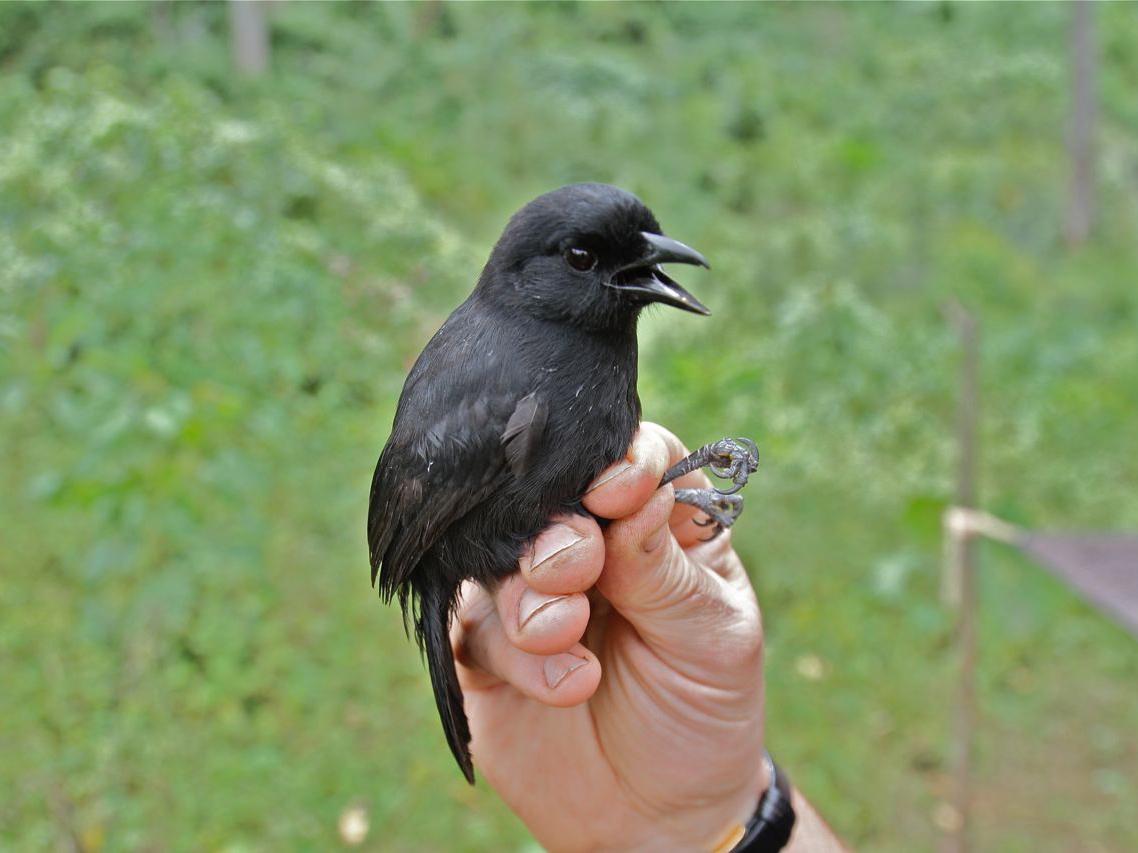 No sooner had humans discovered it, than they discovered they were dooming it to extinction.
The emergence of the Willard's sooty boubou, a new species of bird found in parts of Central Africa, has been overshadowed by the realisation it is dying out as its habitat is converted into farmland.
Scientists first described the animal in 2010, based on a few specimens collected in the region years earlier.
New research has confirmed the its status as a new species, distinct from similar-looking black birds found in the region, but has also warned it is endangered.
Experts used bird survey data and museum records collected from the boubou's home in the Albertine Rift, which covers parts of Uganda, the Democratic Republic of the Congo (DRC), Rwanda, Burundi and Tanzania.
"The Albertine Rift is a crossroads of amazing biodiversity, dramatic and diverse landscapes, and heartbreaking social and political unrest," said Dr Fabio Berzaghi of the CEA Laboratory for Sciences of Climate and Environment.
"It goes from glaciers to volcanoes to plateaus to lakes, with a succession of vegetation types from high-elevation cloud forests to lowland tropical forests.
"It is home to gorillas and forest elephants as well as a high number of endemic animal and plant species.
Colombian reserve becomes world's largest rainforest national park
Show all 12
"Unfortunately, much of the region has gone through neverending conflicts, with very negative consequences for both humans and biodiversity, and conservation involving local populations is paramount."
Dr Berzaghi and his colleagues pinpointed the habitat of the Willard's sooty boubou, which lives at lower altitudes than its close relative, the mountain sooty boubou.
This is crucial as it places most of the bird's range squarely outside of protected areas.
The scientists estimated that in Burundi, Rwanda, and Uganda, 70 per cent of the potential habitat for these birds has been converted into agricultural land. Their findings were published in the journal The Condor: Ornithological Applications.
"Clarification of the niche that Willard's sooty boubou occupies, that of mid-elevation forests, distinct from the higher-elevation mountain sooty boubou, is important, because these habitats are among the most heavily impacted in Africa from agriculture," said Dr Rauri Bowie, an expert on African birds at the University of California, Berkeley, who was not involved in the study.
As these mid-elevation forests have received relatively little protection compared to those higher up, Dr Bowie said conservation agencies "have an opportunity to move beyond taxonomic debate" and use the boubou example to help the rest of the region's wildlife.
Join our commenting forum
Join thought-provoking conversations, follow other Independent readers and see their replies