New era of cheap oil 'will destroy green revolution'
As the price of a barrel falls below $60, the long-term impact on wind, solar and hydro-power could be catastrophic for the planet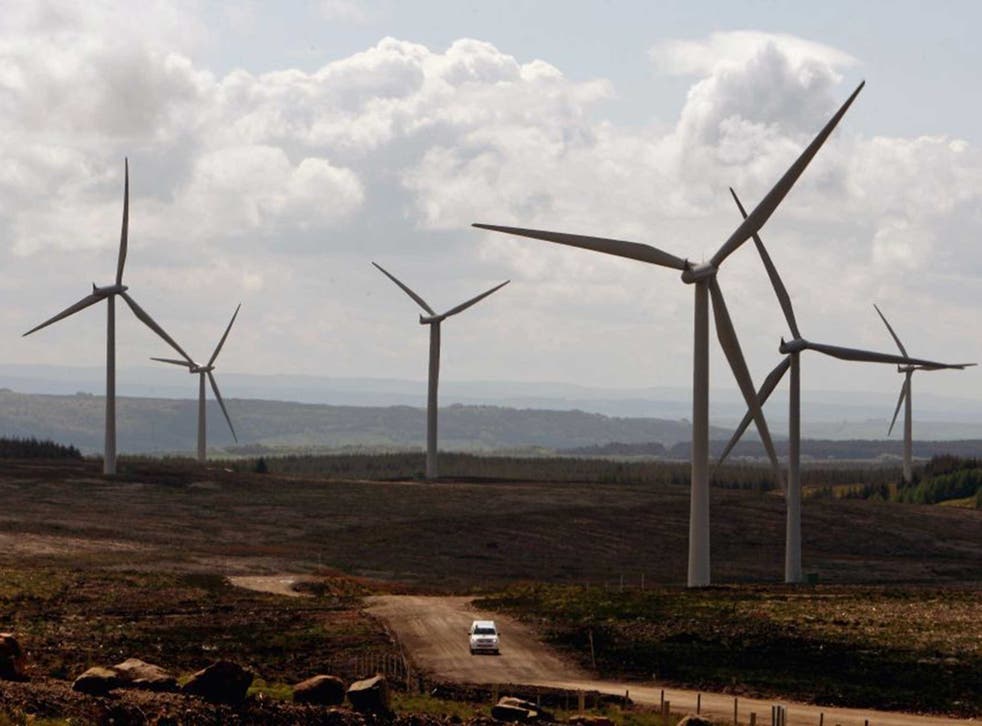 The collapsing oil price that is reshaping the global economy could derail the green energy revolution by making renewable power sources prohibitively bad value, experts have warned.
Oil tumbled below $60 a barrel for the first time in more than five years yesterday – a fall of 44 per cent since June. It is forecast to fall further.
A new "era of cheap oil" would be good news for consumers and motorists – but analysts say the consequences for politics, industry and the climate could be even more radical.
The ripple effects could help the Conservatives to remain in power at next year's general election by making voters feel richer as bills fall – while hurting Scotland's oil-reliant economy and setting back its campaign for independence.
The falling prices could damage the North Sea and fledgling fracking industries and make it harder for the UK to hit its legally binding targets to cut carbon emissions. But the biggest threat posed by falling oil and gas prices – in the UK and globally – is to the renewable energy industry dominated by wind-, solar- and hydro-power, experts say.
Solar panels around the world

Show all 11
"Renewable energy subsidies have been mostly sold to the public on the basis of the economic benefits," said Peter Atherton, an energy analyst with Liberum Capital. "But the economic arguments hinged on the idea that fossil fuel prices would get more expensive, while expensive renewable subsidies would be able to come down over time. That's looking doubtful now."
Anne Robinson, director of consumer policy at the uSwitch price comparison website, said: "More subsidies are likely to be needed [for green power] as the gap between the cost of fossil fuel power and renewable power gets bigger." The extra subsidies would be borne by households in the form of higher energy bills.
Anne Robinson, director of consumer policy at the uSwitch price comparison website, said: "More subsidies are likely to be needed [for green power] as the gap between the cost of fossil-fuel power and renewable power gets bigger." The extra subsidies would be borne by households in the form of higher energy bills.
Green energy technologies such as solar and wind had been banking on sharp increases in fossil fuel prices to make them increasingly competitive and help to attract the huge amount of investment required to build renewable power plants. But that "economic case" is now in danger of being lost, with the environmental argument seen by many as being insufficient to drive through high levels of green energy investment.
The oil price has tumbled in recent months as soaring US production greatly increases supply at the same time as the global economic slowdown reduces demand.
Saudi Arabia is also playing a part by preventing the Opec group of key oil producers from propping up prices by reducing production – a move that reportedly aims to deprive Russia of much-needed income and to make it uncommercial to extract US oil reserves, which are largely contained in shale and expensive to release.
A consensus is growing that oil prices will remain low for at least the next couple of years. It is looking likely that the substantial jumps that had been forecast in the 2020s and 2030s will not materialise.
The UK economy will benefit from cheap oil because the country is a significant net importer of oil and gas. Petrol prices are coming down, with Tesco reducing the price of petrol by a further 2p a litre yesterday, and a lid is being kept on household electricity bills. Meanwhile, a huge range of products and services are becoming cheaper as transport and energy costs fall.
"The oil price could give the economy a substantial boost, making the country materially better off. This could help the Tories get in at the next election because people will feel less concerned about the cost of living," Mr Atherton said.
But in Scotland, the consequences of the falling oil price are far more profound. "If, as we expect, oil prices remain low for some time, it would be a blow to the economic arguments for independence and call into question the optimistic fiscal forecasts upon which the case for an independent Scotland was made," said Maeve Johnston, a UK economist at Capital Economics.
The low oil and gas prices are hurting Scotland now because the North Sea is a key part of its economy and they will hit it in the future because, at these prices, it won't be commercially viable to extract many of the remaining reserves as what is left is difficult to access, making it expensive to extract.
Former SNP leader Alex Salmond famously promised to make Scotland the "Saudi Arabia of renewables" and much of its economic future is based on developing a world-leading green power industry.
"An independent Scotland would suffer quite badly if the low oil price was sustained. There would be lower growth, lower tax revenues and a much worse structural deficit. It would bring the economics of independence into question," said Professor Brian Ashcroft, of the University of Strathclyde business school. Scotland also hosts many of the renewable energy facilities threatened by the collapse in oil prices.
The falling price of fossil fuel may also damage the prospects for Britain's fledgling shale industry as fracking is a relatively expensive way to extract hydrocarbons and it may not be economic to do so, warned Dr Rob Gross, director of the Centre of Energy and Technology at Imperial College, London.
Energy boost: Potential effects of falling prices
Petrol prices
The most obvious way that falling oil prices will affect households is through cheaper petrol costs. Tesco yesterday lopped 2p off a litre of petrol and 1p off diesel. This was the latest in a series of price cuts among petrol providers in recent weeks, which have collectively knocked about 10 per cent off the price, leaving the average price for a litre at a five-year low of 119.0p.
Flights
Falling fuel prices should push down the cost of air travel because it's the airlines' biggest expense. It's also good for the airlines themselves, which have been struggling, with some going bust, because of high fuel prices. A good barometer is airline share prices – easyJet's is up more than a fifth since the beginning of September. On the downside, any boom in air travel is bad for the environment because aircraft produce colossal volumes of greenhouse gases.
Household energy bills
In theory, utility bills should be coming down as the wholesale gas price tumbles. However, the Big Six are renowned for rapidly increasing prices when wholesale prices rise and bringing them down much more slowly when they fall. This case is no exception. The drops in fossil fuel prices have yet to result in any utility bill cuts – a development the providers blame on Labour for pledging to freeze bills if it gets elected, thereby reducing scope for the Big Six to increase prices again if wholesale costs rise. But at least the falling fossil fuel prices mean utility bills haven't gone up.
Consumer prices
Falling fossil fuel prices will make a wide range of products and services cheaper as transport and energy costs reduce the cost of manufacturing and distributing them. This should feed through into higher consumer spending, which is good for the economy, not least because it will boost VAT receipts.
Join our new commenting forum
Join thought-provoking conversations, follow other Independent readers and see their replies