Crocodile lizard and snail-eating turtle among 115 new species discovered in the Greater Mekong
The Asian river basin is one of the world's richest areas for biodiversity
Harry Cockburn
Tuesday 19 December 2017 13:07 Comments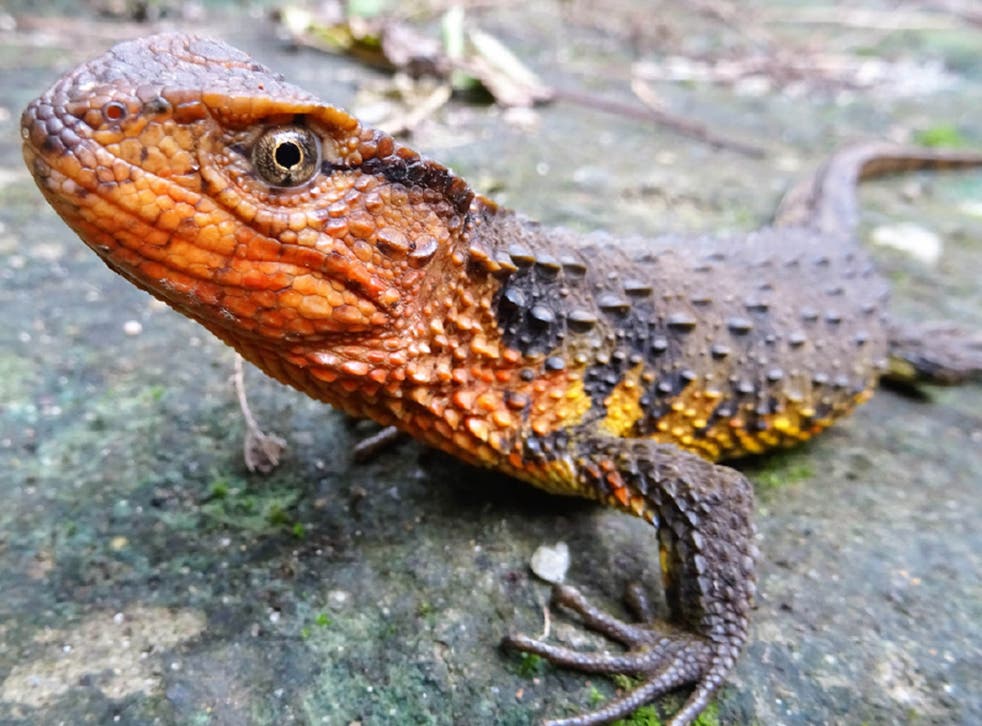 A brightly coloured crocodile lizard, a thriving mole population and a mountain-dwelling bat are among an astonishing 115 new species of flora and fauna discovered in Asia in 2016.
A report by wildlife charity WWF has revealed three previously unknown mammals, 11 amphibians, two fish, 11 reptiles and 88 new plants were found by researchers and scientists in the Greater Mekong region.
The large river basin stretches across parts of Laos, Myanmar, Thailand and Vietnam and is already recognised as one of the world's richest areas for biodiversity.
The new finds also include a new vibrantly coloured frog, a striped loach, a snake and a bent-toed gecko.
New species discovered in Southeast Asia: in pictures

Show all 7
The mountain horseshoe bat was found in the evergreen forests of the mountains of Thailand. They are named because of their distinctive horseshoe-shaped facial structures, known as noseleafs.
According the WWF the new species has a slightly different shaped noseleaf, which are used in the bat's echolocation. The charity said it had led some to liken it to alien characters in the Star Wars film franchise.
Dr Pipat Soisook, who first stumbled upon the bat on a trek warned that the flying mammal may be at risk of habitat loss.
Since 1997 2,524 new species have been found in the Greater Mekong, though many of them are directly under threat by increasing human activity in the region.
Also among the latest group of new species is a snail-eating turtle which was found in a food market in Udon Thani in Thailand.
According to the WWF report, Dr Montri Sumontha had finished a meeting in the area and wandered over to the local market to look at the fish and fresh foods when he spotted the previously unidentified species.
The seller told him the turtles had been caught in a nearby canal.
Dr Sumontha said the species will require greater protection if it is to survive. "I have collected data and information on human threats to wildlife, such as growth of infrastructure, dikes and dams, which has led to turtle populations declining in Thailand," he said. "Protection of turtles needs to be emphasized in Thai law as soon as possible."
Stuart Chapman, WWF regional representative for Greater Mekong, said the discovery of "more than two new species a week, and 2,500 in the past 20 years, speaks to how incredibly important the Greater Mekong is".
He added: "The species in the Greater Mekong deserve protection from unscrupulous collectors who are willing to pay thousands of dollars or more for the rarest, most unique and most endangered species."
Illegal wildlife markets in the region operated "with impunity in open view" so it was critical that governments improved enforcement against poaching and closed the markets, he added.
But the report also noted that not all of the animals faced dire prospects. The two species of moles found in 2016 are not under threat – as the report notes "One effective strategy used by mole species to stay safe: go underground!"
A research team led by Dr Alexei Abramov in Vietnam found the moles had managed to maintain stable populations and escape the threat of poaching by staying out of sight of humans.
The report says though the Greater Mekong is one of the most biologically rich regions on Earth, it is now one of the world's most threatened by environmental destruction.
It warns the growing threats to biodiversity include major infrastructure development, including deforestation to make way for roads, the creation of dams, and poaching for trade as food, pets and medicines.
"This region is home to both incredible wildlife and incredible communities of people. We need to find a way forward so that both of these groups can live together harmoniously," Mr Chapman said.
"If we don't come together and decide that their lives are worth saving, the day when there are no species left to discover will come sooner than we think."
The species documented in the report include:
A mountain horseshoe bat (Rhinolophus monticolus), found in the forests of mountainous Laos and Thailand. It took 10 years to determine it was a new species, with a horseshoe-shaped facial structure, known as a noseleaf.
A Vietnamese crocodile lizard (Shinisaurus crocodilurus vietnamensis), which lives in freshwater and forest habitats of south China and northern Vietnam. It is threatened by habitat destruction, coal mining and collection for pets and as few as 200 could remain in Vietnam. A comic-strip character has been created to explain to children the importance of protecting it.
A snail-eating turtle (Malayemys isan), identified in a market in north-east Thailand. It is threatened by infrastructure, such as dikes and dams, and needs to be protected under Thai law, conservationists said.
Two moles (Euroscaptor orlovi and Euroscaptor kuznetsovi), which were discovered in a network of streams and rivers in northern Vietnam. It is thought they can maintain stable populations and escape poachers because they live underground in protected areas.
A vibrantly coloured frog (Odorrana Mutschmanni), which is threatened by quarrying for cement and road construction. The frog's "karst" forest home needs new protection, WWF said.
A loach (Schistura kampucheensis) fish from Cambodia with striking black and brown stripes on its elongated body.
A frog and four plant species from Burma (Myanmar) which is opening up to scientific exploration, with expectations it could be home to hundreds of undiscovered species.
PA contributed to this report
Register for free to continue reading
Registration is a free and easy way to support our truly independent journalism
By registering, you will also enjoy limited access to Premium articles, exclusive newsletters, commenting, and virtual events with our leading journalists
Already have an account? sign in
Join our new commenting forum
Join thought-provoking conversations, follow other Independent readers and see their replies