Nigel Lawson profile: The eurosceptic leading the battle against Brussels
He infuriated Thatcher, antagonises environmentalists – and now threatens to break the hearts of Europhiles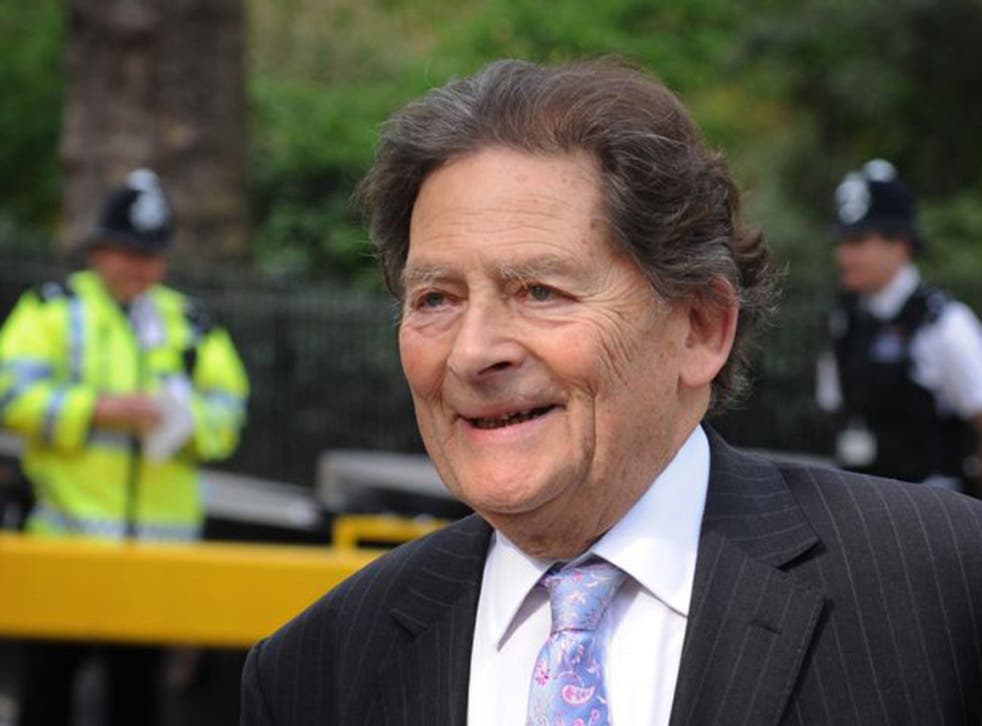 Lord Lawson of Blaby has probably quite enjoyed being told to "shut up". He is what they call a "Tory grandee", the sort of figure whose role is to be heard out in silence and then politely ignored. No more; now he is up to something important enough to make others seriously angry. It is a sign of how things will be when the referendum campaign to decide Britain's future in the EU begins. Hidden behind the public debates between opposing sides, there will be the far more vicious infighting within the two camps – much of which will be kept from the public until after it is all over.
Those who are limbering up to run the No campaign are already exchanging insults. At the age of 83, Lord Lawson has agreed to be president of Conservatives for Britain, the political home for Tories who are likely to campaign for a British exit. For the Tory MP Steven Baker, who recruited him, Lord Lawson is a brilliant catch. "I'm very pleased to have one of our great Conservative statesmen as our president," he said. "We knew it would be big news. He has very clear and strongly held views."
That is not how Arron Banks, the insurance tycoon who bankrolls Ukip, feels. "If the Tories keep using has-beens like Lord Lawson and the other Eurosceptic rabble, then that will turn off supporters," he said. "It would be better if the Eurosceptic Tories just shut up."
There was a time, a quarter century ago, when Margaret Thatcher wished she could shut Nigel Lawson up. When plans were being made for a single European currency, her Chancellor had decided to manipulate interest rates so that sterling's value against the German Deutschmark was kept more or less stable. So angry was she that she considered sacking him, but didn't feel she could because – she wrote later – "he had complete intellectual mastery of his brief, [and] he had the strong support of Conservative backbenchers".
Lawson told his side of the story in his erudite memoirs, which give 1,000 pages of detail about his policies and intellectual philosophy, but say almost nothing about his interesting antecedents, beyond mentioning that his father was a tea merchant, and his maternal grandfather was a wealthy stockbroker. He did not mention Gustav Leibson, who emigrated from Latvia early in the 20th century, when anti-Semitism was rampart in the empire of the Russian tsar, and changed his name to Lawson. His son Ralph was Lord Lawson's father. Myra Hess, one of the greatest classical pianists of the 20th century, was his great-aunt.
He was born in Hampstead, and educated at Westminster School. His only serious political commitment as a student at Oxford University was to join the Strasbourg Club, which was committed to getting Britain to join what was then the Common Market. In his youth, Lawson was a great advocate of European free trade. After university, he married an heiress, Vanessa Salmon, whose family owned the Lyons Corner House chain. Their eldest daughter, Nigella, would one day eclipse her father's fame. Their son, Dominic, rose to be editor of The Sunday Telegraph, where his father had once worked. The couple were divorced in 1980, and he married Thérèse Bate, a Commons researcher.
He did his national service in the Navy, commanding a torpedo boat. Then he took up a career in journalism, interrupted by a couple of years speech writing for Conservative Central Office. In 1965, aged 33, he was appointed editor of The Spectator. Though this is a Conservative magazine, under Lawson's editorship it opposed the Vietnam War. In 1970, he stood as Tory candidate in Slough, a Labour seat, and was out campaigning when he heard that he had been sacked. The Spectator's new owner did not like him.
After becoming Conservative MP for Blaby in February 1974, he set out his stall as an articulate voice of the Tory right, even to the point of calling for a return of the death penalty for IRA bombers, and defending Margaret Thatcher when she was under attack. Once she was party leader, he rose rapidly. In September 1981, she conducted her first purge of non-Thatcherite cabinet ministers, and brought Lawson in as Energy Secretary. Two years later, he was made Chancellor of the Exchequer.
His promotion coincided with the departure from the government of Thatcher's old mentor, Sir Keith Joseph, which left Lawson as the cabinet minister best able to give a coherent definition of what "Thatcherism" meant. His air of self-assurance was compounded by his generous girth.
His six years as the longest-serving Chancellor since David Lloyd George were years of hubris. The sorry state of the Labour Party gave the Tories huge majorities in the Commons. The inflation of the 1970s had been overcome. Public finances were in a healthy state because of North Sea oil, the proceeds of privatisation and a ruthless squeeze of local government spending. Lawson prided himself on abolishing at least one tax in every budget he presented.
The climax came in 1988, when he cut the top rate of income tax from 60p to 40p. This and other measures set off the "Lawson boom" and forced him to double the interest rate to 25 per cent to combat inflation. In this weakened position, he fell out with Thatcher over the poll tax, which he opposed, and the European monetary system, a precursor to the euro, which he supported but she opposed. He resigned abruptly in October 1989, only days after she had publicly described him as "unassailable".
Lord Lawson of Blaby, as he became after quitting the Commons in 1992, was – literally – a diminished figure. He lost five stone in a few months. For those who wondered how, he wrote a book: The Nigel Lawson Diet Book.More controversially, he moved into the debate on climate change. To Lawson, the warnings from scientists about the potential impact of global warming sounded suspiciously like an excuse for governments to interfere in the free market.
In 2008, he published a book entitled An Appeal to Reason: A Cool Look at Global Warming, which provoked reaction – not least among the scientists he sought to refute. Sir John Houghton, one of the leading figures in the field, claimed that it was "neither cool nor rational", but riddled with errors. A year later, Lawson launched the Global Warming Policy Foundation, an educational charity which claims to be "open-minded on the contested science of global warming" but "deeply concerned about the costs and other implications of many of the policies currently being advocated".
The common theme between this and his emergence as an anti-EU campaigner is a lifelong belief that the market should be allowed to operate with minimal interference. In the 1980s, he supported the EU when it removed trade barriers between states. Now, he and like-minded Tories see it as a supra-national bureaucracy that lies heavy on the free market.
The insults directed at him by Arron Banks are a symptom of an argument over whether the case put by the No campaign should be economic, or anti-immigrant. As an immigrant's grandchild, Lord Lawson does not care for "xenophobes". If she were to learn that her Chancellor was to be the man to lead Britain out of the EU, Thatcher would no doubt repeat what she said in her memoirs: "He certainly has a nerve – but Nigel always did. That was one of his engaging characteristics."
Nigel Lawson: A life in brief
Born: 11 March 1932, Hampstead, London.
Family: Only son of tea merchant Ralph and Joan. Married Vanessa Salmon and then Thérèse Maclear. Six children.
Education: Westminster School; philosophy, politics and economics degree from Christ Church, Oxford.
Career: Journalist from 1956, The Spectator editor, 1966. Elected Blaby MP, 1974. Financial Secretary to the Treasury (1979), Energy Secretary (1981), Chancellor (1983-9). Founded Global Warming Policy Foundation, 2009.
Register for free to continue reading
Registration is a free and easy way to support our truly independent journalism
By registering, you will also enjoy limited access to Premium articles, exclusive newsletters, commenting, and virtual events with our leading journalists
Already have an account? sign in
Register for free to continue reading
Registration is a free and easy way to support our truly independent journalism
By registering, you will also enjoy limited access to Premium articles, exclusive newsletters, commenting, and virtual events with our leading journalists
Already have an account? sign in
Join our new commenting forum
Join thought-provoking conversations, follow other Independent readers and see their replies