Nine out of 10 flounder swimming in the Thames have plastic fragments in their guts, says research
Research reveals disastrous impact of plastic on fish swimming in the Thames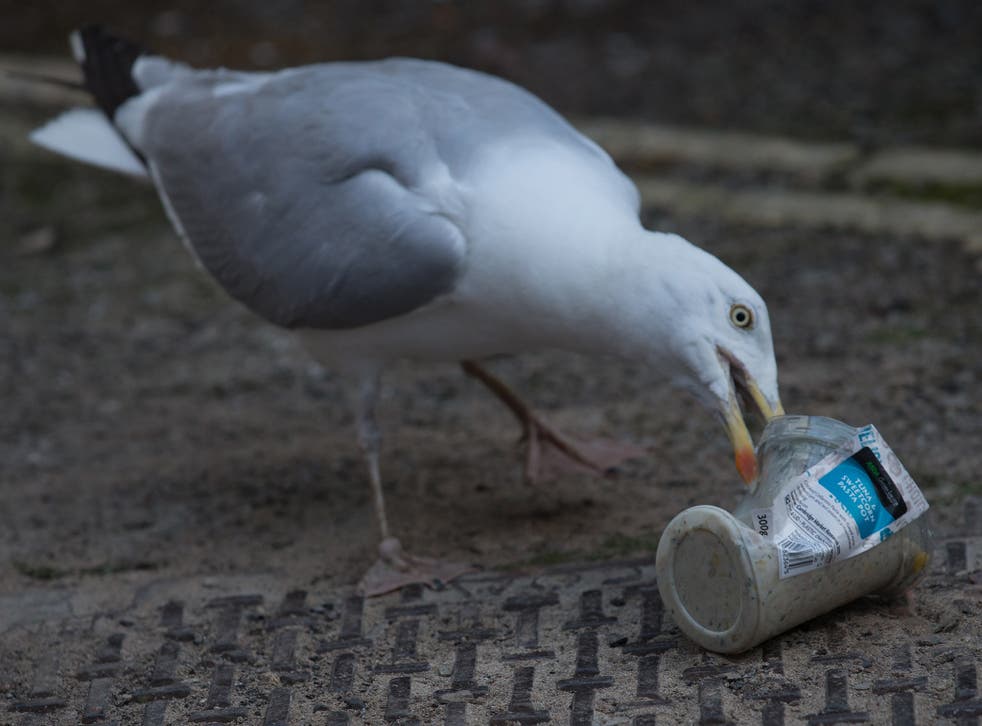 Britain's rivers are awash with so much plastic that nine out of 10 flounder swimming in the Thames have fragments in their guts, according to alarming new research.
Despite a new 5p charge for carrier bags being introduced in England on 5 October, environmentalists say the move doesn't go far enough to stem the plastic tide causing havoc in the country's rivers.
A University of London analysis of the River Thames found that the flounder and a fifth of smelt – a family of small fish – had plastic inside them and it also uncovered giant knots of plastic fibres in the stomachs of Chinese mitten crabs at Chelsea Bridge.
The study, by a Royal Holloway student, is particularly concerning because it suggests that plastic is infiltrating river wildlife at an alarming rate, said Dr David Morritt, the student's supervisor.
It is well known that huge volumes of plastic are accumulating in the world's oceans but very little research has been done into the problems plastic is causing for Britain's rivers, he said. "It's interesting and worrying that the concentration of plastic [in the fish] in this river study is higher than for a comparable study in the English Channel.
"We might expect that because the river is a smaller body of water but it's definitely a point of concern and certainly deserves further study," said Dr Morritt.
"Another student looked at crab guts and found some with great big knots of plastic fibres stuck in their stomachs. If they're picking up plastics lots of other species may be as well," Mr Morritt added.
The fish research, by Alex McGoran, has been sent to a journal to be considered for publication. It is the latest study to demonstrate that plastic is wreaking havoc on nature, in the UK and worldwide.
England will take a significant step to address the problem on 5 October when large retailers will be required to charge customers 5p for every plastic bag they give out – bringing the country into line with Wales, Scotland and Northern Ireland, which have already introduced charges.
In pictures: Plastic pollution around the world

Show all 10
The move has been widely welcomed as an effective way to cut England's 7.6 billion carrier-bag-a-year habit – equating to 136 per person – a move that is as much about cutting down on acres of unsightly litter as protecting nature.
The charge has been successful elsewhere in Britain, cutting bag use by 80 per cent in Scotland since it was introduced a year ago. It has been similarly successful in Wales and Northern Ireland.
But while the English bag charge has been welcomed, it has been widely criticised for excluding small retailers and paper bags – in Scotland, Wales and Northern Ireland the charge is universal.
The Government is also coming under pressure to introduce a "deposit-and-return" scheme that would give customers a refund for returning plastic bottles.
Scotland's environment secretary Richard Lochhead is considering such a scheme, which he said in May could be "the next big thing" in the battle to cut down on plastic waste by encouraging recycling.
"Charging for plastic bags is a vital step in the fight against waste. Deposit return schemes are the next exciting opportunity. They reduce litter, increase recycling and create jobs," said Samantha Harding, of the Campaign to Protect Rural England.
"The pilot scheme in Scotland show it could definitely work there, as it does successfully in many countries around the world. I hope the Scottish government has the courage to take this bold step and that the government in England would commit to investigating the benefits too," she added.
Clean Up Britain founder John Read said that the only way to comprehensively deal with the plastic-bag problem is to demonise littering so that the 29 million British people – 48 per cent of the population – who admit to dropping plastic bags and other litter will stop doing so.
"What we really need is concerted and collaborative action and, specifically, a national campaign to making littering socially unacceptable – just as drink driving is now socially unacceptable," he said.
Plastic can take as long as 500 years to decompose, during which time it breaks down into ever smaller fragments, making it easier to be consumed by wildlife on land and water. Turtles can mistake plastic bags for jelly fish and eat them – a move that can kill them by blocking their guts.
But it is the tiny microplastic fragments that cause most of the damage – blocking animals' digestive systems and potentially upsetting their chemistry as chemicals attached to the plastic find their way into their systems.
Two recent studies of sea birds illustrate just how widespread plastic pollution has become. One, by the University of Georgia, estimates that 8 million tonnes of plastic debris are being washed into the sea – and that the cumulative quantity of waste will result in a tenfold increase in the amount of plastic in the sea by 2020. The second predicts that by 2050, 95 per cent of all seabirds will have swallowed plastic, compared to just 5 per cent in 1960.
The explorer Paul Rose told the BBC: "I spend my life diving and supporting ocean science in the world's last wild place. Everywhere I go we take water samples – and they have always got plastic in them."
Plastic facts
* 8.5 billion plastic bags given out by UK supermarkets in 2014, or 136 per person
* 224 plastic bags given out every second by UK shops
* 48 plastic bags on each kilometre of beach in the UK
* 71% drop in number of plastic bags handed out in Wales since 5p charge was introduced in 2011
* 275,000 tonnes of plastic used every year in the UK
* 90% of flounder in the river Thames have plastic in their gut
* 8 million tonnes of plastic debris estimated to wash into the world's oceans every year
* 99% of the world's seabirds forecast to have plastic in their stomachs by 2050
Register for free to continue reading
Registration is a free and easy way to support our truly independent journalism
By registering, you will also enjoy limited access to Premium articles, exclusive newsletters, commenting, and virtual events with our leading journalists
Already have an account? sign in
Register for free to continue reading
Registration is a free and easy way to support our truly independent journalism
By registering, you will also enjoy limited access to Premium articles, exclusive newsletters, commenting, and virtual events with our leading journalists
Already have an account? sign in
Join our new commenting forum
Join thought-provoking conversations, follow other Independent readers and see their replies