President Obama creates an 'underwater Yellowstone' with first US national monument in the Atlantic Ocean
The Northeast Canyons and Seamounts Marine National Monument, some 130 miles off Cape Cod, is approximately the size of Connecticut
Tim Walker
US Correspondent
Thursday 15 September 2016 20:49 Comments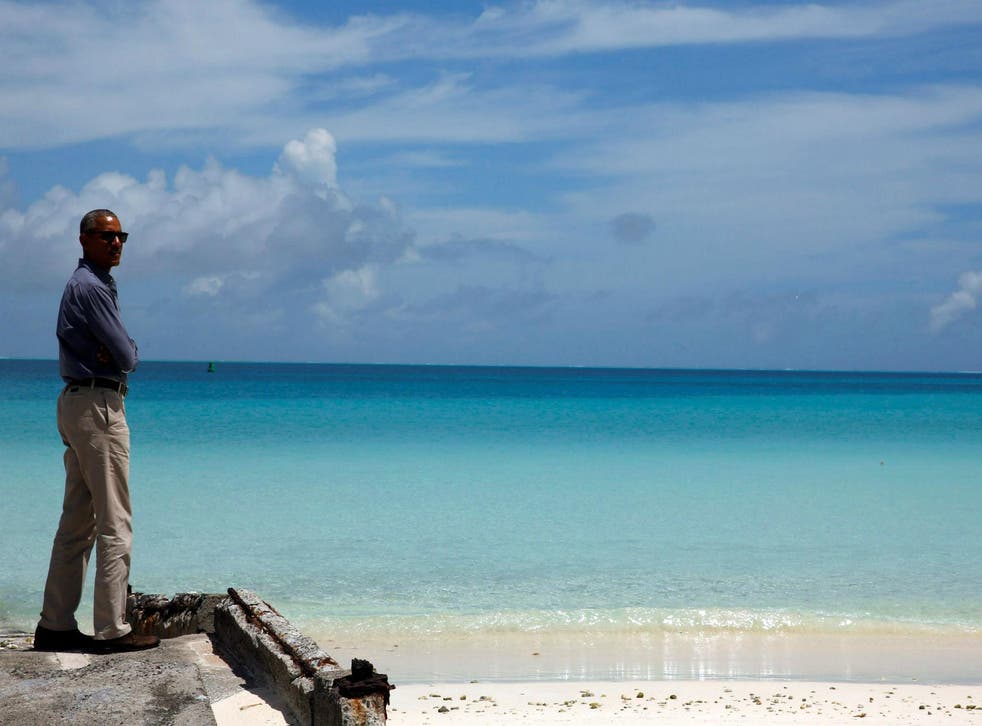 US President Barack Obama has announced the creation of a 4,913-square-mile national monument off the coast of Massachusetts, the first such monument in the Atlantic Ocean.
The Northeast Canyons and Seamounts Marine National Monument, some 130 miles from Cape Cod, is approximately the size of Connecticut. It contains canyons deeper than the Grand Canyon and submerged peaks higher than any mountain east of the Rockies, as well as rare and endangered species including corals, sperm whales and sea turtles.
The site, which has already been referred to as an "underwater Yellowstone", is in a part of the Atlantic expected to warm around three times as fast as the global average in the coming years.
"We're protecting fragile ecosystems off the coast of New England, including pristine underseas canyons and seamounts… [and] we're helping make the oceans more resilient to climate change," Mr Obama said as he unveiled the plan at the Our Ocean conference in Washington DC on Thursday, adding that the monument was being established "in a way that respects the fishing industry's unique role in New England's economy and history."
The declaration nonetheless means most commercial fishing will soon be banned from the waters within the monument. However, lobster and red crab fisheries have a seven-year grace period before they must leave the area.
Bob Vanasse, spokesman for the National Coalition for Fishing Communities, told NPR that the monument would do serious damage to the region's fishing industry. "We anticipate the offshore lobster industry will be affected to the tune of about $10 million per year," he said. "On top of that, one of the most affected industries is going to be the Atlantic red crab industry. It is going to be very significantly impacted."
Mr Obama referred to his childhood in Hawaii as he made the announcement at the State Department on Thursday. "I spent my childhood on those shores looking out over the endless ocean and was humbled by it," he said. "If we're going to leave our children with oceans like the ones that were left to us, then we're going to have to act, and we're going to have to act boldly."
Theodore Roosevelt signed the Antiquities Act in 1906, allowing presidents to offer stronger protections to existing federal lands. Republicans have long criticised Mr Obama's use of the Act, arguing that it represents government overreach and an abuse of executive power.
Mr Obama has already created or enlarged 26 other national monuments, protecting almost 550 million acres of federal land and water – at least twice as much as any of his predecessors. Last month, he expanded the Papahānaumokuākea Marine National Monument around Hawaii to 582,578 square miles, making it the largest protected area on Earth.
Register for free to continue reading
Registration is a free and easy way to support our truly independent journalism
By registering, you will also enjoy limited access to Premium articles, exclusive newsletters, commenting, and virtual events with our leading journalists
Already have an account? sign in
Join our new commenting forum
Join thought-provoking conversations, follow other Independent readers and see their replies