Ocean plastic could triple by 2040 and outnumber fish by 2050, study says
Researchers say curbing the rising tide of plastic waste will require businesses and governments going far beyond tackling bags and straws
Danielle Zoellner
Thursday 23 July 2020 20:56 Comments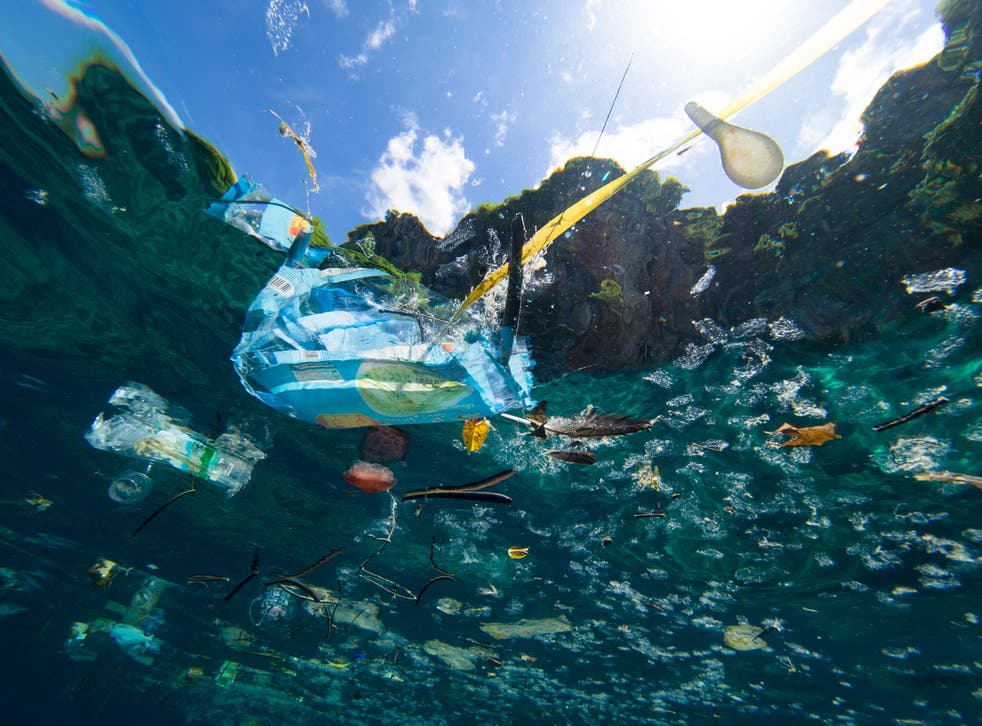 The volume of plastic entering the ocean annually could nearly triple in the next 20 years and by 2050 lead to more plastic in the planet's waters than fish, according to new analysis.
The study, by researchers from the Ellen MacArthur Foundation, University of Oxford, University of Leeds, and Common Seas, found that nearly 11m tonnes of plastic was dumped into the ocean in 2016.
The study found that this volume could almost triple to 29m tonnes each year by 2040. Since plastic does not degrade, it would amount to a total of 600m tonnes of plastic in the ocean.
The vast quantities forecast are based on the researchers' anticipation that the volume of plastic on the market will double by 2040, if governments and businesses fail to act.
"We very strongly believe trying to change the system as individuals is pretty much impossible. We're focusing on changing the cards our people are being dealt by changing the options companies are offering to people," Rob Opsomer, Executive Lead of Plastics, Fashion, and Finance at the Ellen MacArthur Foundation, told The Independent.
"The main focus is working on businesses and government because they actually have the power to change the system," he added.
Plastic wreaks havoc on marine ecosystems, breaking down into tiny pieces. Microplastics have invaded all depths of the world's oceans and a recent study found there may be double previous estimates.
At least 600 wildlife species are impacted by ocean trash, according to Ocean Conservancy. Many fish species consume plastics debris by confusing it for real food, which then enters our food chain through the seafood market.
Plastic waste in the ocean was previously tackled in areas of the world improving their waste management systems or companies banning and reducing plastic products like straws and bags. But researchers noted that neither of these options would properly mitigate the issue.
"We've seen much less action on eliminating plastic," Mr Opsomer said, compared to companies offering to reduce or reuse certain plastics.
Large corporations have offered to alter their packaging in the coming years to reduce plastic waste but the study found this would only reduce plastic "leakage" in oceans by 7 per cent. While modifying packaging may help, it will not be enough to curb the rising tide of plastic waste.
"We cannot recycle our way out of plastic pollution, and neither can we simply reduce our way out of it," the Ellen MacArthur Foundation said, in its published response to the Breaking the Plastic Wave analysis.
Instead, a "comprehensive, circular economy approach" was recommended by the researchers as a way to rethink the current plastics market.
This plan would demand that large corporations and businesses eliminate the plastics they no longer need, and go far beyond straws and plastic bags. New models would be necessary for customer delivery, with a focus on eliminating plastic packaging for individual items and replacing with reusable materials.
Thus far, 850 organisations have endorsed the circular economy approach to plastics, Mr Opsomer said. The organisation has received commitments from about 20 per cent of the global plastic producers for its Ellen MacArthur Foundation's Global Commitment. However, more companies are needed to make a difference prior to 2040.
"We need many more people to join in," he said. "We have about 80 per cent that are doing much less."
Curbing the amount of plastic in the ocean, would require businesses to completely redesign how items can be reused, recycled, or reconfigured. In addition, it will take more infrastructure to collect and circulate the plastic items already out there, which could cost an estimated $30bn, according to the study.
"There is a very significant cost required of the next 20 years to fund the collection and recycling infrastructure," Mr Opsomer said. "That requires a massive investment and ongoing operational cost to run that. Businesses will have to contribute and become more proactive."
The report puts pressure on businesses and governments to make decisions now that would have a significant impact on the future market of plastics.
On top of the 29m tonnes of plastic predicted each year by 2040, if businesses and governments fail to take immediate action on the study's proposals, and delay for just five years, then an additional 80m tonnes would end up in the ocean by 2040.
Register for free to continue reading
Registration is a free and easy way to support our truly independent journalism
By registering, you will also enjoy limited access to Premium articles, exclusive newsletters, commenting, and virtual events with our leading journalists
Already have an account? sign in
Register for free to continue reading
Registration is a free and easy way to support our truly independent journalism
By registering, you will also enjoy limited access to Premium articles, exclusive newsletters, commenting, and virtual events with our leading journalists
Already have an account? sign in
Join our new commenting forum
Join thought-provoking conversations, follow other Independent readers and see their replies