World's oceans rise to hottest temperatures ever recorded 'by far'
'Long upward trend that extends back many decades does prove global warming'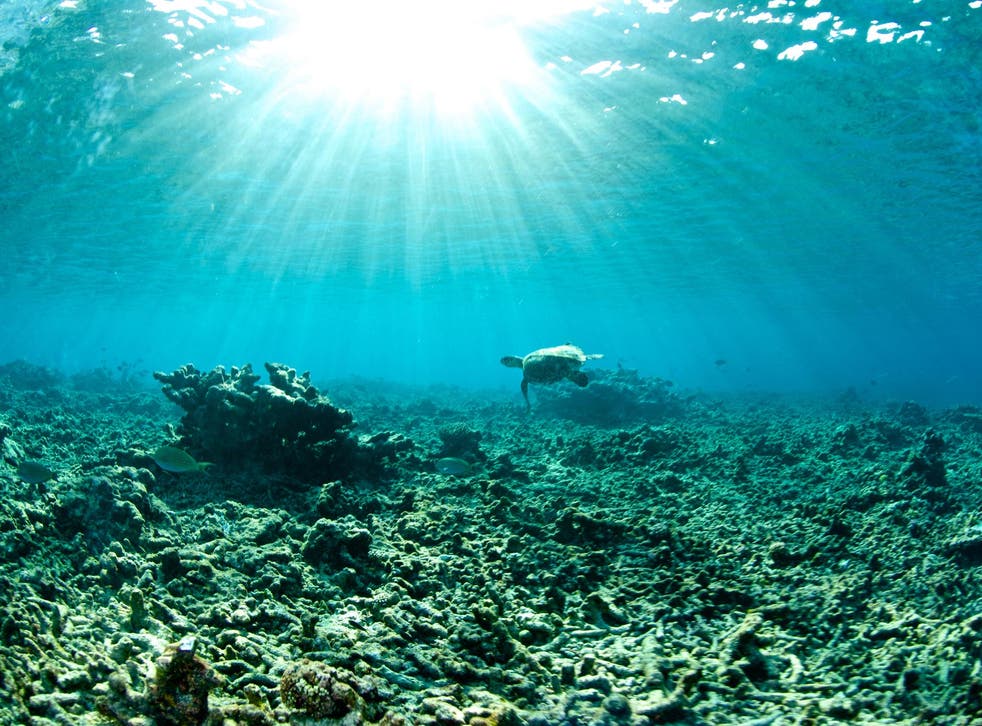 The world's oceans rose to the highest temperatures ever recorded by far in 2017, scientists have warned.
Research by a team of Chinese experts found the upper 2,000m of ocean water were far warmer in 2017 than the previous hottest year in 2015.
The findings, published in the journal Advances in Atmospheric Sciences, show the annual electricity generation in China is 699 times smaller than the heat increase in the oceans last year.
"The long-term warming trend driven by human activities continued unabated," wrote research authors Lijing Cheng and Jian Zhu,
Writing in The Guardian, John Abraham, a professor of thermal sciences at the University of St Thomas in Minnesota, said last year's dramatic increase in temperatures made 2017 by far the hottest year on record for the world's oceans.
The findings also come after previous research showed greenhouse gas levels in the atmosphere have risen to record high in 2017.
Last year was also one of the hottest ever recorded. Scientists have reported that 2017 was the second or third warmest year – depending on the set of data analysed – and the hottest year ever without El Niño, a natural phase of the climate system that results in warmer temperatures in the Pacific Ocean.
Mr Cheng and Mr Zhu said more than 90 per cent of the Earth's residual heat related to global warming is absorbed by the oceans and the heat record "robustly represents the signature of global warming".
The authors looked at the history of ocean warming over the last 60 years in order to compare the data.
They added that measurements of ocean heating are a more reliable indicator than atmospheric measurements for tracking "vital signs of the health of the planet".
According to the Institute of Atmospheric Physics' ocean analysis, the last five years have been the warmest years in the oceans.
Planet Earth II: 18 beautiful stills

Show all 18
Professor Abraham echoed the authors' comments and said the fact 2017 was the oceans' hottest year "doesn't prove humans are warming the planet" but "the long upward trend that extends back many decades does prove global warming".
The increase in ocean heat in 2017 was found to have occurred in most regions of the world, but the authors found the Atlantic and Southern oceans showed more warming than the Pacific and Indian oceans.
According to scientists, such temperature increase causes the oceans' volume to expand, contributing to global sea level rise.
Other notable impacts of the warming of the oceans include declining ocean oxygen, bleaching of coral reefs and the melting of sea ice and ice shelves.
"The point is, the effects of global warming aren't just academics; they are real," Professor Abraham said.
Register for free to continue reading
Registration is a free and easy way to support our truly independent journalism
By registering, you will also enjoy limited access to Premium articles, exclusive newsletters, commenting, and virtual events with our leading journalists
Already have an account? sign in
Register for free to continue reading
Registration is a free and easy way to support our truly independent journalism
By registering, you will also enjoy limited access to Premium articles, exclusive newsletters, commenting, and virtual events with our leading journalists
Already have an account? sign in
Join our new commenting forum
Join thought-provoking conversations, follow other Independent readers and see their replies