Oil and gas drilling in North Sea must end, government's own climate advisers say
Committee on Climate Change says drilling won't drive down household bills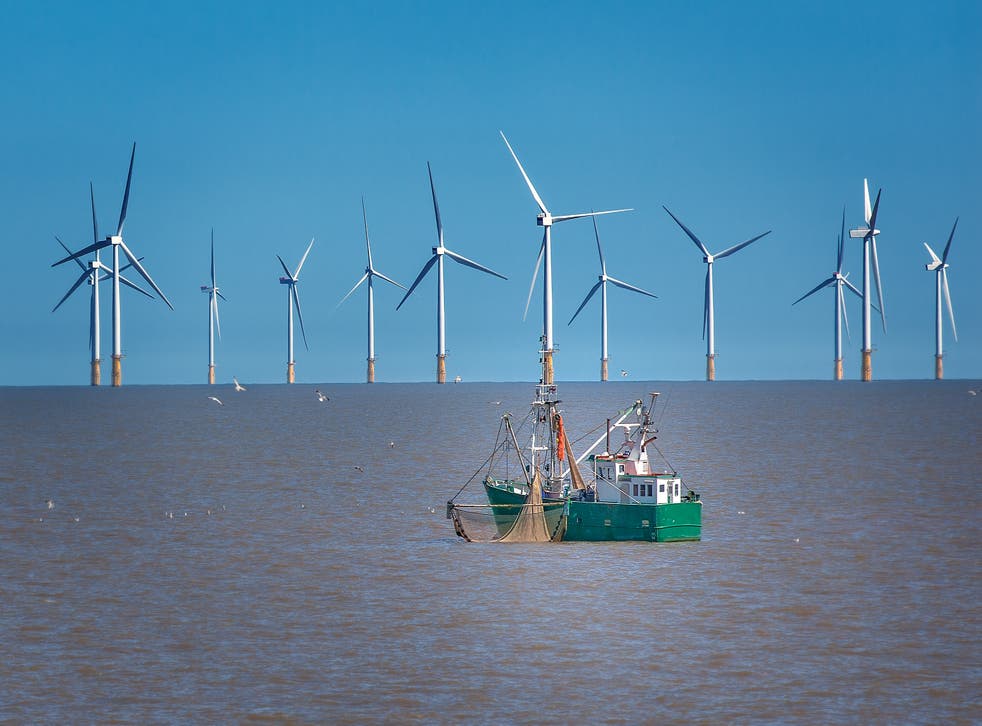 Ministers must end the expansion of oil and gas exploration across Britain with a "presumption" against new projects in the North Sea, the government's own climate advisers have said.
In a letter to business secretary Kwasi Kwarteng, the Committee on Climate Change (CCC) said it was time for Britain to "send a clear signal" about the climate emergency at home and abroad.
Green groups said the advice should lead to a "paradigm shift" and welcomed it as "a clear blow for the fossil fuel industry".
The government recently invited oil and gas companies to help write their own rulebook on when new drilling should go ahead.
It comes as The Independent's Stop Fuelling the Climate Crisis campaign calls for a halt on new drilling to help tackle the emergency.
In its letter to the business secretary the CCC, a statutory but independent body that advises on how the UK can reach its climate goals, said: "We would support a tighter limit on production, with stringent tests and a presumption against exploration.
"An end to UK exploration would send a clear signal to investors and consumers that the UK is committed to the 1.5C global temperature goal.
"That would also help the UK in its diplomatic efforts to strengthen climate ambition internationally."
The government is currently drawing up a so-called "climate checkpoint" for new oil and gas exploration, which will govern when exploration and drilling should go ahead.
But green campaigners reacted angrily in January after the business department said its consultation was "predominantly" for the oil and gas industries to take the "opportunity to input on the design" of the policy.
The letter from the CCC criticises a hole in the claims by some Tory MP that more fossil fuel drilling will help drive down household bills.
New extraction will have "at most, a marginal effect on the prices faced by UK consumers in future", the committee says – arguing that a better way to drive down energy prices would be "shifting to a renewables-based power system and electrifying end uses in transport, industry and heating".
It also blamed backwards steps by the government on green power generation and home energy efficiency, which it said had in fact added £140 to every bill.
Heather Plumpton, policy analyst at Green Alliance, said the intervention from the CCC was "a clear blow for the fossil fuel industry".
"They've made a clear call for tighter limits on the production of oil and gas – and made crystal clear how important it is that the climate test has real teeth if it is going to be credible," she added.
"The climate advisers say with absolute clarity that increasing domestic extraction would have a minimal impact on prices faced by UK households – and reiterate what the government itself knows to be true: that the government's primary focus should be accelerating the transition away from volatile fossil fuel markets to an energy-efficient, renewables-based power system."
Rosie Rogers, head of oil and gas transition for Greenpeace UK, said that "anyone who's read this advice and thinks the North Sea's future lies in oil and gas is utterly deluded" and that the government should "stop hoping to resurrect a declining fossil fuel industry".
She added: "The future of the North Sea is in renewables. Our economy, our energy security and our climate depends on it."
Danny Gross, climate campaigner at Friends of the Earth, also welcomed the letter, stating: "Recommending a presumption against oil and gas exploration spells a paradigm shift for the future of the North Sea.
"This assessment bolsters what scientists and the International Energy Agency have already said: that all new fossil fuel projects are incompatible with the international goal of limiting global heating to 1.5C."
A report by the International Energy Agency, commissioned by the UK's Cop26 president Alok Sharma, warned last year that new oil and gas production was incompatible with reaching net zero by 2050.
A separate domestic review by the government, however, said that drilling could proceed subject to some conditions – a suggestion that led to the government consulting on its "checkpoint".
But ministers say they want to "safeguard the future" of the oil and gas industry, which welcomed the move as potentially being a boon to "investor confidence" in fossil fuels.
UK news in pictures

Show all 50
The committee's letter says UK extraction has a "relatively low carbon footprint", at least for gas, and that "the UK will continue to be a net importer of fossil fuels for the foreseeable future, implying there may be emissions advantages to UK production replacing imports".
But they said that "the extra gas and oil extracted will support a larger global market overall" and that the situation is "not clear-cut" as in the case of coal.
Liberal Democrat leader Ed Davey, a former energy secretary in the coalition government, said the committee's advice "disproves once and for all the net-zero myths being peddled by Conservative MPs".
"The answer to Britain's long-term energy strategy is not more oil and gas. Instead, we need a green energy revolution, investing in renewables and insulating our drafty homes to cut bills and give us energy security for decades to come," he said.
"If we want to cut household bills today then the clear answer is a Robin Hood tax on the billions oil barons are raking in. What is the government waiting for?"
Officials at the Department for Business, Energy and Industrial Strategy said they would consider the letter alongside all other responses.
A spokesperson appeared to downplay the possibility of strict rules and said: "There will continue to be ongoing demand for oil and gas over the coming decades as we transition to cleaner and cheaper forms of energy generated in this country.
"As the business ​and energy secretary has said, turning off North Sea gas overnight would put energy security, British jobs and industries at risk, and we would be more dependent on foreign imports.
"We welcome the committee's acknowledgement that carbon budgets can still be met if new oil and gas fields are developed in the UK."
Register for free to continue reading
Registration is a free and easy way to support our truly independent journalism
By registering, you will also enjoy limited access to Premium articles, exclusive newsletters, commenting, and virtual events with our leading journalists
Already have an account? sign in
Register for free to continue reading
Registration is a free and easy way to support our truly independent journalism
By registering, you will also enjoy limited access to Premium articles, exclusive newsletters, commenting, and virtual events with our leading journalists
Already have an account? sign in
Join our new commenting forum
Join thought-provoking conversations, follow other Independent readers and see their replies