One of world's most used weedkillers 'possibly' causes cancer, World Health Organisation says
The agency classified 2,4-D as 'possibly carcinogenic' just months after finding another popular herbicide 'probably' caused cancer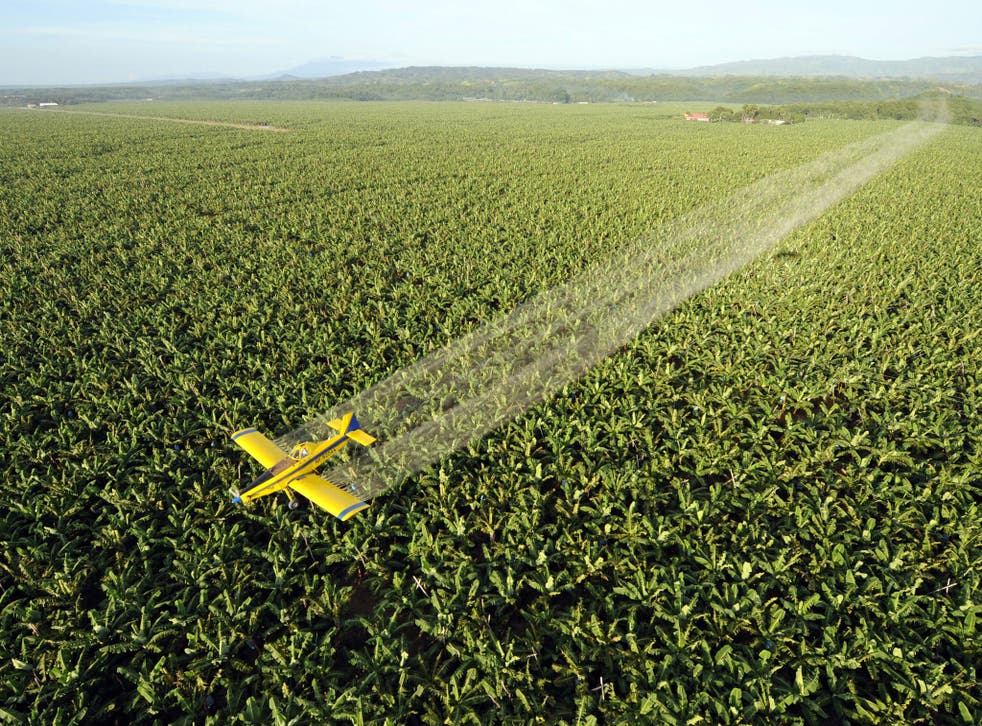 One of the most widely used weedkillers in the world has been classed as "possibly carcinogenic" after more than 70 years on the market.
Researchers at the World Health Organisation's (WHO) cancer division found that the results of scientific studies into 2,4-dichlorophenoxyacetic acid, known as 2,4-D, were too mixed to be conclusive.
The International Agency for Research on Cancer (IARC) classed it as "possibly carcinogenic to humans", which is a step below the category of "probably" causing cancer.
The herbicide has been widely used to protect agricultural crops, forestry, grass and bodies of water from weeds and invasive plant since it went on the market in the 1940s.
Dow AgroSciences, which uses 2,4-D as a component in its Enlist Duo product, claims there are more than 1,500 products that have it as an active ingredient.
It claimed the IARC's classification was flawed and was "inconsistent with government findings in nearly 100 countries" that have affirmed the safety of 2,4-D when used as labelled.
John Cuffe, from Dow AgroSciences' regulatory division, claimed no other herbicide had been "more thoroughly studied" and listed research in the US, Canada and Europe that had recently found 2,4-D does not increase the risk of cancer.
A review by the European Food Safety Authority earlier this year found that 2,4-D, as currently manufactured, was "unlikely" to pose a carcinogenic risk to humans.
The IARC said it decided on the "possibly carcinogenic" classification because there was "inadequate evidence in humans and limited evidence in experimental animals" of ties between 2,4-D and cancer.
It said that epidemiological studies provided "strong evidence that 2,4-D induces oxidative stress ... and moderate evidence that 2,4-D causes immunosuppression."
Dana Loomis, a deputy section head for IARC, said the most important studies reviewed showed mixed results, and a "sizable minority" judged the evidence as stronger than others did.
Among the research presented to IARC was an analysis funded by a Dow-backed task force that found no ties between 2,4-D and many cancers.
Environmental and consumer groups have been lobbying regulators to tightly restrict its use but the product has been defended by agricultural groups and chemical companies as an important agent in food production that does not need more restrictions.
Pesticide Action Network UK estimates the value of the global market for 2,4-D at more than $300 million (£190 million).
Its fact-sheet said that there were "major data gaps" in research on its effects on human health and wider environmental risks and "concerns about long term adverse effects of 2,4-D on human health and water pollution".
It was one of two herbicides used to make Agent Orange, the chemical used by the US military to deforest jungles and destroy food crops in the Vietnam War.
The Vietnamese government has claimed that up to three million people suffered from illnesses caused by the toxic chemical and birth defects and disability have also been attributed to it.
Monsanto, one of the nine wartime government contractors who manufactured Agent Orange, which included a herbicide called 2,4,5-T that was contaminated with an extremely toxic dioxin compound, said a "causal connection linking Agent Orange to chronic disease in humans has not been established".
WHO's findings come three months after the IARC found another popular weedkiller - glyphosate - was "probably carcinogenic to humans."
It is the world's most-used herbicide and the key ingredient in Monsanto Co's Roundup weedkiller and other products.
IARC classifications do not carry regulatory requirements but can influence regulators, politicians and the public.
Following the glyphosate classification, some companies and government officials moved to limit its use.
Additional reporting by Reuters
Join our new commenting forum
Join thought-provoking conversations, follow other Independent readers and see their replies