Only mass deer cull can prevent destruction of British woodlands and wildife, say scientists
Report finds between 50 and 60 per cent of wild deer should be destroyed each year for population to remain stable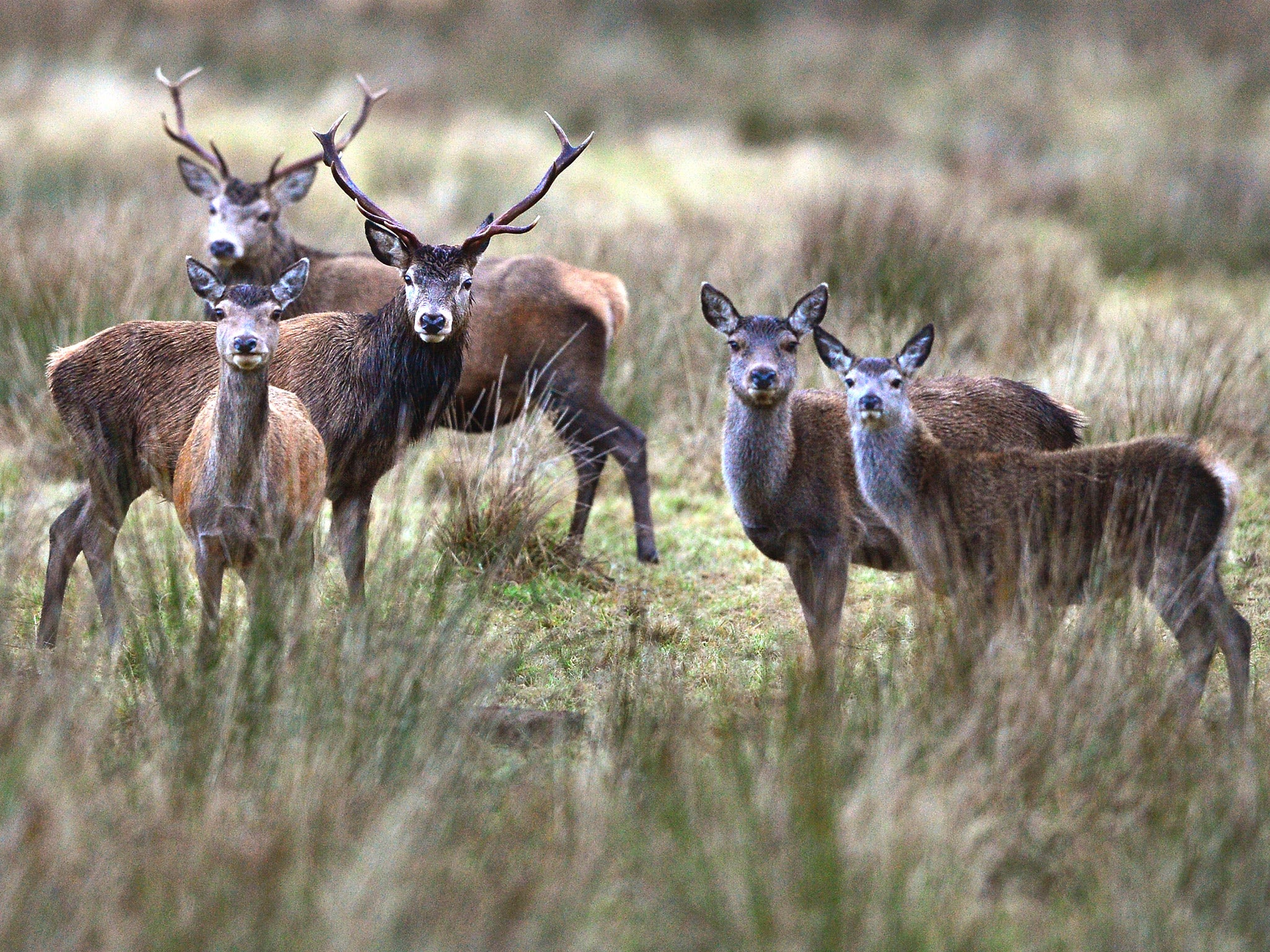 Britain's deer population is out of control with numbers now reaching levels that are causing serious and sustained damage to wild flowers and birds according to the first scientific assessment of the density of deer living in the English countryside.
Scientists have found that deer numbers are now greater than at any time since the end of the last Ice Age and only a dramatic increase in culling can prevent the "hyper-herbivory" that is destroying the nation's woodlands and its wildlife.
A study has found that between 50 and 60 per cent of wild deer would have to be shot each year in order for the existing population to remain stable. This could mean an annual cull of more than 750,000 deer based on current estimates of deer numbers, said Paul Dolman, an ecologist at the University of East Anglia.
"Nobody knows how many deer there are in the UK because nobody had counted them. This is the first systematic attempt to estimate their numbers," Dr Dolman said.
"Deer numbers are increasing because there is no check on them. Deer populations are going through the roof – there is an explosion in numbers," he said yesterday.
"They are completely eating out the lower shrub layer of woodlands and it has an impact on woodland birds....Our woodlands are going to be eaten out," he added.
There are six species of wild deer in Britain. The red deer and roe deer are native species, while the fallow, muntjac, sika, and Chinese water deer have all been introduced. In the absence of natural predators, and a shift away from hunting and trapping over the past half century, numbers of all of them have increased dramatically, Dr Dolman said.
Deer eat woodland shrubs and undergrowth causing extensive damage to the habitat of woodland birds, such as the nightingale. They are also destroying important woodland plants, such as the Oxlip and the bluebell, he said.
Although culling takes place on some of the land occupied by deer, next to nothing is known about how effective it is at controlling overall deer populations. The latest study suggests that existing culling is not nearly enough to limit the inexorable growth of deer numbers, and many animals merely move from one area to another, Dr Dolman said.
"Deer management is often based on guesswork. This is the first time that a population has been quantified and studied in terms of how the deer are breeding to measure the effectiveness of deer management," Dr Dolman said.
The study, published in the Journal of Wildlife Management, estimated deer density over 234 square kilometres (90 square miles) of forested land and heath in Breckland, East Anglia. Kristin Wäber, a postgraduate student at UEA, drove more than 1,140 miles at night with infra-red thermal imaging equipment to count individual roe and muntjac deer on the Norfolk-Suffolk border.
The scientists calculated that it would be necessary to cull 1,864 muntjac out of an estimated local population of 3,516 – some 53 per cent – and 1,327 roe deer out of a population of 2,211 – 60 per cent – just to offset the increase in deer numbers each year.
Dr Waber said: "Native deer are an important part of our wildlife that add beauty and excitement to the countryside, but left unchecked they threaten our woodland biodiversity. Trying to control deer without a robust understanding of their true numbers can be like sleepwalking into disaster."
Dr Dolman said that shooting deer at night with thermal imaging equipment by trained stalkers would be the most efficient and humane way of dealing with the deer problem. The meat would be used to supply a thriving market in venison, he said.
"In the absence of predators the only way to manage them is to shoot them. This has been happening but not nearly enough," Dr Dolman said.
"This would be an opportunity for the public to go into a local gastro-pub and eat venison knowing that they will eat a wild, free-ranging animal that has been humanely killed," he said.
"I've been a vegetarian for 15 years but I've no problem with eating muntjac deer….For anyone to eat meat and complain of culling deer lacks consistency," he added.
Wild deer of Britain
Red deer (Cervus elaphus)
Red deer are the biggest species of wild deer in Britain, and indeed the larges native land mammal. They once threatened the ancient Caledonian pine forests of Scotland, but are also increasing in parts of South West England, East Anglia and the Lake District.
Roe deer (Capreolus capreolus)
The roe deer is the second native species of Britain, but much smaller than the red deer. Numbers have increased dramatically, damaging crops, trees, gardens and woodland habitats – its main predator, the lynx, has long since disappeared.
Fallow deer (Dama dama)
An introduced species, the fallow deer came to Britain probably as early as the 11 Century with the Norman Conquest. They are an adaptable species, living in mixed broad-leaved woodland and arable farmland, where they can cause extensive crop damage.
Muntjac (Muntiacus reevesi)
There are thought to two species of Asian muntjac living wild in Britain, the Reeves' muntjac and the larger Indian muntjac. Although they are a small deer, scientists say they are a particular problem because they can breed all year round.
Sika (Cervus nippon)
Another Asian deer, the sika was probably introduced from Japan in the late 19 Century. They have extended their range significantly in recent years and can be found in Lancashire, Yorkshire and the New Forest area of Dorset.
Chinese water deer (Hydropotes inermis)
In their native wild habitat along the Yangtze River, the Chinese water deer are considered to be a vulnerable species. They are the least common deer in Britain and cause the least damage to wildlife but are capable of outbreeding the muntjac deer.
Join our commenting forum
Join thought-provoking conversations, follow other Independent readers and see their replies