Massive wildfires threaten critically endangered orangutans in Bornean wildlife reserves
'It is like the return of our worst nightmare'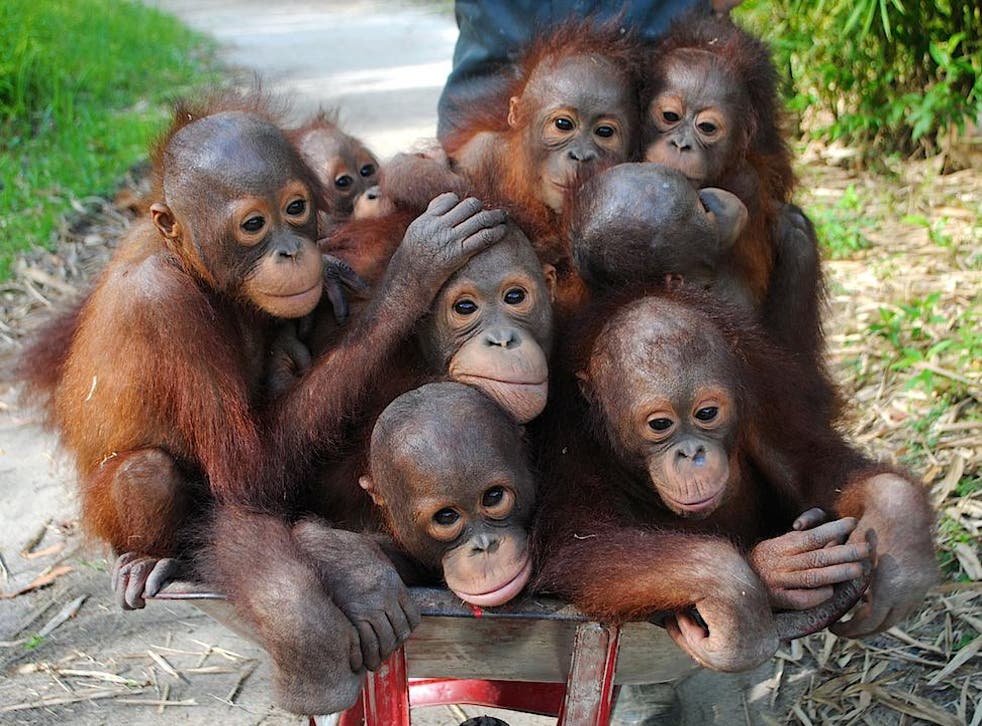 Vulnerable orangutans in West Borneo are under threat from wind whipped wildfires that have been exacerbated by the season's extreme weather.
Around 100 apes are safely housed in the International Animal Rescue (IAR) centre in Ketapang but local conservationists fear they will not be able to protect them if the blazes head their way.
One large fire is already in the vicinity of the facility where the orangutans are undergoing rehabilitation.
Staff at the centre and local authorities fear more fires are still to come, threatening not only wildlife but also people living nearby.
Wildfires are one of the biggest threats to Borneo's orangutans and were among the factors that saw these apes classified as critically endangered in 2016.
"We can't believe that we are again suffering from forest fires in this area. It is like the return of our worst nightmare," said Karmele Llano Sánchez, programme director of IAR Indonesia.
"Our teams at the centre and also the forest patrol teams are getting ready for patrolling 24 hours a day, but we need still more equipment such as water pumps, fire hoses and more personnel. Our Orangutan Protection Unit is also patrolling full time and getting ready for the immediate rescue of orangutans that will be in trouble if the fires continue to spread."
Adi Irawan, who manages the centre in Ketapang, expressed relief that they had managed to control last week's fire before it harmed any of the apes.
"Thankfully the local police and the military came to help put the fire out. It took five hours to get it under control," said Mr Irawan.
Drone footage shows illegal logging in Papua New Guinea
The Indonesian government's meteorology, climatology and geophysics agency (BMKG) warned last week of nearly 800 wildfire "hotspots" in the Bornean province of West Kalimantan.
Tinderbox conditions have dried out vegetation and made fires far more likely in recent weeks, putting people's health at risk as the resulting air pollution can lead to respiratory problems.
While the northern hemisphere has faced its own wildfire epidemic this summer, experts have warned that the El Niño weather phenomenon has led to a particularly dry season in places like Indonesia.
In 2015, fire burned up to 5 million acres of Kalimantan land, including a quarter of the region's orangutan habitat.
Though exacerbated by dry conditions, the fires have been linked to farmers and industry destroying areas of forest to make way for palm oil plantations. At the time IAR took in over 60 orangutans left homeless by the blazes.
Drainage and logging of Borneo's swampy peatlands is also making the remaining forests more combustible, and campaigners have warned that illegal operations are still underway despite government assurances.
"People in Indonesia are sick and tired," said Annisa Rahmawati, forest campaigner for Greenpeace Southeast Asia
"The Indonesian government promised to stop rogue companies but the palm oil industry still isn't listening. It's early days yet and we hope the fires don't get worse, but the haze is already shutting down schools and putting people's lives at risk."
Register for free to continue reading
Registration is a free and easy way to support our truly independent journalism
By registering, you will also enjoy limited access to Premium articles, exclusive newsletters, commenting, and virtual events with our leading journalists
Already have an account? sign in
Register for free to continue reading
Registration is a free and easy way to support our truly independent journalism
By registering, you will also enjoy limited access to Premium articles, exclusive newsletters, commenting, and virtual events with our leading journalists
Already have an account? sign in
Join our new commenting forum
Join thought-provoking conversations, follow other Independent readers and see their replies