Could the spate of mysterious killer whale boat attacks be spreading beyond Gibraltar?
A puzzling new interaction has been reported off the coast of Shetland, writes Andy Gregory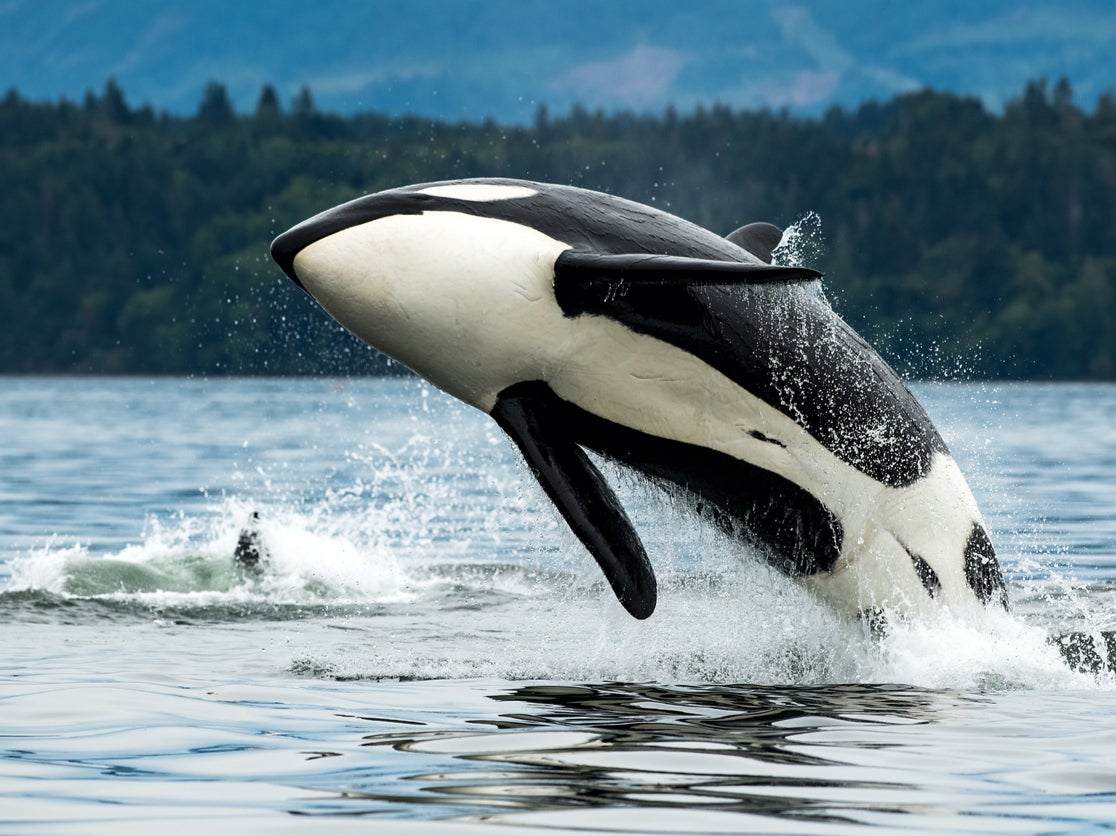 A pod of orcas and their suspected ringleader, a matriarch named Gladis, are gaining increasing notoriety for repeatedly ramming into boats in the Strait of Gibraltar, conjuring somewhat romantic images of a long-overdue fightback by the natural world.
While the reality is far murkier, what is clear is that killer whales have been interacting with human vessels to an extent not previously reported, at times with terrifying consequences.
In one of several harrowing encounters, a sailing yacht named Alboran Champagne sank as its crew watched on from lifeboats, after damage inflicted by multiple orcas ramming into the vessel miles from the Spanish coastline caused it to flood.
That was one of at least 20 interactions last month alone, in a phenomenon that has perplexed scientists since boats first began to report orchestrated "sledgehammer"-like treatment by killer whales in the region in July 2020.
While some experts have previously floated theories that the endangered pod's behaviour could be related to food scarcity, the disruptive resumption of business-as-usual nautical activities post-pandemic, or even playful, scientists have recently begun to suggest a link to past trauma.
Some experts believe a matriarch named White Gladis may have suffered a "critical moment of agony", such as colliding with a boat or becoming entrapped during illegal fishing, which altered her behaviour in a "defensive" fashion – and she may inadvertently have been teaching others to do the same.
"That traumatised orca is the one that started this behaviour of physical contact with boats," Dr Alfredo Lopez Fernandez, of Aveiro University told Live Science, after several shaken crews described smaller orcas copying a larger matriarch in ramming their ships' rudders and keels.
Most interactions are harmless, but three vessels have sunk so far, Dr Fernandez said last month, while 250 boats are reported to have been damaged.
Killer whale rips rudder off boat in straight of Gibraltar
While the behaviour has so far been limited to the Iberian coast, in a further perplexing development this week a retired Dutch physicist and experienced sailor reported being rammed by an orca some 1,750 miles away, off the coast of Shetland, Scotland.
Dr Wim Rutten was sailing from Lerwick to Bergen, Norway, and fishing for mackerel when the orca collided with the stern of his seven-tonne yacht.
"I said: 's***!'", the 72-year-old told The Guardian, adding: "What I felt [was] most frightening was the very loud breathing of the animal."
The orca then stayed behind the boat "looking for the keel", said Mr Rutten, who was already aware of the incidents near Gibraltar. "Then he disappeared but came back at fast speed, twice or thrice and circled a bit. Maybe he just wanted to play. Or look me in the eyes. Or to get rid of the fishing line."
Given the isolated nature of the incident, and lack of identifiable images or footage of the animal, experts have been wary to make a link between the encounter and the ongoing phenomenon near Gibraltar.
"There were a number of pods of orca around Shetland on that day as is a fairly regular occurrence at this time of year, that were identified as part of the 'inshore' population," Karen Hall, a marine ecology adviser to NatureScot told The Independent.
"It's possible that one of the lesser known offshore orca, which follow the mackerel and herring fisheries, tried to steal fish and got too close to the boat."
Noting that the behaviour exhibited in southern Europe "seems to be limited to specific individuals and may be linked to the tuna fishery", Ms Hall added: "This could be the result of a previous interaction or any other reason, but there's no way of knowing."
Speaking of Mr Rutten's encounter, she said: "We can't be sure of the details of this incident, as there are no photos or video and we have not heard of any other incidents in the Shetland area or elsewhere in Scotland. As a result, we aren't even able to identify the species involved with certainty, nor if the whale was part of a pod involved in incidents in Gibraltar or part of any known orca photo ID catalogues."
But another expert suggested it was possible that the incidents were connected, given that there may be "highly mobile pods that could transmit this behaviour a long distance".
Dr Conor Ryan, a scientific adviser to the Hebridean Whale and Dolphin Trust, told The Guardian: "I'd be reluctant to say it cannot be learned from [the southern population]. It's possible that this 'fad' is leapfrogging through the various pods/communities."
However, Professor Peter Evans told The Independent it was "pretty unlikely" that an orca from Gibraltar had travelled to Shetland, as its population derives from Iceland. While these orcas range over large areas, between Iceland and Scotland, and Norway and the Hebrides, his Sea Watch Foundation is not aware of any orcas migrating from Gibraltar.
But he added: "Still, it cannot be ruled out."
Describing the theory of orcas inadvertently learning from Gladis's trauma as "plausible", he said there was a "possibility that this learned behaviour has been passed on to others" but "they would need to have been in contact with one another".
"This is unlikely in the case of any such interaction with another community of orcas," he said.
Join our commenting forum
Join thought-provoking conversations, follow other Independent readers and see their replies