Crime gangs selling badgers for up to £700 for baiting with dogs, fuelling high-stakes gambling
Controversial cull feared to be fuelling secretive practice of setting the nocturnal animals on to dogs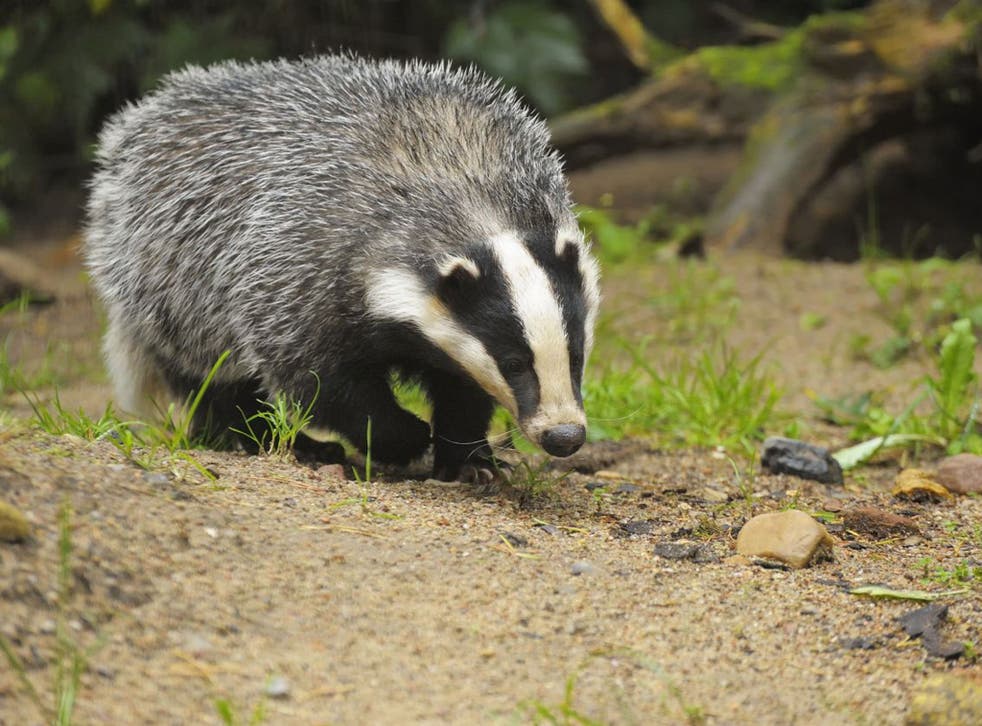 Organised criminal gangs are selling badgers for up to £700 each to be used in vicious fights with dogs, experts warn.
Former paramilitaries in Ireland, both north and south of the border, are among those involved in the illegal and cruel trade, which involves gambling large sums of money, say wildlife groups.
And it is feared the government's multi-million-pound badger cull is fuelling the gangs' thirst for badgers to subject to battles with dogs.
Police in the West Country issued a warning about the involvement of crime syndicates in badger persecution as they asked the public to keep an eye out for wildlife crime.
Operation Badger is a nationwide police operation aiming to catch offenders thought to be organising betting schemes on fights pitting dogs against badgers.
Dorset Police said: "Some offenders travel vast distances through different counties committing thefts and burglaries. Their dogs can endure horrific injuries. A slow fate can await a pregnant badger, being mutilated, kicked, baited with dogs."
Badger baiting was banned in 1835 but has continued across the UK, largely passed down from father to son, according to the RSPCA's special operations unit, which investigates organised animal cruelty.
The criminals send small dogs such as terriers into a sett, trapping it, before a radio transmitter on its collar tells the diggers where to find the badger. The gangs will even try to intimidate landowners, according to the Northern Ireland Badger Group.
Dominic Dyer, chief executive of the Badger Trust, said he believed gambling on dog-fighting, cock-fighting and badger-baiting was on the rise, and that if a badger is captured alive it could be put in a fighting pen multiple times, increasing its value to the criminals.
"A particular worry for us is around badger culling," he said, "because there are large numbers of cagers – people who are paid £20-£50 per badger when a cage is set at night and the animal is collected in the morning.
"That's not much money but when one is worth £500-£700 on the black market there's the temptation to sell the badger on. I've got no evidence but more people suddenly have a lot more access to badgers and there are no controls around the cull.
"In Northern Ireland there's significant badger-baiting and a lot is linked to paramilitaries because they've moved their illegal activity from terrorism. They're still very much underground and wildlife crime is linked to that."
Setting a badger onto a dog causes significant, painful injuries to both animals.
Ian Briggs, chief inspector of the RSPCA's special operations unit, said officers saw horrific injuries, particularly around a dog's lower jaw, where they lose a lot of flesh.
"Because the criminals can't go to a vet, they self-medicate: they patch the dogs up with drugs bought from the internet. Eventually the flesh of the jaw may fall away. We've seen dogs with their faces destroyed by these fights," said Mr Briggs.
"There are people who have no respect for the law, for people's property or the welfare of their dogs. They will steal from farms and go out and kill anything, be it badgers, foxes, a farm cat or deer."
UK news in pictures

Show all 50
In December 2016 a group of men from south Wales were jailed after they travelled to Devon to use their dogs in a series of "abhorrent attacks" on deer, badgers and foxes.
Plymouth magistrates saw graphic footage of the dogs' attacks while the gang's ring leader looked on and gave encouragement.
Graham Coombes, 41, from Bovey Tracey, was sentenced to 20 weeks in prison with £3,000 costs for wildlife crimes.
Mr Briggs believes a forthcoming increase in maximum jail terms will deter some people on the sidelines from becoming involved in badger-baiting and dog fighting. Prison sentences are due to rise from a maximum of six months to five years.
Register for free to continue reading
Registration is a free and easy way to support our truly independent journalism
By registering, you will also enjoy limited access to Premium articles, exclusive newsletters, commenting, and virtual events with our leading journalists
Already have an account? sign in