Osborne accused over gas lobbyist father-in-law
Campaigners ask if Chancellor's energy policies are influenced by Lord Howell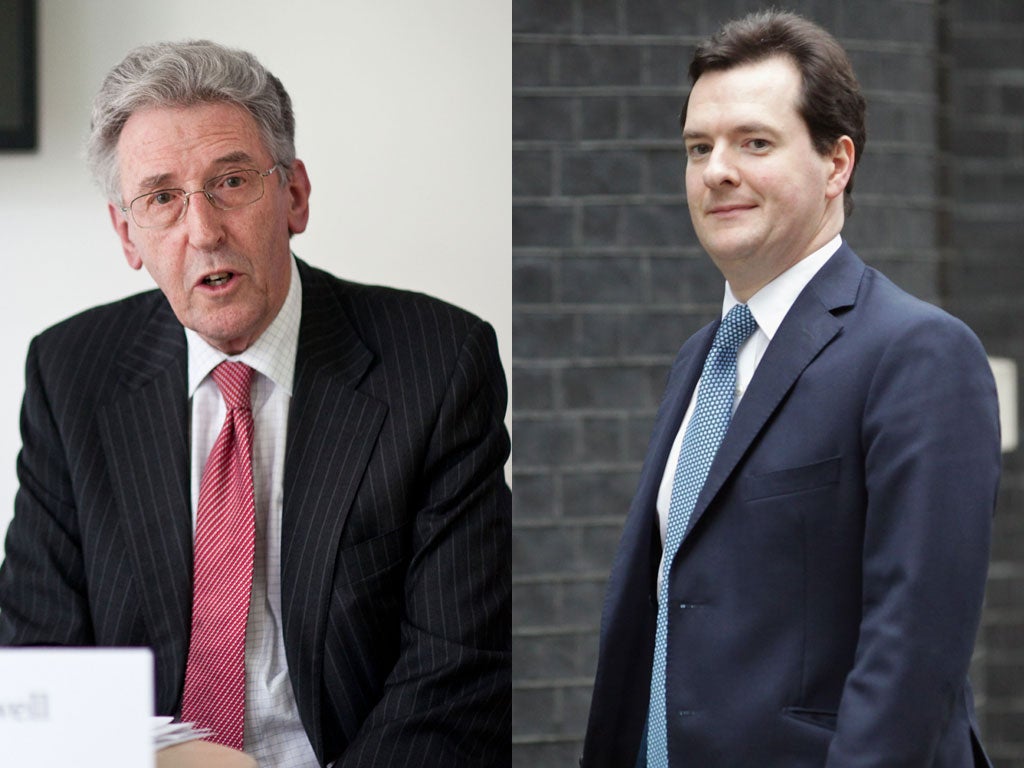 George Osborne was facing fresh questions yesterday over his controversial push to make Britain a worldwide hub for fossil fuels, after it emerged that his father-in-law is the head of a lobbying organisation for big oil and gas companies.
Lord Howell of Guildford, who is an energy minister at the Foreign Office, is also the president of the British Institute of Energy Economics (BIEE), which is sponsored by Shell and BP – prompting suggestions of a conflict of interest.
Green campaigners demanded to know whether Lord Howell, a former energy secretary under Margaret Thatcher and who was a political influence on the young Mr Osborne, had pressed his son-in-law to promote oil and gas from inside the Treasury while weakening the renewable energy sector.
Last week, the Chancellor and the Energy Secretary, Ed Davey, reached a compromise deal over the coalition's energy policy after a cabinet showdown, with Mr Davey fending off an attempt by Mr Osborne to slash wind energy subsidies by 25 per cent, instead agreeing to 10 per cent cuts. However, the deal alarmed environmental campaigners as it contained a £500m tax break for offshore drilling for North Sea gas as part of Mr Osborne's mission to make the UK a "gas hub". There was also no commitment for all electricity generation to be green by 2030, a demand of the Department for Energy and Climate Change (Decc).
While Lord Howell, whose daughter Frances married Mr Osborne in 1998, has declared his role at the BIEE on the Register of Lords' Interests, there was criticism that this clashes with his ministerial brief. The Conservative peer is a Foreign Office minister with responsibility for international energy policy, which involves him travelling around the world setting out British energy policy to foreign governments. Whitehall insiders alleged that Lord Howell, who has been sceptical about climate change and is an enthusiastic supporter of shale gas as well as traditional power generation, has told ministerial counterparts that the British Government is not serious about renewable energy.
Mr Osborne has not hidden his scepticism for green policies, declaring in his Autumn Statement last year: "We are not going to save the planet by shutting down our steel mills." He has also pushed for the Government to keep a third runway at Heathrow on the table. Yet the revelation about his father-in-law's interests will only heighten concerns about the Chancellor's "dash for gas".
Louise Hutchins, senior energy campaigner at Greenpeace UK, said yesterday: "We'd hate to think that the UK's direction of travel on energy policy was being decided over claret and duck chez Osborne. But Lord Howell's links with big oil and gas special interests are well established. Questions must surely be asked about whether he has been bending the ear of his son-in-law to help his friends in the fossil fuel lobby."
Lord Howell and his son-in-law share their enthusiasm for shale gas extraction, through the controversial method of fracking. Two years ago, the 76-year-old minister told the House of Lords: "There is the fascinating development of shale gas, which has changed the energy landscape in the US. If it is replicated elsewhere, it could be fundamental in altering the energy vista in every continent."
Mr Davey has become increasingly frustrated by the belief held by some in the Conservative Party that global expansion in shale gas will lead to lower bills in Britain. A senior Lib Dem source said: "There is a Tory obsession that somehow there is going to be this revolution in gas and the price is going to plummet. We shouldn't be banking on it being a big game-changer."
As the Treasury and Decc fought it out over energy policy last week, Tim Yeo, the chairman of the Commons Energy and Climate Change Committee, accused Mr Osborne of undermining green energy policy, ahead of the Government's Energy Bill this autumn, to please backbench Tory MPs.
It also emerged that Mr Osborne has not met a single renewable energy representative since becoming Chancellor, but has held eight meetings with oil and gas companies.
In an interview in 2006, Mr Osborne praised his father-in-law, who was a key member of Mrs Thatcher's cabinet. He said: "I grew up during the 1980s and the achievements of the governments of the 1980s are phenomenal. Whether it was the battle against trade unions, reform of the economy or defeating the Soviet Union.''
A spokesman for the Foreign Office said: "There is no reason for the minister in the Foreign Office responsible for international energy policy not to continue to hold the honorary position as president of the British Institute of Energy Economics, which is sponsored by Decc. The UK Government is clear that it supports the UK energy industry."
Join our commenting forum
Join thought-provoking conversations, follow other Independent readers and see their replies