Osborne to offer tax breaks for shale gas
Despite the risk of earthquakes and water contamination, the fracking ban is expected to be lifted this week
Jane Merrick
Sunday 02 December 2012 11:36 Comments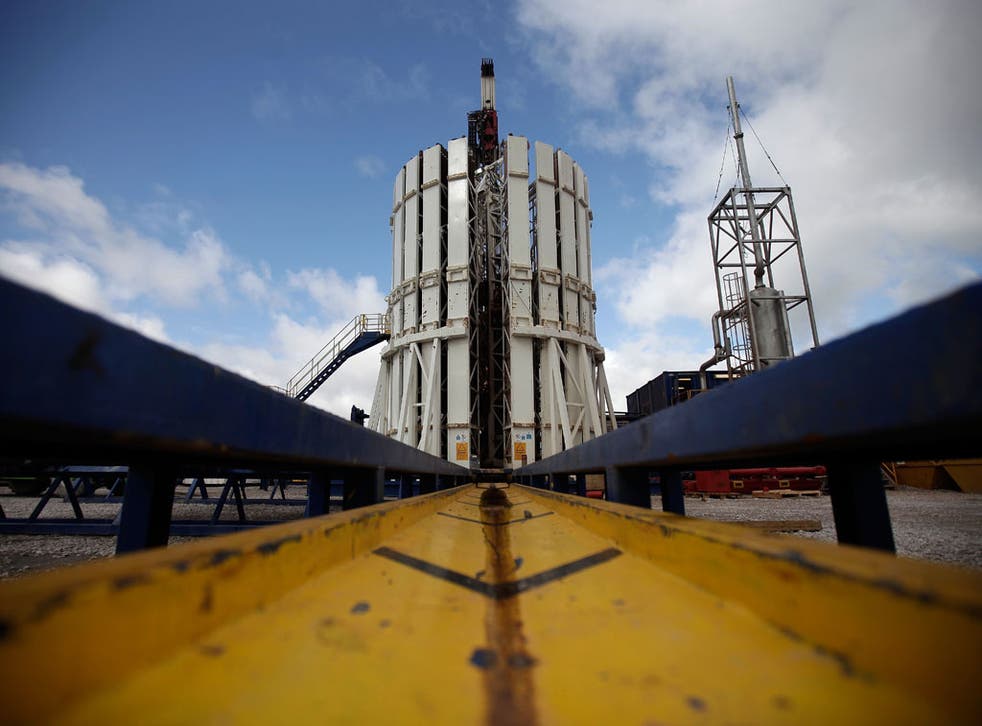 George Osborne is expected to use his Autumn Statement this week to announce tax breaks for companies that carry out controversial fracking, arguing that boosting the shale gas industry is vital to economic growth.
Despite fears from environmental groups and local communities, the Government will publish a gas strategy paper, which will give the green light to shale gas extraction, alongside the Chancellor's economic update. With the cost of fuel soaring, Mr Osborne is expected to say that giving the go-ahead to shale will cause gas prices to fall and in turn reduce household bills, as well as creating jobs.
Mr Osborne hopes that tax breaks for shale gas extraction will encourage investors and help economic growth. Oil and gas are currently taxed at between 62 per cent and 81 per cent. Shale gas would be taxed at lower rates.
But a former Conservative energy minister warned yesterday that the Government still needed to make the case to the public after fracking trials were halted last year following earthquakes in Lancashire.
Charles Hendry, who was sacked as energy minister in the reshuffle earlier this year, said: "The decision must be taken on the scientific evidence, but ministers will also need to be aware of the need to reassure the public for whom this will be a new type of activity."
There was also a fresh twist in the row over the appointment of the new top civil servant at the Department for Energy and Climate Change. It emerged last week that David Kennedy, the chief executive of the Government's climate change committee, who is seen as sympathetic towards green energy, was blocked to the job of DECC permanent secretary by David Cameron. However The Independent on Sunday understands that Mr Kennedy was in fact offered the job six weeks ago, only to find out in the last few days that the Prime Minister had vetoed it.
The move fuelled fears that Mr Cameron and Mr Osborne are trying to stifle the progress of renewable energy under the coalition government, despite efforts by Liberal Democrat ministers. The Chancellor's push for shale gas will underline those fears and put pressure on Nick Clegg and Ed Davey, the Environment Secretary, to resist the "dash for gas".
Environmentalists warn there are serious dangers with fracking, including minor earthquakes but also safety fears about drinking water. More than 60 per cent of the countryside, some 32,000 square miles, is under consideration for exploration licences, The Independent reported yesterday.
Mr Osborne, one of the Cabinet's leading proponents of gas and oil, is to announce a new body, Ofshale (Office for Shale Gas), to oversee what is expected to become a booming industry. The gas strategy, to be unveiled by Mr Davey on Tuesday or Thursday, is likely to recommend a lifting of the moratorium on shale gas production.
Last month a government-commissioned report by the British Geological Survey found that Britain is sitting on a vast wealth of shale gas reserves, although only a small proportion of it can be accessed.
Mr Davey, unveiling the Energy Bill last week, said advocates of shale gas needed to be more realistic about the difference the energy source could make to bills. He said: "I hope we will be able to produce a lot, but in terms of big production of shale gas it is going to take years. You listen to some of the commentators and they seem to think you can just turn shale gas on."
Yet Mr Osborne, who has repeatedly clashed with the Energy Secretary over renewables, told the Conservative Party conference in October that he wanted to help the shale gas industry "so that Britain is not left behind as gas prices tumble on the other side of the Atlantic".
The Chancellor has enraged environmentalists by stopping the Government signing up to decarbonisation of energy production by 2030, as part of the Energy Bill. Last night Greenpeace warned that giving the go-ahead to fracking undermined the need to have a mix of energy resources, including renewables.
Greenpeace's executive director, John Sauven, said: "George Osborne doesn't get the energy challenges this country faces. If he offers tax breaks and handouts to fracking he'll be putting his chips on an industry that is all hype and no delivery. Does he really expect hydraulic fracturing sites, with all the attendant risks, to spring up across the home counties? It's not going to happen. Instead he should be backing the proven clean renewable technologies that are already delivering."
Fracking, or hydraulic fracturing, involves forcing water, sand and chemicals at high pressure into shale rock formations, carrying a risk of earthquakes. It is widespread in the United States, which has just overtaken China as the leading exporter of shale gas. However, critics warn that, despite an estimated £1.5trn worth of shale gas reserves in the UK, communities will be affected by any exploration because there are not the vast expanses of open land that there are in the US.
The US firm Cuadrilla, the leading shale gas business in the UK, suspended exploration in 2011 after two minor earthquakes near Blackpool. Licences for shale gas extraction have been granted across the country. There are thought to be major reserves in Lancashire, central Scotland and the south of England.
A report by Bloomberg New Energy Finance found that shale gas production would have to be widespread if it were to replace coal or nuclear power, with 2,400 "fracked wells" needed in the UK.
With 10 wells per "pad", this would mean 240 pads, each amounting to a significant industrial development across the countryside, covering an area the size of Lancashire, the report said.
Communities are mobilising against planned extraction sites, with villagers in Balcombe, West Sussex organising protests against drilling proposals by Cuadrilla. An ICM poll found that 11 per cent of people would support a shale gas well in their area, compared to 67 per cent who would accept a wind turbine.
Laura Sandys, aide to the climate change minister Greg Barker, said earlier this year that "planning applications for shale gas, which I have had in my area, make onshore wind farms look like a walk in the park."
Labour insists that focusing on shale gas will not decrease bills, pointing out that research by Deutsche Bank has found there will be only a marginal impact on gas prices.Tom Greatrex, shadow energy minister, said: "Announcing tax breaks before properly addressing legitimate environmental concerns is another indication of the chaos at the heart of the coalition's energy policy. It is little more than a sop to a disaffected rump of Tory backbenchers, when policy in this area should be proportionate and cautious."
Who needs it?
The arguments for...
There are shale gas reserves worth an estimated £1.5trn underneath Britain, the most significant energy resource to be identified since North Sea oil in the 1960s. In the United States, shale provides a third of the country's gas supplies, up from 2 per cent a decade ago, according to Fraser Nelson, editor of The Spectator, who has called for a shale gas revolution in the UK.
Fracking takes place deep underground, meaning the risk of earthquakes should be small. Shale gas produces half as much carbon dioxide as coal, with US carbon emissions falling by 430 million tons in five years, in part due to shale production.
Against...
Despite the vast reserves, the Government admits only a tenth of these could be extracted. In the UK, exploration sites would be closer to local communities than they are in the US.
A 2010 US documentary, Gasland, showed people living near fracking wells who were able to ignite the water from the taps. The Environment Agency has warned that fracking should not take place near drinking water reservoirs. Shale gas exploration caused minor earthquakes in Blackpool in 2011. A report by the European Commission found that even under the most optimistic scenario for shale gas in Europe, the EU would still be 60 per cent reliant on imports for natural gas supplies.
Register for free to continue reading
Registration is a free and easy way to support our truly independent journalism
By registering, you will also enjoy limited access to Premium articles, exclusive newsletters, commenting, and virtual events with our leading journalists
Already have an account? sign in
Join our new commenting forum
Join thought-provoking conversations, follow other Independent readers and see their replies