Over six million larch trees to be cut down in Wales to halt spread of deadly disease
Leading scientists warn Britain's forests could be devastated by a wave of new diseases brought by climate change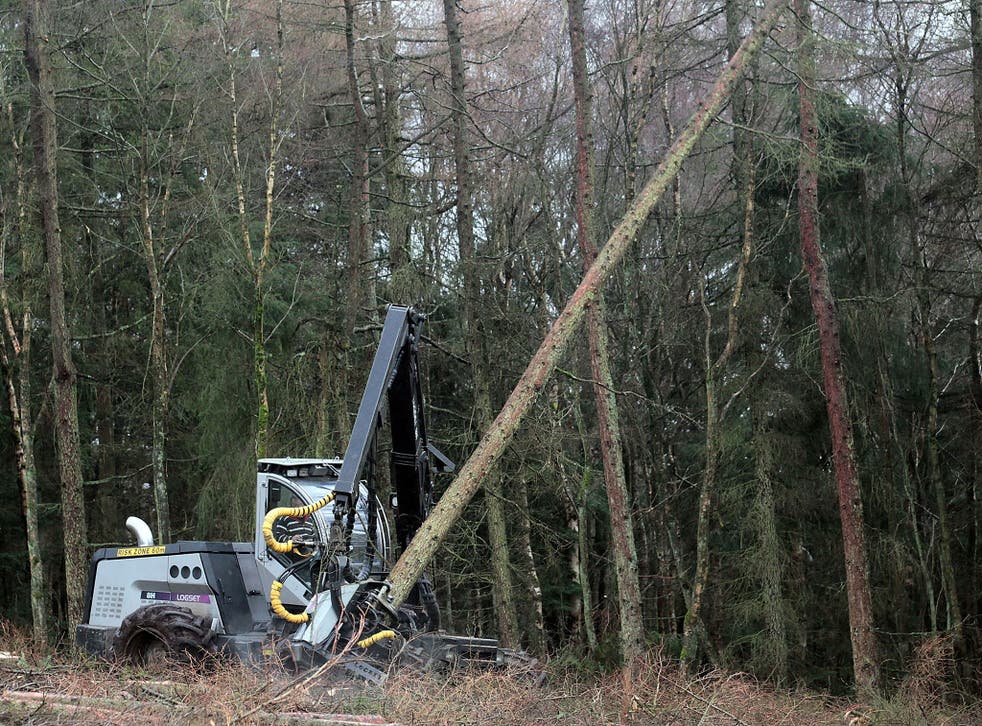 More than six million larch trees are to be cut down in Wales to try to halt the spread of a deadly disease, according to a report.
Phytophthora ramorum, whose first name means literally "plant destroyer", was first found in the UK at a garden centre in Sussex in 2002 and was first found in Wales just five years ago. It has not yet been found on trees in Scotland, but the fungus-like pathogen has been detected in the south-west of the country.
In January, leading scientists warned Britain's forests – including iconic trees such as oak, ash, Scots pine, beech and birch - could be devastated by a wave of new diseases brought by climate change and the global trade in plants.
Andy Schofield, regional lands manager for Natural Resources Wales, told The Guardian that it was regrettable that Wales' larches had been so badly affected.
"It is sad that we have to fell so many infected trees," he said.
However Mr Schofield added: "It does provide us with an opportunity to replace the larches with a range of resilient, native broad-leaf woodland trees, as well as more commercial timber producing trees, such as spruce."
In Cwmcarn Forest, near Newport in south-east Wales, it is planned to allow nature to replace the felled trees along with some "enrichment planting" of oak, rowan and beech.
Symptoms of the disease include "bleeding cankers" which exude a black liquid that dries on the bark.
The Forestry Commission's website warns: "P. ramorum kills many of the trees it infects, and could have serious impacts on trees, woodland, the forest industries and the wider environment.
"Some broadleaved trees can recover if affected branches are pruned early enough, but the evidence so far is that infected larch will die quite quickly."
Thought to have originated in Asia, it also affects plants such as bilberries -- known as winberries in Wales and blaeberries in Scotland. The Forestry Commission adds that there is a risk that the disease could infect blueberries, a relative of the billberry.
"If the pathogen were to infect blueberry the economic consequences for the blueberry industry could also be serious," it says.
A special edition of the journal Forestry published in January warned new bugs, fungi and bacteria that had either already arrived or were expected soon could devastate the British countryside.
One expert warned that Britain's forests could suffer a similar fate to woodlands in much of the US, where vast stands of trees have been wiped out by beetles whose numbers exploded in the warmer temperatures.
Speaking at the time, Dr Stephen Cavers, of the Centre for Ecology & Hydrology near Edinburgh, told The Independent on Sunday: "We would be likely to lose many things that we currently hold dear. Some of our most valued species – [such as] oaks and pines – that we... associate with particular bits of really characteristic landscape could be lost, forests that people have grown up with, that go back in history, are actually at risk of being lost."
Join our new commenting forum
Join thought-provoking conversations, follow other Independent readers and see their replies