Owen Paterson: 'Animal groups are condemning badgers to a long, unpleasant death... It is shameful'
Environment Secretary Owen Paterson sees his job as defending the countryside against an urban elite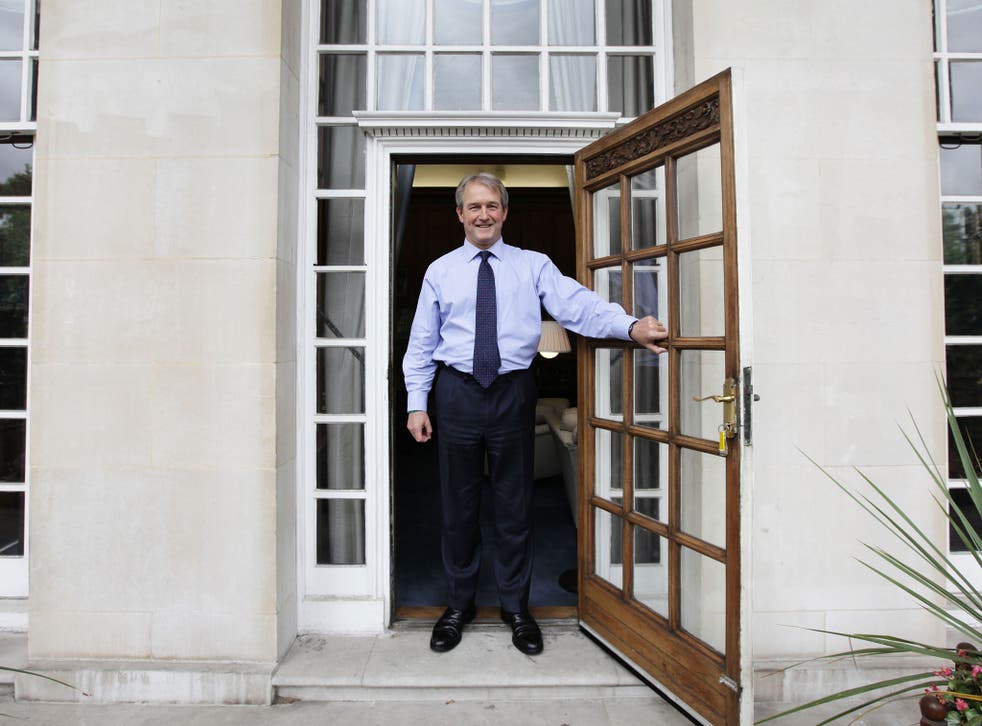 He is a pro-fox hunting, anti-gay marriage, climate change sceptic who really doesn't like the European Union. So it is strange to be sitting opposite the combative right-wing Tory Environment Secretary Owen Paterson and finding myself rather charmed.
Not that I necessarily agree with him. But it is hard not to like him. He is refreshingly incautious and direct for a senior Government minister in a stage-managed political age.
"Horrendous", "disgusting", "wicked" are just some of the adjectives that trip off his tongue to describe his opponents. You can see his adviser across the table flinching slightly as she imagines how his comments could be misinterpreted.
We meet in Paterson's office in the Department for Environment Food and Rural Affairs (Defra) the day after he has committed one of the more entertaining ministerial gaffes to have made headlines. During a round of interviews about the Government's controversial badger cull Paterson was asked whether he had "moved the goalposts" of the trial in order to extend it.
"No," he replied, "the badgers moved the goalposts." Cue general wisecracking – and within hours the creation of an addictive online game where you have to score goals against three badgers moving a goalpost.
So has he played it?
"I got a hat-trick," he laughs. "It's very difficult. I hit the post several times and the crossbar and the keeper but I did get three goals."
But the cull – intended to cut the badger populations in Somerset and Gloucestershire by 70 per cent, with the aim of reducing bovine TB in cattle – is not a laughing matter. Paterson has had more death threats since announcing the cull than he did as Northern Ireland Secretary, and Defra recently had to secure a High Court injunction to prevent protesters from publicising his address.
Opponents of the cull, including the RSPCA, say it will make no difference to TB in cattle while resulting in the random slaughter of thousands of badgers. But Paterson is unrepentant. "As someone who lives in the countryside, who wants to see healthy badgers, I cannot understand anyone wanting to tolerate this disgusting disease," he argues. "These lovely black and white creatures you see on the telly and you put in your newspaper. They don't relate to these miserable, emaciated sick animals spewing out disease."
"They [animal welfare groups] are condemning these animals to a long, unpleasant death. I find it incomprehensible that these badger groups don't see that this is a horrendous disease for the badgers themselves."
Paterson has some reason to feel that he has the intellectual high-ground on this. His plan for the cull did not begin when he took over as Environment Secretary last September but rather it a problem he has studied and campaigned on for years.
He has visited Australia, New Zealand and America to examine their successful TB eradication programmes and has the Parliamentary record in opposition for asking the most questions on a single subject.
"Go to the Republic of Ireland where you had a spectacular increase in TB until they started to cull badgers," he says. "They've gone down from 40,000 to 18,000 cases and its dropping fast. And the average Irish badger is 1kg heavier than before the cull. So they have taken out all these miserably sick badgers in a desperately ill state and they now have a far healthier badger population.
"Now they have got the core disease under control and can start doing interesting things like badger vaccination. Doing badger vaccination is completely pointless when you have got a reservoir of disease as big as we've got. Vaccinating diseased animals means they carry on shedding disease and they die of disgusting bacterium."
Then there is the economic argument. Paterson says Labour's failure to tackle TB resulted in 300,000 cattle being unnecessarily slaughtered over ten years at a cost of £5bn to the rural economy. "If we don't sort this out we will not have a cattle industry," he argues. "We will not have a dairy industry and the disease will have doubled in 10 years. It is absolutely shameful."
And that is at heart of what makes Paterson tick – defending those who live and work in the countryside against an urban elite who he believes neither understand nor appreciate the kind of hard choices that are needed to maintain the environment the rest of us like to visit at weekends. It explains in part his virulent opposition to onshore wind farms, support for GM farming and even perhaps his views on gay marriage.
"There is a serious disconnect. You see that very clearly when you go to the Republic of Ireland or New Zealand. They are still much more dependent on agriculture as dominant drivers of their economy and there is much more sympathy for the rural way of life."
Paterson, who is 57, is a Cambridge graduate who had a career in the leather business before becoming an MP in 1997. He is married with two sons and a daughter. His wife Rose is the sister of the science writer and peer Matt Ridley.
One of the most interesting ideas to come out of Paterson's department since he took office is biodiversity offsetting. In essence it is the concept that it is possible to reconcile economic development and the potential damage to the environment that it can cause. So, for example, if the developer wants to build new housing – but will end up bulldozing over a rare habitat, then they should be allowed to pay to protect, manage and enhance a similar habitat elsewhere.
"For the developer there are massive advantages. You'd have certainty, you'd have clarity, you'd have speed and a massive reduction of cost. But you'd also leave the environment in a better place than you found it for the longer term." And what about climate change? One story in Westminster is that on his arrival at Defra, his officials urged him to correct reports that he does not believe the science on global warming, only to be told: "Actually, I don't."
Paterson has denied this and when asked directly whether he believes there is a man-made driver for global warming on he gives a pretty straight answer. "Yeah of course there is. The point I make is that the climate has been changing for centuries and will carry on doing so and it's perfectly obvious that given the changes in industrial activity and human activity there is going to be man-made influence." How big he believes that influence is he doesn't say.
Some on the right of the Tory party see Paterson as a future Conservative leader should David Cameron lose the election. That is probably wishful thinking. But Paterson is not the sort of right-wing buffoon that some on the left portray him as. Rather he is, as he says, representing the views of millions of people who not had much of a say in British political life for the last 20 years. And, whether you agree with him or not, that's important.
Owen who? Paterson's factfile
* Owen Paterson looked after a pair of orphaned badgers named Bessy and Baz when he was growing up.
* He is a keen rider who has ridden across Turkmenistan and most recently taken part in a 1,000km race across Mongolia.
* Despite his dislike of the European Union he speaks both French and German fluently.
* Once asked why the Tories' core supporters opposed gay marriage he is said to have retorted: "Biddies don't like botties."
To read a response to Owen Paterson from John Sauven, executive director of Greenpeace UK, go here: There is undeniable risk in producing the GM rice that the Environment Secretary is proposing
Join our new commenting forum
Join thought-provoking conversations, follow other Independent readers and see their replies