Hole in ozone layer could be closed by middle of the century, scientists say
Study finds hole has shunk by a fifth since September 2000
Caroline Mortimer
Friday 01 July 2016 10:36 Comments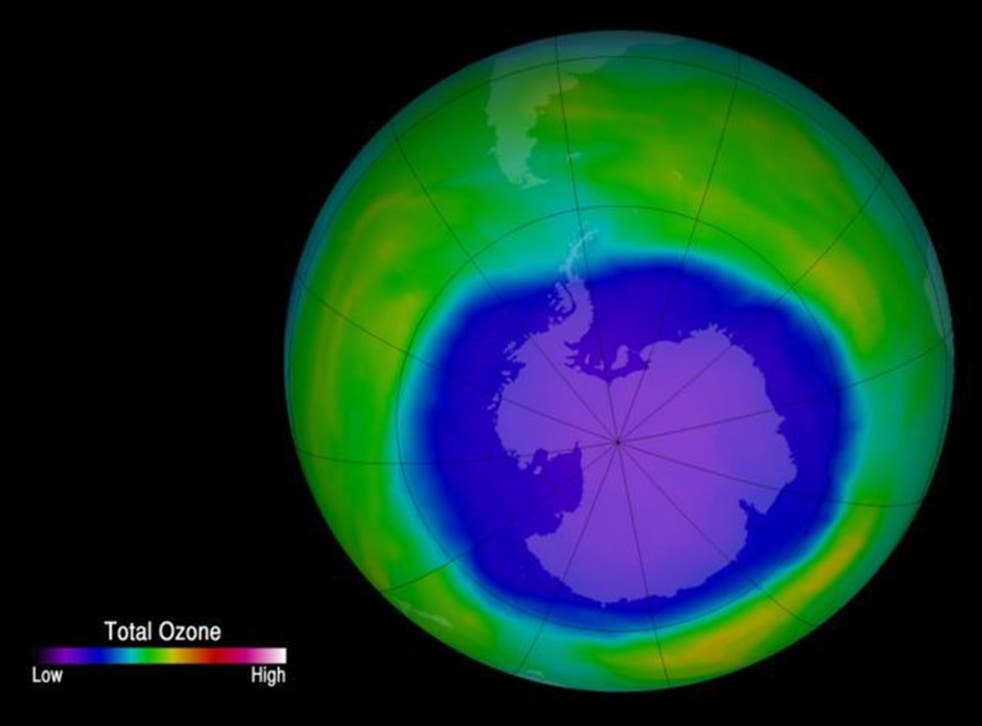 Scientists believe the hole in the ozone layer over Antarctica could be closed by the middle of the century.
Researchers from the US and the UK found that the hole had shrunk by a fifth since 2000, which they said was evidence the layer was really on the mend.
The study found the hole had shrunk by more than 1.7 million square miles (4.4 million sq km) – an area roughly 18 times the size of the UK.
The ozone layer acts as a natural sun block which prevents too much harmful UV (ultraviolet) light hitting the Earth. All life on the planet depends on ozone in the atmosphere to survive.
The recovery of the hole has varied from year to year – usually due to volcanic eruptions – but scientists have said the trend proves the effect of the 1987 Montreal Protocol, which banned the use of ozone-destroying chlorofluorocarbons (CFCs).
At the time the chemicals were widely used in refrigerators and aerosol cans.
One of the researchers, Dr Ryan Neely, of Leeds University, said: "Observations and computer models agree – healing of the Antarctic ozone has begun."
The ozone hole is not the same all year round. It typically begins growing from August each year and reaches its peak in October.
The most incredible space images of Earth

Show all 30
For the study, published in the journal Science, scientists tracked the yearly opening of the hole at the same point in September each year from 2000 to 2015.
Choosing September instead of October provided a clearer picture of the effects of chlorine on the growth of the hole.
Additional reporting by PA
Register for free to continue reading
Registration is a free and easy way to support our truly independent journalism
By registering, you will also enjoy limited access to Premium articles, exclusive newsletters, commenting, and virtual events with our leading journalists
Already have an account? sign in
Join our new commenting forum
Join thought-provoking conversations, follow other Independent readers and see their replies