Companies have no chance of meeting commitments to stop palm oil deforestation, report finds
Swathes of rainforest being destroyed to make palm oil that ends up in thousands of household products and foods, despite promises
Ben Chapman
Monday 27 November 2017 18:40 Comments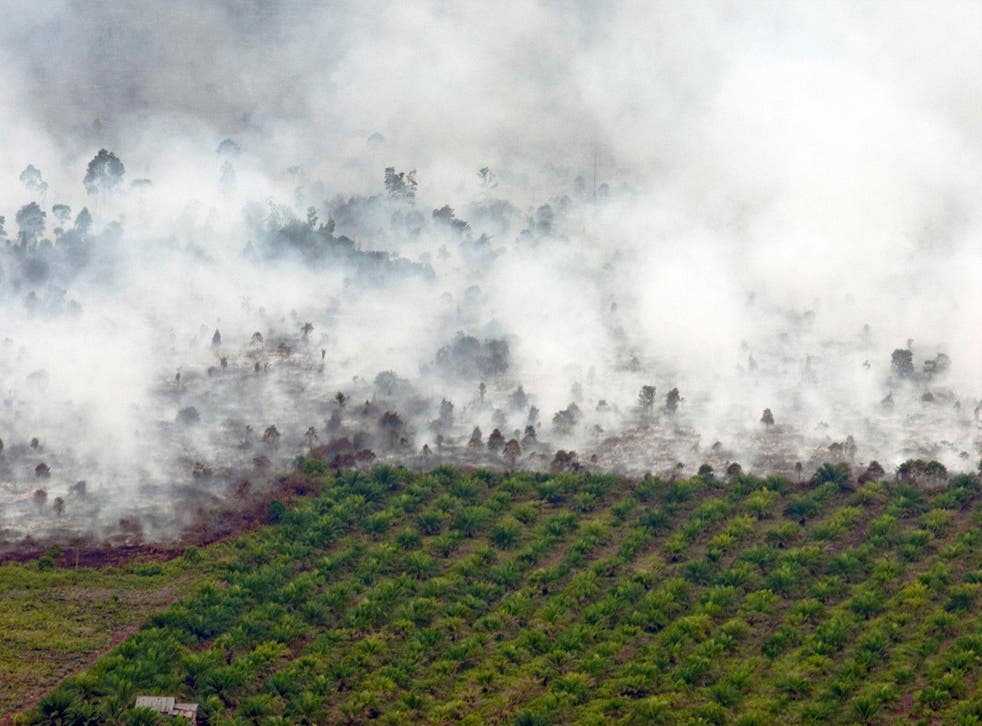 Swathes of rainforest are being destroyed to make palm oil that ends up in thousands of household products and foods, a decade after a landmark investigation revealed the environmental damage wrought by the industry.
That's the conclusion of new research by Greenpeace, which looked at 11 of the world's largest palm oil traders. All members of the Consumer Goods Forum industry group, which includes a host of well-known companies have committed to eliminating deforestation from their supply chains by 2020.
The report concludes that, at the present rate of progress, there is no chance of the industry delivering on that promise. Just one of the 11 traders that supply much of the global palm oil market had so far made any "meaningful" commitment to protect forests, Greenpeace said.
Most traders adopted No Deforestation, No Peat and No Exploitation (NDPE) policies in 2014, but deadlines to ensure that producers actually comply were found to vary wildly and some traders have set no deadline at all, the research found.
The report describes traders' commitments as "more aspirational than functional, with implementation at best inconsistent".
Much of the world's palm oil is produced in Indonesia and Malaysia and recent analysis by risk analysts Chain Reaction Research suggests that companies with NDPE policies operate 74 per cent of the total refinery capacity in those countries.
However, clearance by smallholder farmers remains a serious concern. The single greatest threat to rainforests in Southeast Asia comes from small- and medium-sized plantation company and producer groups, Greenpeace's report claims.
It warned that these groups often have strong links to the Indonesian and Malaysian governments and "appear able to use their connections to undermine progressive companies' efforts to reform the industry".
Greenpeace said some groups of producer companies employ "deliberately complex" corporate structures, using a maze of shell companies to conceal their relationship with subsidiaries that are clearing forests.
Despite pledges to increase transparency, the industry remains shrouded in secrecy, the report claims. Members of the Roundtable on Sustainable Palm Oil (RSPO) have provided the industry group with maps of palm oil concessions but these have not been made public making effective monitoring difficult.
The Malaysian government continues to insist that maps of concessions in much of the country are state secrets, making it "almost impossible" for traders sourcing from these regions to determine which producers have stopped clearing rainforests and which have not, according to the report.
The new research comes ten years after Greenpeace published an exposé on the palm oil industry. Since then, the organisation acknowledges that progress has been made but it says glaring gaps remain, meaning that consumers cannot be confident that the products they are buying aren't causing damage to the environment.
One global palm oil trader, Cargill, told Greenpeace that "our proactive monitoring covers our entire supply chain, including indirect suppliers," but also admitted that it did not require the mills that it purchased from to supply data on where the raw materials came from.
"Over the past 18 months, Greenpeace has presented traders and other companies in the palm oil industry with cut-and dried cases of producers clearing forests, draining peatlands or exploiting workers and communities," the report said.
Evidence of these breaches was publicly available in reports by other NGOs and complaints to the RSPO among other sources, but had not been picked up by traders. If they do discover breaches by suppliers, most traders also have inadequate mechanisms to deal with them, the report said.
Register for free to continue reading
Registration is a free and easy way to support our truly independent journalism
By registering, you will also enjoy limited access to Premium articles, exclusive newsletters, commenting, and virtual events with our leading journalists
Already have an account? sign in
Join our new commenting forum
Join thought-provoking conversations, follow other Independent readers and see their replies