Climate crisis: Paper wine bottles designed to reduce emissions go on sale for first time
Recycled paperboard container has carbon footprint six times lower than glass bottle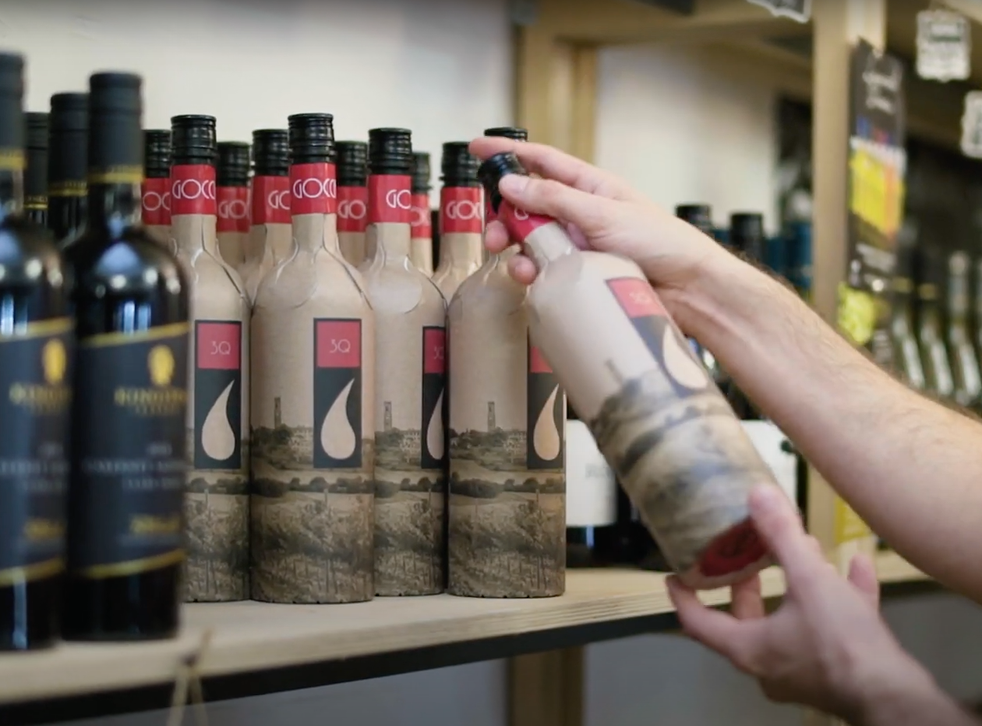 Shops in Scotland have become the first place in the UK to stock wine in paper bottles in a move which aims to reduce the carbon footprint associated with glass bottles.
Three Scottish off licences will sell the Italian wine in its new lightweight, recyclable container, which the manufacturers say has a carbon footprint up to six times (84 per cent) lower than a glass bottle and more than a third less than a bottle made from 100 per cent recycled plastic.
The 75cl bottle, manufactured by Ipswitch-based company Frugalpac is made from 94 per cent recycled paperboard and has gone on sale for the first time at Woodwinters Wine and Whiskies stores.
The wine is from Italian vineyard Cantina Goccia and is a blend of Sangiovese, Merlot and Cabernet Sauvignon grapes.
But the manufacturers said the bottle can also be used for spirits such as whisky, gin, vodka and rum, and has already sparked a interest in a drinks industry keen to cut their emissions and appeal to a new audience of consumers interested in sustainability.
Frugalpac chief executive Malcolm Waugh said: "Since the Frugal Bottle launch, we've been inundated with enquiries from around the world, from brands, bottlers and retailers, including whisky producers. There's a real possibility we could be producing the world's first scotch in a paper bottle very soon.
"It's clear there's a huge demand for bottles made from recycled paperboard and with the lowest carbon footprint."
The paper-based wine bottle comes amid a sea-change in consumer awareness of waste from single-use containers.
Microplastics seeping into liquids, and tides of plastic waste in the sea - much of which comes from plastic bottles, means retailers and manufacturers are focusing on sustainability and the environmental concerns of their customers.
Douglas Wood, Woodwinters Wine and Whiskies founder, said: "We're delighted to be the first store in the world to sell the Frugal Bottle. Woodwinters has always been keen on promoting innovation in sustainability.
"So, we're very excited to offer one of our favourite wines in such an environmentally friendly bottle. We think it's going to be hugely popular with our customers."
Ceri Parke, the owner of wine producer Cantina Goccia in Umbria, said: "We're proud to be making history with the most sustainable wine bottle in the world. For us, the Frugal Bottle is about achieving a considerably more sustainable form of packaging for an industry crying out for innovation. It will help us decarbonise the drinks industry.
"When some of our top hotel customers saw samples of our paper wine bottle, there was no hesitation in their minds that this type of bottle would be well received in their dining rooms.
"It's much lighter than glass, easier to transport and friendlier to the planet. Just as important, our wine still tastes as wonderful in a paper bottle as it does in glass.
"We passionately believe this is a real game changer for the wine industry, and we can see a future when 80 per cent of all wine consumed will be from a paper bottle."
Join our new commenting forum
Join thought-provoking conversations, follow other Independent readers and see their replies