Paris climate change agreement is a 'bad deal', says pro-fossil fuels EPA chief Scott Pruitt
Barack Obama had hoped ratification of the historic international agreement would one day be viewed as 'the moment that we finally decided to save our planet'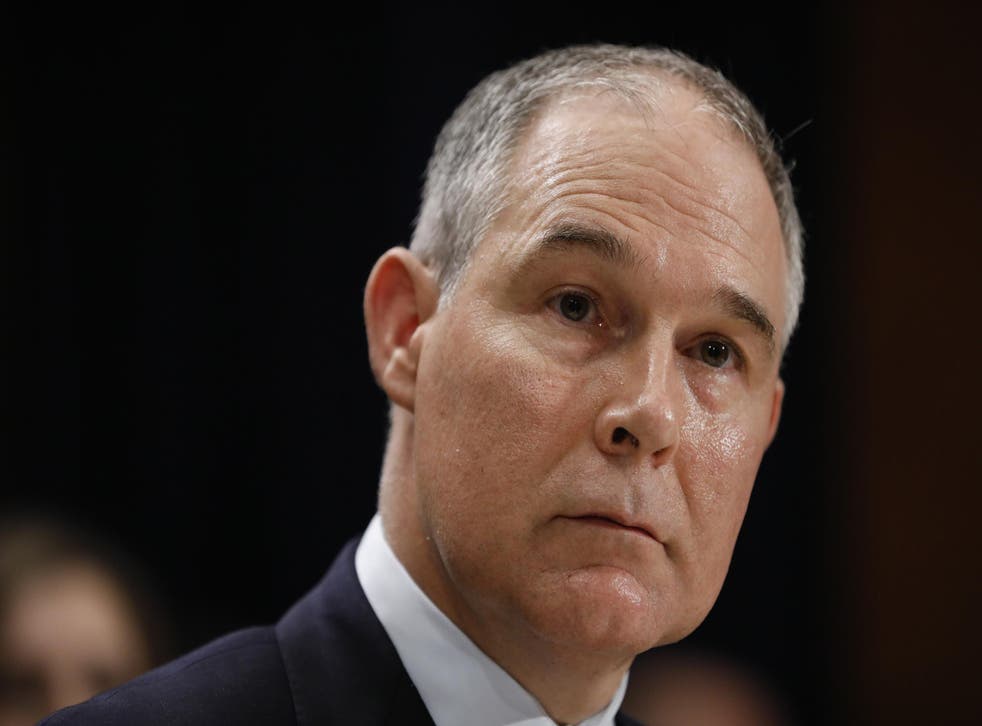 The historic Paris Agreement on climate change – hailed by Barack Obama as perhaps "the moment that we finally decided to save our planet" – is "a bad deal", the climate science-denying head of the US Environmental Protection Agency has said.
Scott Pruitt, who as Oklahoma's Attorney-General repeatedly sued the organisation he now leads, told US broadcaster ABC that China and India had "got away scot-free" under the terms of the deal and said the US had "penalised ourselves through lost jobs".
Donald Trump has previously said he is considering withdrawing the US from the Paris Agreement because, in his opinion, "nobody really knows" if climate change is real.
However the Trump administration appears to be split over taking this momentous step with Defence Secretary James 'Mad Dog' Mattis among those who accept the established scientific view that climate change is indeed real.
The prospect of withdrawing from the Paris Agreement has cast a shadow over international talks about the issue.
The US produced about 5,170 megatons of carbon dioxide in 2015, the second highest of any country, behind China, which emitted about 10,600 megatons. However, China's population of more than 1.3 billion is about four times larger than the United States'.
The whole of the European Union, which has a population of about 743 million, was responsible for about 3,500 megatons.
However, despite the fact that China and India are 84th and 122nd on the International Monetary Fund's list of countries ranked by gross domestic product per person, Mr Pruitt said he felt the US, which is 11th, had been hard done by.
"You know, what was wrong with Paris was not just that it was, you know, failed to be treated as a treaty, but China and India, the largest producers of carbon dioxide internationally, got away scot-free," he said.
"They didn't have to take steps until 2030. So we've penalised ourselves through lost jobs while China and India didn't take steps to address the issue internationally.
"So Paris was just a bad deal, in my estimation."
His complaints about China's and India's carbon dioxide emissions are perhaps a little strange, given he only recently denied the gas was a primary cause of global warming. Scientists have known about carbon's warming effect since the mid-1800s and it can be demonstrated by a simple experiment.
The Paris Agreement was given that name partly to avoid being classed as an international treaty because, under US law, a treaty cannot be approved by the President alone and must be ratified by Congress.
The Obama administration decided the Republican-controlled Congress would not approve the deal so persuaded the rest of the world to call it an "agreement", which the President could sign up to on his own authority.
However Mr Pruitt gave a hint that the Trump administration might decide against withdrawing from Paris, for the moment at least.
Immediately after describing the Paris Agreement as a "bad deal", he added: "But we're trying to focus on getting things right here domestically and making sure we operate within the framework of the Clean Air Act."
Mr Pruitt also said Mr Trump would issue the "Energy Independence Executive Order", which would make sure "we have a pro-growth and pro-environment approach to how we do regulation in this country".
He complained some people seemed to think that if "you're pro-growth, pro-jobs, you're anti-environment".
10 photographs to show to anyone who doesn't believe in climate change

Show all 10
"We've made tremendous progress on our environment and we can be both pro-jobs and pro-environment, and the executive order's going to address the past administration's effort to kill jobs across this country through the Clean Power Plan," Mr Pruitt added.
The Clean Power Plan was the mainstay of attempts by the Obama administration to shift the US economy from one largely run on fossil fuels to renewable energy.
Mr Pruitt's assessment of the Paris Agreement is markedly different from Mr Obama's.
In September last year, as the US and China jointly ratified the deal, the then US President said: "This is not a fight that any one country no matter how powerful can take alone.
"Some day we may see this as the moment that we finally decided to save our planet."
Join our new commenting forum
Join thought-provoking conversations, follow other Independent readers and see their replies