Paris Conference: Pair of cyclists approaches city in time for climate summit after five month journey
The trip will see the duo cycle a total of 10,000 miles from the US to the French capital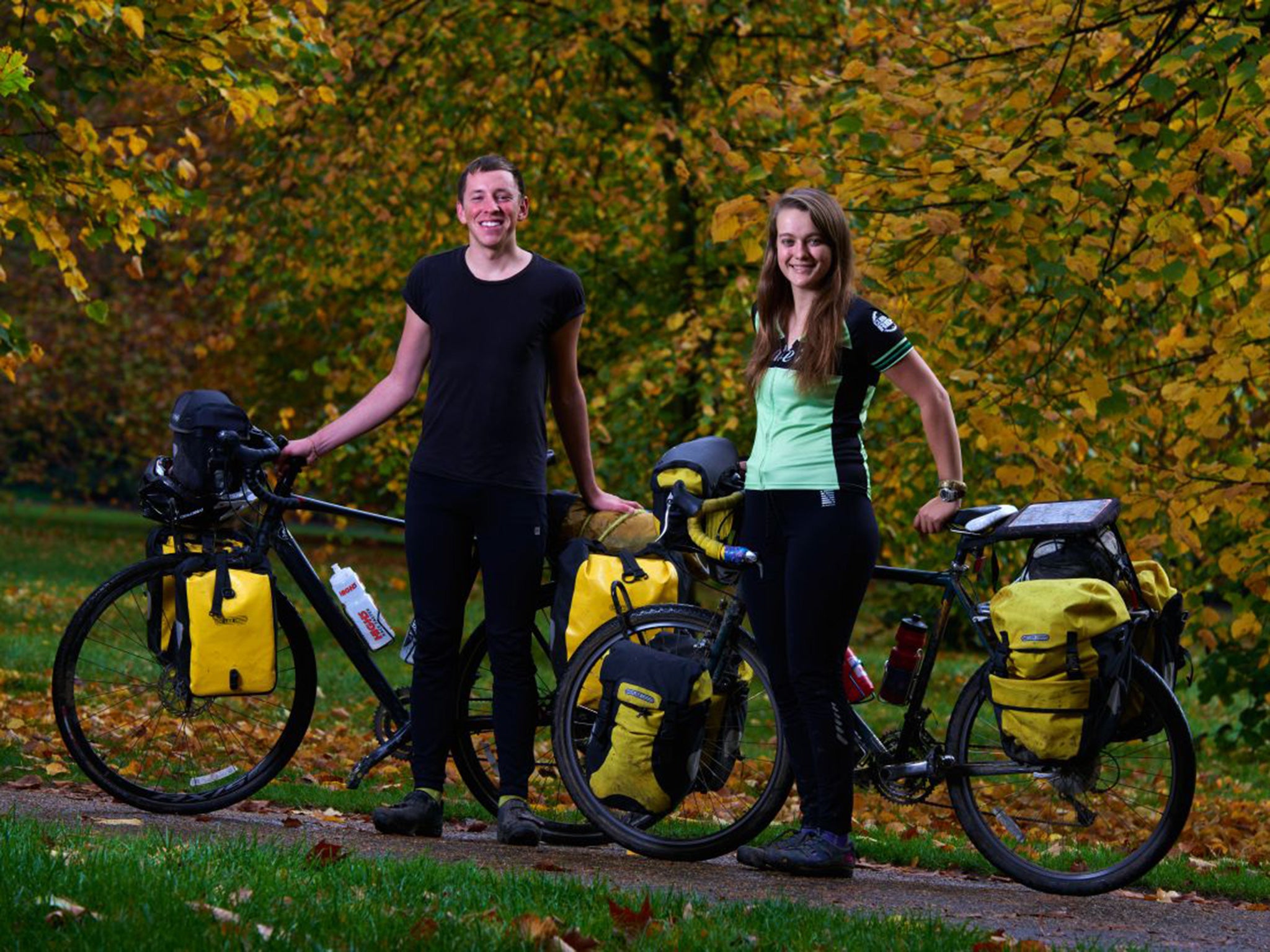 They have pedalled through Canada, Scandanavia and western Europe on their way to the climate change conference in Paris later this month but the country where they have found the most dissatisfaction with governmental green polices is here in the UK.
Americans Morgan Curtis, 24, who grew up in London, and Garrett Blad, 23, are in the final stretch of a five month bicycle odyssey that began in the US state of Vermont in June and will end in Paris, just as a major UN climate change summit is due to begin at the end of this month.
The recent graduates aim to spread the word on climate change on their nine-nation journey and to find out more about what people and communities are doing to fight it. They are detailing their trip on the website climatejourney.org.
Their trip will see them pedal 10,000 kilometres in Canada, Iceland, Norway, Sweden, Germany, the Netherlands and Ireland. The pair arrived in London this week, where they met up with The Independent.
Asked how the UK compared with the other countries they had visited, they said the level of engagement among the people they met was relatively high – but lamented the fact that this didn't appear to be shared by the government, in particular over its recent decision to halt onshore windfarm subsidies and proposals to slash support for solar panels.
"We've heard countless people saying the entire solar industry is being wiped out because of these pull backs in subsidies. People say they have no idea what the market is going to look like and because of that they are going out of business," said Mr Blad, who recently finished an environmental science degree at the University of Notre Dame in Indiana.
Mr Blad contrasted the situation with Norway, Sweden and Denmark where he said renewable businesses were thriving because "they knew where the market was going. They had governments that were supportive of renewable energy".
Ms Curtis, an engineering graduate from Dartmouth College in New Hampshire, said however, that the action people are taking at the grass roots level is far "bigger, stronger and more powerful" than she ever could have imagined, for example by standing up to big corporations and setting up community energy projects. A spokesman for the Department for Energy and Climate Change said: "Government support has driven down the cost of renewable energy significantly. As costs continue to fall and we move towards sustainable electricity investment, it becomes easier for parts of the renewables industry to survive without subsidies."
Join our commenting forum
Join thought-provoking conversations, follow other Independent readers and see their replies