Paris car ban cut harmful exhaust emissions by up to 40 per cent
The city's mayor Anne Hidalgo says the 'journees sans voiture' could be a monthly occurence following success of the day
Caroline Mortimer
Monday 05 October 2015 10:26 Comments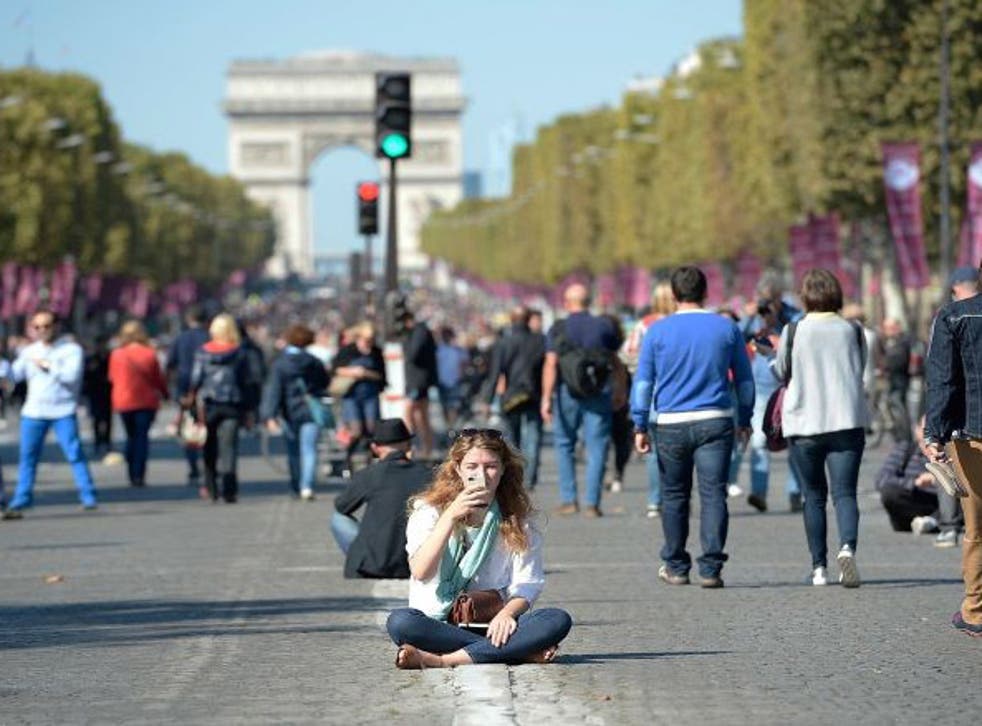 Paris' inaugural "car free day" led to a 40-per-cent drop in the levels of harmful exhaust emissions in parts of the city, according to a French air quality monitoring network.
Airparif, which measures pollution levels in the city, reported that levels of the nitrogen dioxide N02 gases found in the city dropped substantially during the event on 27 September - despite the ban applying to only 30 per cent of the French capital.
Along the river Seine in the city centre, it said pollution levels were down by around 40 per cent.
In the busy Place de l'Opera and Champs-Elysees, levels were down 20 per cent and 30 per cent respectively, the Guardian reports.
Paris' socialist mayor Anne Hidalgo announced the plans to introduce the day in March after she was forced to impose emergency measures to halve the number of cars permitted in the French capital.
Only cars with even or odd number plates were permitted to enter Paris and its 22 surrounding areas on alternating days throughout the month until the dangerous levels of toxic smog surrounding the city's streets had subsided.
Ms Hidalgo tweeted that the "journee sans voiture" events would continue in 2016.
She said: "We see the 'Car Free Days' becoming more frequent."
She even suggested they could be a monthly occurrence.
It comes as Paris prepares to host the UN's Climate Change cofnerence, starting at the end of November, to negotiate a new binding treaty to replace the Kyoto Protocol which was agreed in 1997.
Speaking about the summit, known as COP21, President François Hollande warned reporters last month that there was a "risk of failure" if nations did not work harder to come to an agreement.
He said millions risked becoming "climate-change refugees" in the few decades if global temperatures continued to rise.
Register for free to continue reading
Registration is a free and easy way to support our truly independent journalism
By registering, you will also enjoy limited access to Premium articles, exclusive newsletters, commenting, and virtual events with our leading journalists
Already have an account? sign in
Join our new commenting forum
Join thought-provoking conversations, follow other Independent readers and see their replies