Peru sets up national park to protect 'one of the last great intact forests'
As Donald Trump weakens environmental protections in the US, Peru approves a new national park to preserve millions of acres of the Amazon, its endangered species and indigenous people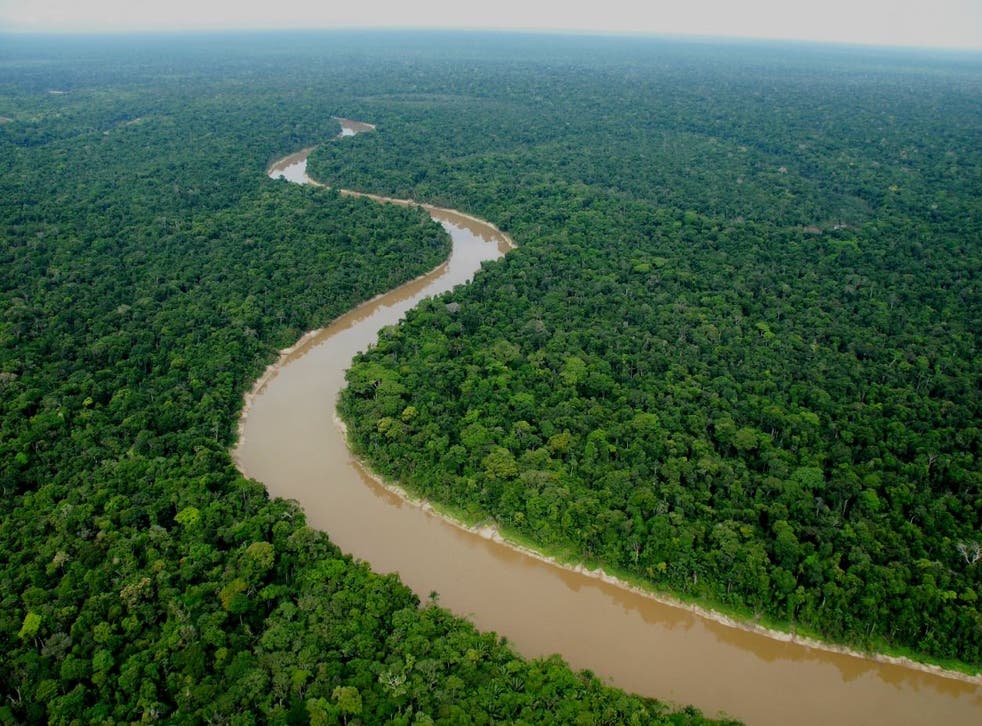 The rainforests in Peru's remote north-west corner are vast – so vast that the clouds that form above them can influence rainfall in the western United States. The region contains species, especially unusual fish, that are unlike any found elsewhere on Earth. Scientists studying the area's flora and fauna may gain insights into evolutionary processes and into the ecological health and geological history of the Amazon.
Now the region has become home to one of the Western Hemisphere's newest national parks. Yaguas National Park will protect millions of acres of roadless wilderness – and the indigenous people who rely on it – from development and deforestation.
"This is a place where the forest stretches to the horizon," says Corine Vriesendorp, a conservation ecologist at the Field Museum in Chicago, one of many organisations that worked to win the national park designation, Peru's highest level of protection. "This is one of the last great intact forests on the globe."
The designation stands in contrast to moves in the United States that may weaken protections for wilderness. President Donald Trump has made a priority of scaling back national monuments like Bears Ears in Utah, and many advisers to the National Park System recently quit, citing concerns about the administration's commitment to environmental protections.
Peru's new park, on the other hand, joins a network of parks and reserves recently created to preserve territory in South American countries, including Ecuador, Chile and Colombia.
"Nowadays we're trying to think big," says Avecita Chicchon, who leads the Andes-Amazon Initiative, part of the Gordon and Betty Moore Foundation. "You need these large areas to be connected."
In Peru and elsewhere, political leaders, bolstered by strong civil society initiatives, are recognising the effects of climate change and their role in mitigating it. They are setting aside large parcels of land in part to fulfil commitments made as part of the Paris climate agreement. And local and indigenous groups, finally getting a legal say in the process, have also provided critical support.
More than 1,000 people, belonging to at least six indigenous groups, live along a 125-mile stretch of the Yaguas and Putumayo rivers. To them, this place is "sachamama", a Quechua word roughly meaning "mother jungle", the sacred heart of the area that produces the flora and fauna on which the groups depend.
These indigenous people are part of a larger community scattered by tragedy during the rubber boom at the turn of 20th century. They are the descendants of the few who survived slavery, torture and genocide, which took tens of thousands of lives.
During the past two decades, indigenous federations living around Yaguas have been working to protect the land. They educated scientists and conservationists about its geography and biology, and convinced the government that the land was worth saving.
In the Amazonian lowlands of Yaguas National Park, different types of rivers that contain distinct forms of aquatic life mix during the rainy season as forests flood. This unusual cocktail of river waters produces unique diversity; more than 300 species of fish have adapted to forest life.
"Imagine you were a fish and you were in a river, and you could pass to another river, not flowing, not swimming down river, instead crossing the forest," says Max Hidalgo, an ichthyologist at the Museum of Natural History in Lima.
The fish feed on fruits, disperse seeds and find homes in submerged branches. To find these rare species, you'd have better luck cracking open a log than using a fishing line, says Hidalgo, who has been studying fish in the area for years.
One species, not yet named, grows no bigger than your thumb and has only been found dwelling in subterranean tunnels. Hidalgo hopes to return to the park soon to confirm whether it is new to science.
But with some 3,000 plant, 600 bird and more than 150 mammal species, there are far more than fish in Yaguas.
Often elusive in heavily hunted areas, tapirs in Yaguas seem to remain more visible. "I've never seen this many tapirs in one place," says Vriesendorp. They are sometimes found in the forest, eating salty mud to extract its minerals.
Endangered giant otters, which can grow to 6 feet long, have also been reported in the park. As their habitats become fragmented by deforestation and development, these oversized weasels face local extinctions.
But their presence in Yaguas suggests that the aquatic ecosystem is still healthy, which is important given that the park contains the headwaters of a tributary to the Amazon.
A team led by the Frankfurt Zoological Society is hoping to get an estimate of the otter population, determine if there are any otter-human conflicts, and eventually assess whether mercury from small gold mining operations has entered the food chain.
If future proposals are successful, three-quarters of the Putumayo River will become a vast, unfragmented corridor for wildlife across northern Peru. And it could also be important as the world aims to reduce carbon emissions.
Looking over the rainforest from above, predictable linear patterns of another Yaguas jewel emerge: peat bogs, only recently discovered. They are part of a network of peat bogs across northern Peru that together store massive amounts of carbon.
Keeping the carbon in the ground is critical, although it will prove challenging in remote Yaguas and surrounding areas with fewer restrictions.
"For now, Yaguas is safe, but in the 20 years I've been working in the Amazon, I've learned the hard way that today's remoteness is tomorrow's access," says Gregory Asner, an ecologist at the Carnegie Institution for Science.
But for now, many are celebrating.
"People don't create national parks everyday," says Vriesendorp. "It really is a big deal."
© New York Times
Join our new commenting forum
Join thought-provoking conversations, follow other Independent readers and see their replies