Pesticide ban: New evidence shows 'strong case' for ban on chemicals linked to bird and bee deaths
Exclusive: Scientists say the EU should consider extending a partial ban on the use of neonicotinoids amid evidence they are lethal to partridges and can stop house sparrows from flying
Ian Johnston
Environment Correspondent
Thursday 12 January 2017 00:42 Comments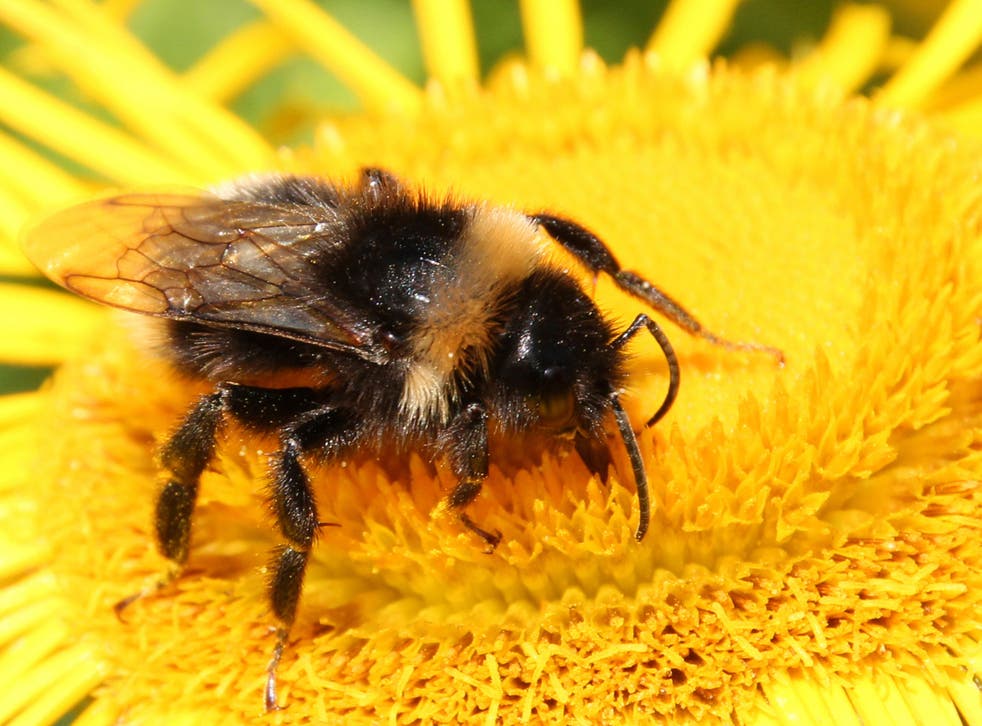 Evidence that controversial pesticides linked to "large-scale population extinctions" of bees should be banned has got stronger since a moratorium on their use was introduced three years ago, according to a new report.
Scientists at Sussex University carried out a review of the scientific studies since the European Union restricted the use of neonicotinoid pesticides on flowering plants in 2013.
In their report, published by environmental campaign group Greenpeace, they concluded there was greater evidence that wild plants near fields of crops treated with the chemicals were being contaminated.
There was also a greater risk that wild bees were suffering from "sub-lethal", but still harmful, effects. For example, some exposed bees were less able to forage for food.
The report also highlighted studies in three different countries which found the numbers of birds, butterflies and bees were reduced near fields with neonicotinoid-treated crops.
Neonics, as they are known, were thought to be safer than traditional pesticides, partly because they are usually used as a seed coating, rather than sprayed on the crop.
But one study found red-legged partridges fed seeds treated with one neonic died within days. Other researchers found house sparrows became "uncoordinated and unable to fly" and Japanese quail suffered DNA damage after being exposed to the pesticides.
Summarising their findings in the report for Greenpeace, researchers Professor Dave Goulson and Thomas Wood wrote: "Research produced since 2013 suggest that neonicotinoids pose a similar to greater risk to wild and managed bees, compared to the state of play in 2013.
"Given that the initial 2013 risk assessment was sufficient to impose a partial ban on the use of neonicotinoids on flowering crops, and given that new evidence either confirms or enhances evidence of risk to bees, it is logical to conclude that the current scientific evidence supports the extension of the moratorium."
They added that an extension of the partial ban to other uses of neonicotinoids "should be considered".
Friends of the Earth has already called for the moratorium to be extended to non-flowering crops like wheat – to the outrage of farmers.
Bees are sick of humans but man will feel the sting
The European Food Safety Authority (EFSA) had been due to publish its own evaluation of the latest evidence on the pesticides this month, but has delayed a decision to later this year.
Commenting on the report, Greenpeace UK's chief scientist, Dr Doug Parr, said: "The scientific evidence points to neonic pesticides posing as great a danger, and a greater one in some cases, to bees and other wildlife than when the EU ban was first introduced.
"If you look at the science, the case for strengthening the current ban on these potent neurotoxins is now overwhelming.
"Bees are a vital pillar of our food chain and our environment, and we should take no chances with their well-being."
And he said the issue would be a key indicator of the Environment Secretary's commitment to the natural world.
"If Andrea Leadsom is serious about 'leaving the environment in a better state than we inherited it', she should push hard for an extension and widening of the ban," Dr Parr said.
"Whatever shape Brexit will take, this is an early test of whether the UK government is willing to stand up for nature and the common good in the face of heavy lobbying from corporations and vested interests."
Martin Harper, the Royal Society for the Protection of Birds' director of conservation, said the charity recognised pesticides "can be useful to farmers" to control "unwanted insects, weeds and other pests".
"However, this report adds to the growing body of evidence that shows how using neonicotinoids may carry unforeseen risks," he said.
"We believe that the use of neonicotinoids should be restricted, and Government should be supporting our farmers in adopting more wildlife-friendly approaches to pest control."
Mr Harper suggested different ways of dealing with pests like crop rotation, "careful choice of crop and variety" and timing farm operations to disrupt pest life cycles could be used instead.
"When the alternative is to continue using a chemical which may be contributing to declines in pollinators, earthworms, predatory beetles and other wildlife vital for a healthy countryside, we believe that restricting the use of neonicotinoids, however difficult, is necessary," he said.
A spokesman for the Crop Protection Association, which represents the pesticide industry, said neonicotinoids had gone through "an extensive risk assessment which found them to be safe for consumer health, for the people who use them and for the environment".
He said pesticides and herbicides "absolutely" had a place in modern farming.
"The UN Food and Agricultural Organisation estimates that to feed a global population set to reach 9.5 billion by 2050 we will need to increase global agricultural productivity by 70 per cent," the spokesman said.
"Farmers will need to use every available technology – including pesticides – to ensure food production keeps pace with this burgeoning demand, while at the same time protecting the natural environment and conserving precious natural resources."
And he added: "It is estimated that there would be a 40 per cent increase in UK food prices without pesticides.
"Globally we already lose up to 40 per cent of our food every year to weeds, pests and diseases.
"Without pesticides, these losses could double and 60-70 per cent more land would need to be brought into production just to maintain current yields, with clear consequences for wildlife and the environment."
He also that a new report had found the neonicotinoid moratorium had cost the European oilseed rape industry almost €900m (about £780m) a year.
The Department for Environment, Food and Rural Affairs said it was "committed to ensuring pesticides are available only when the scientific evidence shows they do not pose unacceptable risks to the environment".
"Bees and other pollinators are vital to the diversity of our environment and food production, which is why we are leading on a nationwide strategy to better protect them," it said in a statement.
Register for free to continue reading
Registration is a free and easy way to support our truly independent journalism
By registering, you will also enjoy limited access to Premium articles, exclusive newsletters, commenting, and virtual events with our leading journalists
Already have an account? sign in
Join our new commenting forum
Join thought-provoking conversations, follow other Independent readers and see their replies