Chemical that castrates frogs among new pesticides approved by Bolsonaro in Brazil despite being banned elsewhere
Three weedkillers approved this year contain Atrazine, which chemically castrates frogs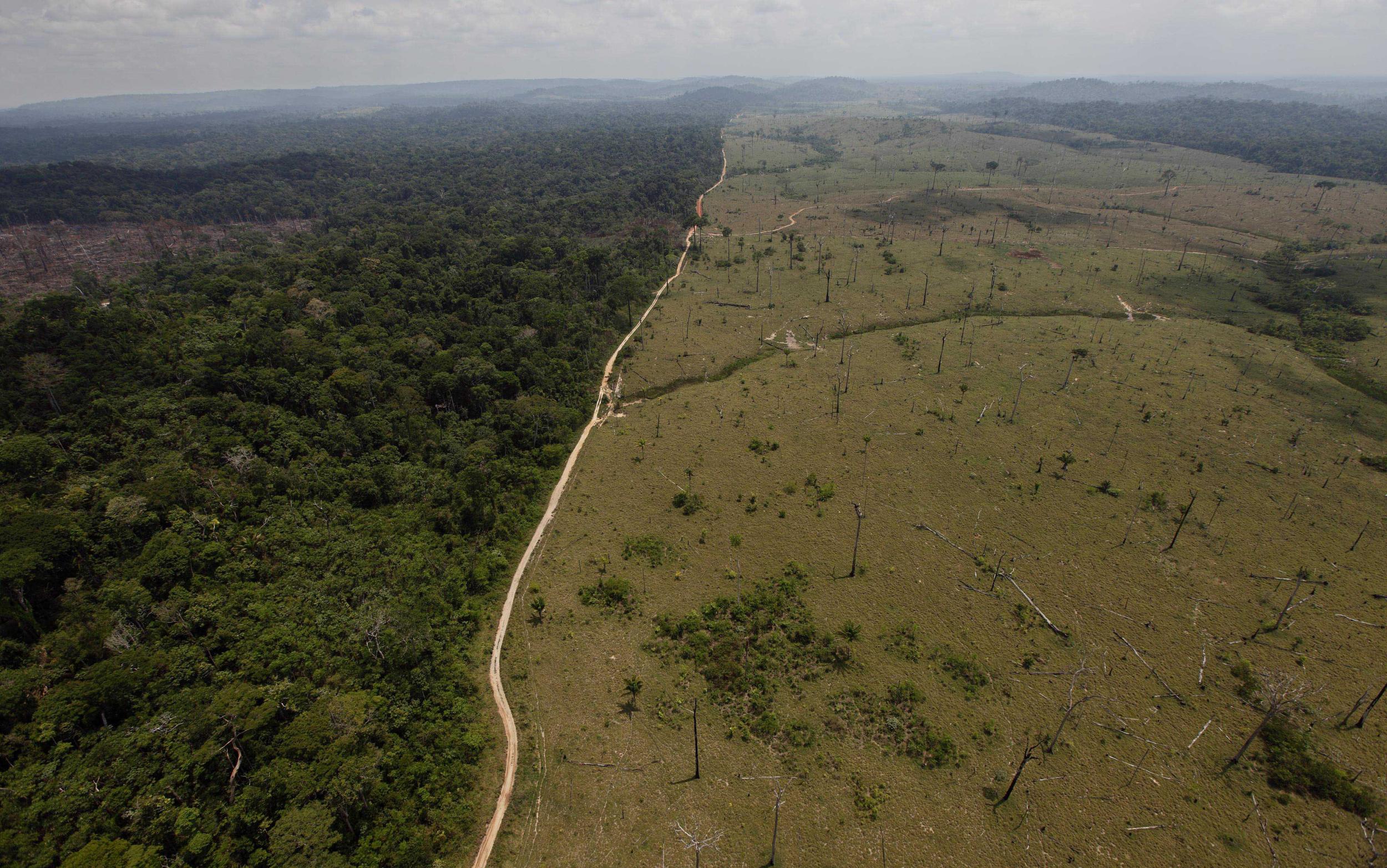 Brazil has approved more than 1,200 pesticides and weedkillers in the last three years with a significant spike in approvals since president Jair Bolsonaro came to power.
Between January – when Bolsonaro's presidency began – and May this year, 169 new products were approved, 14 per cent of which contained chemicals prohibited in the EU, according to am investigation by Greenpeace UK's news agency Unearthed.
Brazil is the world's largest user of pesticides and a number of foreign companies have registered hazardous products there that are illegal in their home countries.
Nearly half of products approved since Bolsonaro came to power pose a risk to the health of both humans and the environment, according to the Pesticide Action Network (PAN).
The right-wing president – who has strong support from agribusiness bosses – has previously questioned the reality of climate change and spoken in favour of expanding mining and industrial farming into the Amazon and protected areas.
Sônia Guajajara, activist and leader of Articulação dos Povos Indígenas do Brasil, representing 300 indigenous groups, told Unearthed: "Since Jair Bolsonaro took office, we have lived with constant attacks against our people, Mother Earth and food sovereignty.
"It is preposterous that the Brazilian government allows foreign companies to sell products which contain chemicals that are banned in their domestic markets."
Three weedkillers approved this year contain Atrazine, which chemically castrates frogs and has been banned in the EU since 2003. Another contains a chemical called Acephate which damages human sperm and has been banned in the EU for almost two decades.
Stunning images of the Amazon rainforest from award-winning photographer
Show all 5
Since 2016, German company Helm has registered nine products that would not be allowed back domestically. One product contains a chemical called Paraquat which has been linked with Parkinson's disease.
This year the firm put forward a pesticide that contains Diquat which disrupts human hormonal systems and also poses a threat to birds and mammals, according to the European Food Standards Agency (EFSA).
Many other firms benefit from Brazil's lax rules on dangerous chemicals. Helm did not reply to Unearthed's request for comment and The Independent has also contacted the firm for comment.
Last year, Human Rights Watch revealed rural residents in Brazil were being poisoned by pesticides sprayed near their homes. The 50-page report found many people feared reprisals if they denounced the poisonings or tried to bring in regulation.
Currently 100,000 cases of pesticide poisonings are reported every year but the actual number is likely to be significantly higher.
"Pesticides sprayed on large plantations poison children in their classrooms and villagers in their back yards all across rural Brazil," said report author Richard Pearshouse, from Human Rights Watch.
"The Brazilian authorities need to stop this toxic exposure and ensure the safety of those who speak out against the harm the pesticides are causing to their families and communities."
Bolsonaro has undone a number of key environmental standards in the country as he believes environmental laws and activist groups often work to hinder Brazil's economic potential.
Deforestation in the Amazon had increased by 20 per cent in the past year, according to environmental group Imazon.
Uncontrolled logging and land invasion has been blamed by analysts for much of the loss, some of which occurred in protected areas and Indigenous reserves.
Dr Oliver Jones, Associate Professor of Analytical Chemistry at RMIT University in Melbourne, said pesticide use does need to be managed carefully.
"Unregulated, overuse of pesticides can result in contamination of the environment, damage to non-target species (including humans), and the development of pesticide resistance, which may in turn requires the use of even more pesticide with an associated increase in production costs to the farmer.
"While it is not the case that just because a pesticide has been banned in one country it should automatically be banned in another (where circumstances and conditions may be different), in the long run, lax pesticide policy can cause significant environmental and economic harm".
Dr Wayne Carter, Associate Professor, University of Nottingham, said there are health concerns associated with excessive exposure to individual pesticides.
"However, whether pesticide exposures are able to show clear, causal linkage to health detriment is unclear," he said.
"Hence pesticides may be banned in one country or partnership of countries (the EU) but still legally used elsewhere, such as Brazil. It is therefore paramount that countries including Brazil employ careful monitoring of usage as well as exposure to pesticides to limit potential damage to human health and the environment."
Join our commenting forum
Join thought-provoking conversations, follow other Independent readers and see their replies