Dangerous industrial-strength pesticides being marketed to amateurs online, chemical companies warn
'Without proper training, amateur gardeners could misapply these products, posing a risk to their own health and the environment'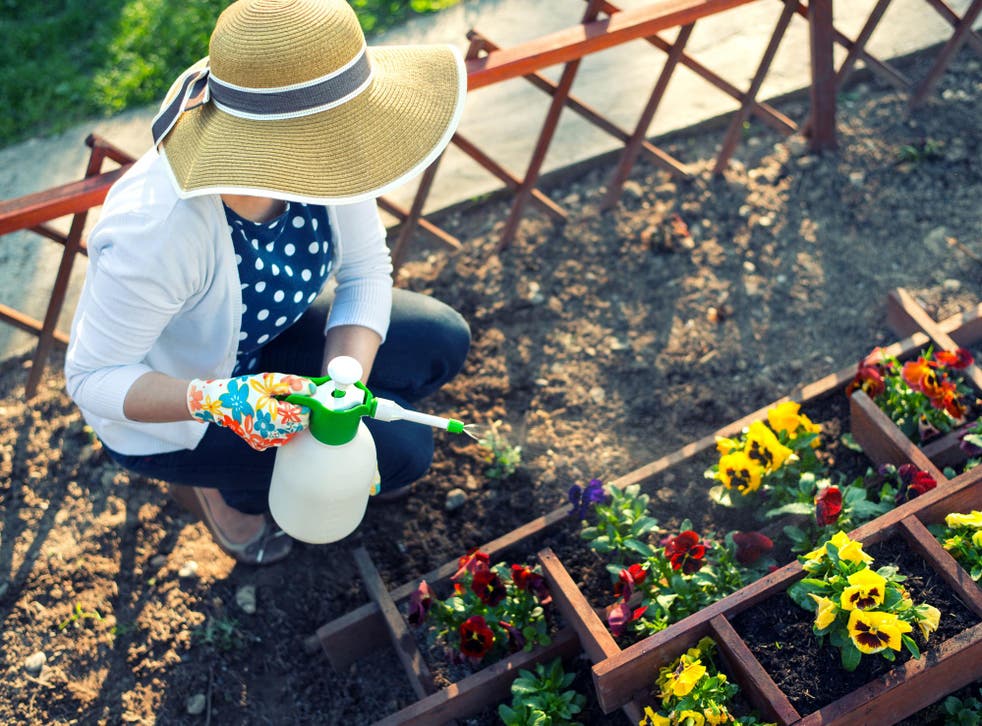 Dangerous pesticides and weedkillers are being sold online to amateur gardeners despite laws that supposedly restrict their use to experts such as farmers and groundskeepers.
Chemical companies and environmental campaigners have expressed concern that members of the public are putting their health at risk in the mistaken belief they are simply using "super strength" products.
While professionals are legally required to undergo training in the safe use of these chemicals, there is no law restricting their sale to unqualified buyers.
A written briefing by pesticide company representatives the Crop Protection Association (CPA) has revealed pesticide manufacturers are worried about this loophole.
The sale of these products online is described by the association as an "area of significant concern", according to Unearthed, Greenpeace's investigative journalism platform.
Products containing dangerous levels of chemicals such as glyphosate are "frequently listed or advertised with amateurs clearly as the target audience", according to the briefing.
The use of the words "very strong", "super strong" or even "professional" are thought to be giving the mistaken impression these are simply superior products rather than ones reserved only for experts.
UK news in pictures

Show all 50
Other aspects that suggest dangerous products are being targeted towards the general public are the inclusion of disposable gloves and measuring cups, which the CPA describes as "not usually something which a professional user would expect to be supplied".
This finding emerged shortly after a landmark ruling in which a Californian jury ruled that the glyphosate-based weed killer Roundup contributed to a former groundskeeper developing terminal cancer.
"Without proper training, amateur gardeners could misapply these [professional] products, posing a risk to their own health and the environment," said Nick Mole of Pesticide Action Network UK.
Unearthed has found professional strength glyphosate products are widely available on eBay, many sold by vendors who meet the site's "top rated performance standard".
"As an industry we are concerned about the sale of professional products to amateur users online," said a CPA spokesperson.
"This is why we are working with eBay and other internet companies to close any loopholes and ensure that professional products are only sold to suitably qualified professionals."
An eBay spokesperson said they had "no tolerance for illegal sales of pesticides on our marketplace".
"We work closely with the regulators like the HSE [Health and Safety Executive] to ensure that all listings comply with the law and we constantly monitor our marketplace to enforce this," they said.
Westminster City Council is in charge of trading standards issues associated with eBay in the UK, and it has pledged to investigate this issue.
"Westminster City Council will follow up the new listings with eBay to ensure that they are removed and further discuss the measures in place to prevent similar listings appear in future," said council cabinet member for public protection and licencing Ian Adams.
A previous investigation by Unearthed revealed that pesticides that are illegal in the UK were being sold there on eBay's UK site.
This discovery triggered an investigation by the trading standards authority.
Register for free to continue reading
Registration is a free and easy way to support our truly independent journalism
By registering, you will also enjoy limited access to Premium articles, exclusive newsletters, commenting, and virtual events with our leading journalists
Already have an account? sign in
Register for free to continue reading
Registration is a free and easy way to support our truly independent journalism
By registering, you will also enjoy limited access to Premium articles, exclusive newsletters, commenting, and virtual events with our leading journalists
Already have an account? sign in
Join our new commenting forum
Join thought-provoking conversations, follow other Independent readers and see their replies