Pine marten seen in England for the first time in a hundred years
Photographic proof that there was a pine marten in the woods of south-west Shropshire sparked a wave of excitement among local conservationists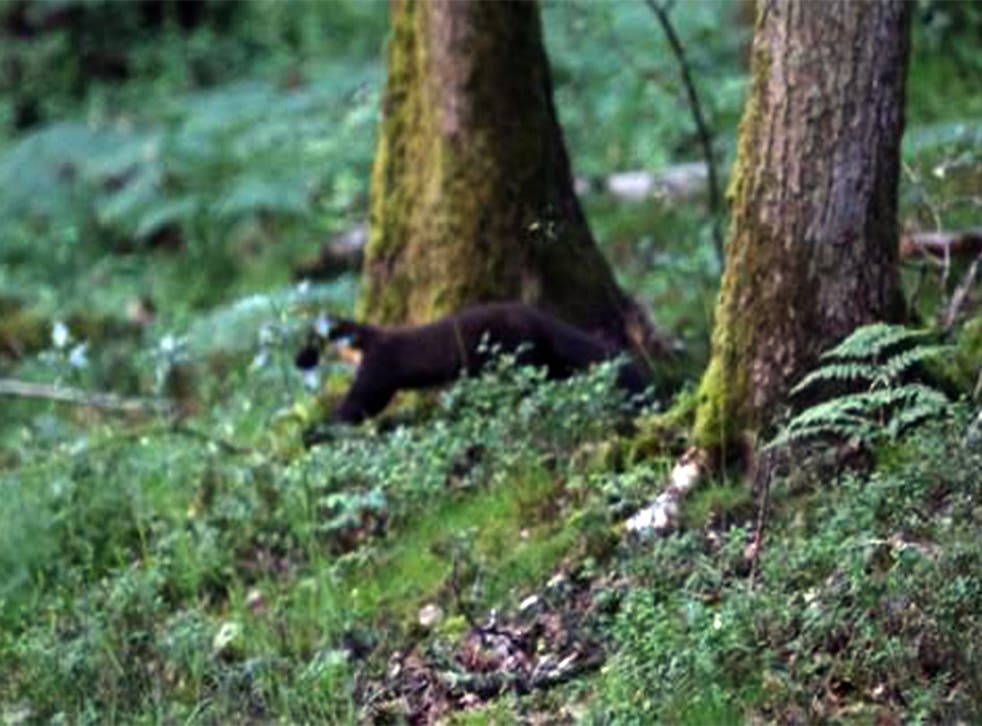 A dark shape moved rapidly through the woods and moments later, with a flash of its bushy tail, disappeared into the undergrowth.
Keen nature-watcher Dave Pearce's first instinct was to reach for his camera – and in doing so he took the photograph of a lifetime, capturing what is believed by some to be the first confirmed sighting of a wild English pine marten in a century.
A carnivore that is about the size of a large cat and related to the stoat, the elusive creature is believed to be on the brink of extinction in England and Wales, although in Scotland the population of several thousand has been thriving in recent years.
Photographic proof that there was a pine marten in the woods of south-west Shropshire sparked a wave of excitement among local conservationists.
Stuart Edmunds, of Shropshire Wildlife Trust, said he had spent the past five years looking for just such an image amid numerous false alarms.
"I must admit I'm always naturally sceptical, having investigated so many over the last five years – there's been so many mis-identified animals," he said. "When I first got the photos, I had more pressing things to do than check them for a couple of days."
When he did look, Mr Edmunds said he went into "complete shock" before another bout of scepticism kicked in. "I actually thought it might have been a taxidermied pine marten dragged through the woods," he said.
He was satisfied it really was a pine marten in Shropshire only after several people who are "quite well known in conservation" vouched for Mr Pearce's integrity.
"Originally he didn't want too much to be made of it at all," Mr Edmunds said. "I said, 'This is exciting news, it seems silly to keep it quiet'."
There have been other photographs and film of pine martens taken in England recently, such as in Staffordshire in 2004 and Cornwall earlier this year, but Mr Edmunds said they were likely to be animals that had escaped from zoos or been released into the wild deliberately. The Shropshire animal, he claimed, had most probably made its way there from across the Welsh border.
The most incredible nature moments ever caught on camera

Show all 6
Mr Pearce, a mechanic, said he was nature-watching in the Clun Valley last week when he saw "a dark object moving very fast" in the periphery of his vision. "I realised after a few seconds that it was what it was and my first reaction was to reach for my camera because it's an important species and it needed to be recorded," he said. "I felt privileged to see it. I'm pretty sure I'll never see one again in my life in Shropshire."
Professor Robbie McDonald of Exeter University said the photograph "clearly shows a pine marten" but that it was not certain whether it – and the sightings in Cornwall and Staffordshire – was wild. He added that pine martens were still close to extinction whatever the case and were now "largely irrelevant" ecologically in England and Wales.
Another expert suggested people in Shropshire might be getting a bit carried away. Lizzie Croose, mustelid conservation officer at the Vincent Wildlife Trust, a UK-wide wildlife charity that plans to transfer pine martens from Scotland to Wales later this year, said it might be "the first in Shropshire in a century" but there had "certainly been other records" of pine martens in England in the past 100 years.
But she added: "It's very unusual to get a photograph. A lot of sightings are just fleeting glimpses."
Register for free to continue reading
Registration is a free and easy way to support our truly independent journalism
By registering, you will also enjoy limited access to Premium articles, exclusive newsletters, commenting, and virtual events with our leading journalists
Already have an account? sign in
Register for free to continue reading
Registration is a free and easy way to support our truly independent journalism
By registering, you will also enjoy limited access to Premium articles, exclusive newsletters, commenting, and virtual events with our leading journalists
Already have an account? sign in
Join our new commenting forum
Join thought-provoking conversations, follow other Independent readers and see their replies