Pitcher perfect - but carnivorous plants are at risk
Botanists fear that newly discovered species of meat-eating flowers are losing their habitat and may already be extinct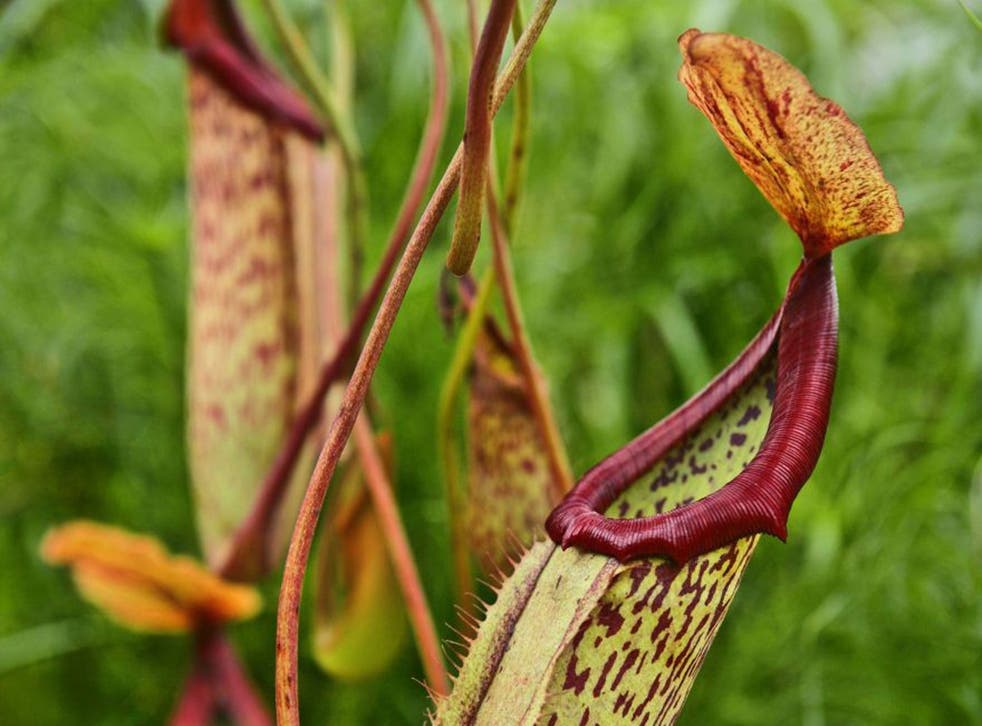 Botanists are in a race against time to save some of the world's most spectacular carnivorous plants from extinction. Over the past year a dozen previously unknown species of pitcher plants, at least one of them big enough to swallow and eat rats, have been identified by researchers. They all originated in the Philippines, but because of forest clearance several are already feared to be extinct or on the verge of being wiped out.
Scientists are now desperately hoping live specimens can be found and propagated before the last of their habitat is cut down to grow pineapples and palm oil, or is cleared by mining companies.
The recent discoveries, 12 previously unknown pitcher plants – nepenthes – in the past year, and a further 12 since 2001, have established the Philippines as one of the most important, if not the most important place in the world for pitcher plants. For carnivorous-plant enthusiasts it is a double tragedy, because not only have individual species been lost, but so too has the opportunity to see and study "the jewel in the crown" of pitcher plant habitats. Until last year Borneo and Sumatra were regarded as offering the greatest in pitcher plant diversity worldwide, but the new finds establish the Philippines as at least their equal.
The 12 new species identified last year were discovered by Dr Martin Cheek, of Royal Botanic Gardens, Kew, with Dr Matthew Jebb, of the National Botanic Gardens of Ireland. The plants were identified from dead specimens collected years ago and never properly studied before being stored in herbariums in places such as Hawaii, California and Texas.
"The situation in the Philippines is quite serious already. We've gone from 1925 when it was believed two-thirds of the country was under the original vegetation, to the year 2000 where there's an assessment that only 3 per cent has survived," said Dr Cheek.
"Since then, things haven't been getting any better. It seems so sad that a large number of species have remained unknown and have been taken right to the edge of extinction, if not extinct already. It's pretty depressing."
The pitchers vary in size, but the biggest can be 30cm long or more, putting them among the largest in the world. Dr Cheek said: "The pitchers would be filled with a whole range of enzymes which would act on whatever animal has been caught and break them up into a soup. Everything that ends up in the pitcher generally doesn't get out. We know that some species have been known to trap rats and mice, but the usual fare would be things like ants and cockroaches."
Among the discoveries is a plant that the researchers are so convinced has already been wiped out that they have named it Nepenthes extincta. It used to live in an area that has since been heavily damaged by nickel mining.
One species that is still believed to exist in the wild is Nepenthes ultra which was found in scrubland close to a coastal resort. It is likely to have been photographed by tourists unaware that the plant was unknown to science.
The researchers have written several papers on the new discoveries in journals, including Phytotaxa and the European Journal of Taxonomy.
In one they warned: "Since habitat destruction continues in the Philippines, it is a race against time to discover, publish, assess and draw attention to the conservation needs of species before they become extinct, if they have not already been lost."
Smooth operator
The carnivorous nepenthes plant, which traps its prey in smooth-sided "pitchers", is inspiring a new generation of protective coatings.
Harvard University researchers have mimicked the plant's near-frictionless skin structure to produce self-healing coatings that repel liquids and pollutants. They say the coating can be cheaply applied to almost any object, large or small. It can resist graffiti, protect medical implants, aid blood flow, clean electrical components, prevent ice build-up on aircraft wings, protect ship hulls, and aid the passage of oil and other products by pipeline.
The scientists' work took them to this year's finals of the Institution of Chemical Engineers (IChemE) awards in the UK, which recognise excellence and innovation in the chemical industry. IChemE's chief executive, Dr David Brown, said: "[The] new coating self-heals almost instantly, even if scraped with a knife or blade. It is a very clever solution."
Dona Paranayil
Register for free to continue reading
Registration is a free and easy way to support our truly independent journalism
By registering, you will also enjoy limited access to Premium articles, exclusive newsletters, commenting, and virtual events with our leading journalists
Already have an account? sign in
Register for free to continue reading
Registration is a free and easy way to support our truly independent journalism
By registering, you will also enjoy limited access to Premium articles, exclusive newsletters, commenting, and virtual events with our leading journalists
Already have an account? sign in
Join our new commenting forum
Join thought-provoking conversations, follow other Independent readers and see their replies