Plans for five 'megaports' along Queensland coast threatens Great Barrier Reef
The controversial scheme is horrifying environmentalists and tour operators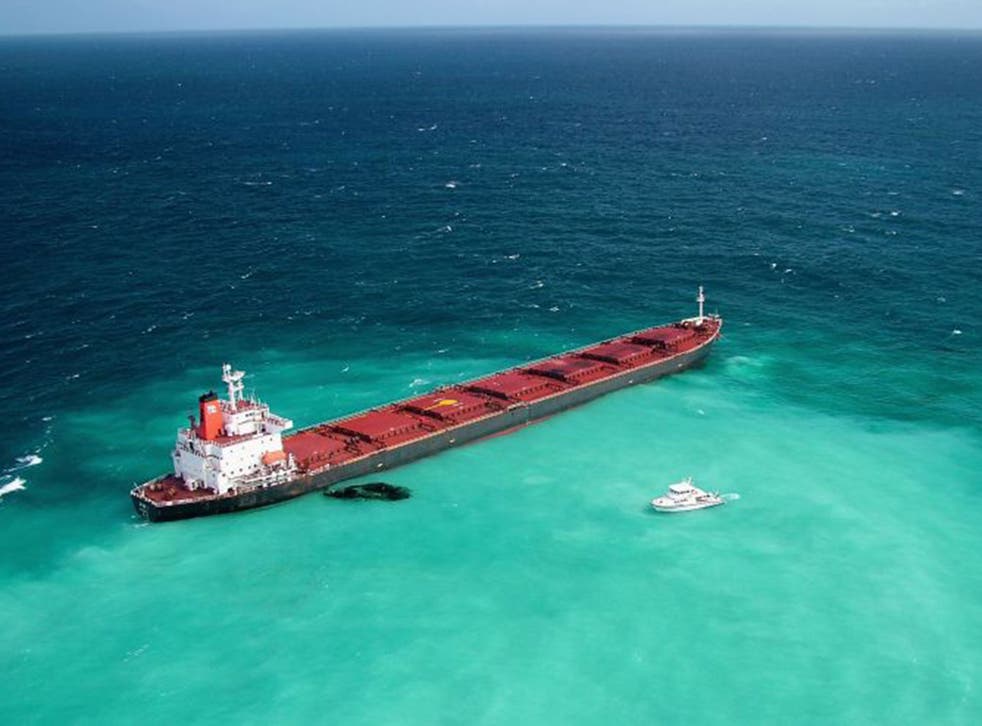 Coal versus coral? For Queensland's ultra-conservative government, there's no contest. Never mind that the Great Barrier Reef is already in peril – the government has approved the development of five "megaports" along its coastline.
A 10-year port strategy, which will involve the seabed being dredged to create shipping lanes, and the dumping of waste in the reef's waters, is part of a plan to treble Australian coal exports by 2030, with much of the raw material coming from Queensland's massive coal fields.
While the state government claims the strategy – released earlier this month with little ceremony – will not harm the marine environment, scientists and conservation groups are horrified. The World Heritage-listed reef is already in such a dire state that Unesco has threatened to list it as "in danger" without radical remedial action.
Enlarging existing ports on the environmentally sensitive coastline into some of the world's biggest coal export facilities was probably not what the UN body's World Heritage Committee – which will discuss the Great Barrier Reef's health at its annual meeting in Doha, Qatar this week – had in mind.
Unesco has already expressed dismay at the federal government's decision to allow three million tons of dredge spoil to be dumped in the marine park during construction of new terminals at Abbot Point, north of the town of Bowen.
Those concerned by the latest plans, which will generate industrial activity on five sites, Abbot Point, Townsville, Mackay, Gladstone and Brisbane, include tourism operators, who fear they will hasten an already steep decline in water quality. They complain of water clouded by "plumes" of sediment, stirred up during dredging and able to travel large distances. "The visibility has been reduced considerably, so when we take people snorkelling and diving, they ask, 'How come the water's so dirty?'" says Al Grundy, whose tour company is based in the Whitsunday Islands.
Industry is only one of the pressures on the reef, a 344,400 square kilometre (133,000 square mile) mosaic of islands and coral cays recognised as among the world's natural wonders. Others include climate change – more frequent and intense storms, and warmer seas, which cause coral bleaching – as well as agricultural pollution and crown of thorns starfish, which prey on hard coral.
But larger ports and more shipping are the last thing the reef needs, say critics. "We don't deny there are serious existing environmental problems," says Felicity Wishart, director of the Australian Marine Conservation Society's reef campaign. "But these are new, emerging ones that will make matters worse."
As well as clouding the water, sediment deprives coral and seagrass of the light that they need in order to grow. An estimated 180 hectares (0.7 square miles) of seagrass beds – the main diet of endangered dugongs (sea cows) and turtles – will be lost as a result of Abbot Point's expansion.
The Queensland government insists that, by confining future port development to existing facilities, it is following Unesco's advice on protecting the reef, 2,300 kilometres (1,430 miles) long. But opponents say the strategy amounts to "business as usual", and note that the areas in which expansion will be permitted have not yet even been defined.
And while the government claims no dumping will be carried out within 40 kilometres (25 miles) of any coral, Al Grundy says that one of his dive sites – Holbourne Island, extolled on a government website as "a major nesting area for turtles and birds … [with] fringing reef and secluded beaches" – is only eight kilometres, or five miles, away.
The dumping of waste material in the reef's waters is being challenged in court by the tourism industry and environmental groups. So controversial is the Abbot Point expansion, in particular, that two international banks – Deutsche Bank and HSBC – have ruled out financing it.
Mr Grundy says that the tourism industry is not anti-development, but advocates a pause while scientists try to establish the reasons for water quality deterioration. He also questions why the spoil can't be dumped on land, or further out to sea – both more expensive options, but posing less of a threat to the reef, which has lost half of its coral in the past 27 years.
"The reef is already in a poor state of health, and declining, because of all the activities we've been up to for the last 200 years, so we have to try to halt and reverse that. This is not only our livelihood. We're the custodians of this amazing reef, and we need to do everything we can to ensure its survival."
Notwithstanding the ambitious export plans, some are questioning the coal industry's growth projections and the need for port expansion, noting that existing facilities are operating at only 65 per cent capacity.
Larissa Waters, a Queensland Senator and environment spokesperson for the Australian Greens, says of the port strategy: "It won't apply to any of the damaging dredging already applied for [and approved] … This is atrocious news for the Great Barrier Reef."
Register for free to continue reading
Registration is a free and easy way to support our truly independent journalism
By registering, you will also enjoy limited access to Premium articles, exclusive newsletters, commenting, and virtual events with our leading journalists
Already have an account? sign in
Register for free to continue reading
Registration is a free and easy way to support our truly independent journalism
By registering, you will also enjoy limited access to Premium articles, exclusive newsletters, commenting, and virtual events with our leading journalists
Already have an account? sign in
Join our new commenting forum
Join thought-provoking conversations, follow other Independent readers and see their replies