Most people still do not care about buying plastic bottles, say campaigners
Report reveals British public is 'not there yet' in its attempts to tackle 'scourge' of pollution
Josh Gabbatiss
Science Correspondent
Monday 23 April 2018 19:19 Comments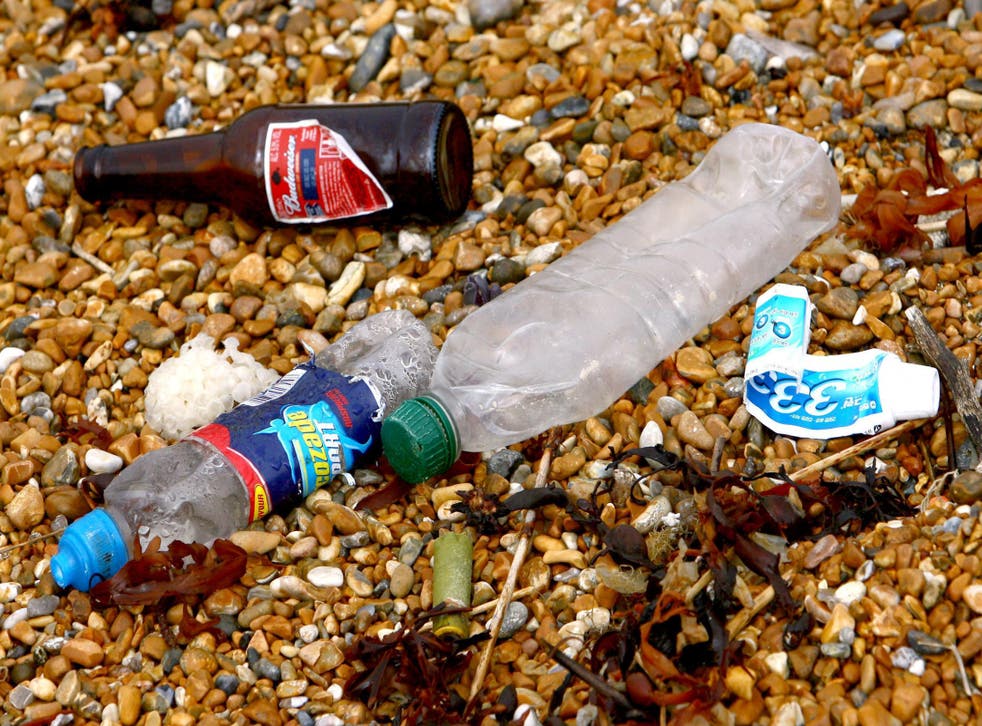 Most British people are still happy to purchase disposable plastic bottles of water, and only a third of the population drink from reusable bottles when out and about.
These findings emerged from a survey in which people were asked about their attitudes to plastic waste and water consumption.
They run contrary to the increased awareness of plastic pollution that appears to have pervaded the nation.
The results were based on a YouGov survey of more than 2000 people conducted for Keep Britain Tidy in the wake of the BBC's screening of Blue Planet II.
Bringing heartbreaking scenes of the impact of plastic pollution on marine life into the nation's living rooms, the Sir David Attenborough-fronted show was the most watched television programme in 2017.
In its wake has come a raft of highly publicised measures to tackle the "scourge" of plastic pollution – including the recent announcement of a bottle deposit return scheme and the government's pledge to eliminate avoidable plastic waste by 2042.
However, despite media coverage and local initiatives across the country to deal with plastic waste, the survey suggests there is still a lag in the nation's behaviour change.
Social experiment documents how kids react to plastic pollution
In all, only 44 per cent of those surveyed admitted to feeling bad for the environment if they bought bottled water, and a fifth still purchased bottled water to use at home.
Lack of access to water at transport hubs like airports and bus stations was highlighted as a major problem by participants, as many said they relied on bottled water when starting long journeys.
The survey revealed people generally blame inconvenience or forgetfulness for their over-reliance on disposable plastic bottles, and suggested a major cultural shift will be required to cut down on numbers.
"There has been encouraging progress in the past year to address litter levels from single-use plastic, but this report demonstrates that we are not there yet," said Keep Britain Tidy chief executive Allison Ogden-Newton.
"Too many people still find it challenging to fill up on the go, while many more are still embarrassed to ask for tap, worried about the safety of water fountains, or just unwilling to go the extra mile and carry around a reusable bottle.
Ways to reduce your single-use plastic

Show all 6
"We've simply got to get to a situation where topping up in glass or refillable bottle is the norm."
The research, which is being launched in parliament today, is part of a wider campaign by water filter company Brita in association with Keep Britain Tidy that aims to help eradicate the use of single-use plastic bottles.
"The damage single-use plastic is doing to our marine and wider environment and marine life has been well documented, and it is clear many people are committed to tackling this," said Sarah Taylor, managing director of Brita UK.
"At the same time, this research shows that old habits are ingrained and that often the 'hassle factor' outweighs concern about the environment."
The campaign's goal is to encourage people to make small lifestyle changes that can have a significant impact on the environment.
It also encourages businesses to capitalise on the anti-plastic sentiment and help people cut down on bottle use by offering free, easily available refills in-store.
Register for free to continue reading
Registration is a free and easy way to support our truly independent journalism
By registering, you will also enjoy limited access to Premium articles, exclusive newsletters, commenting, and virtual events with our leading journalists
Already have an account? sign in
Join our new commenting forum
Join thought-provoking conversations, follow other Independent readers and see their replies