Plastic pollution: Turtles are dying after becoming tangled in fishing gear and household rubbish, new study finds
Debris from human activity is responsible for deaths of marine reptiles around the world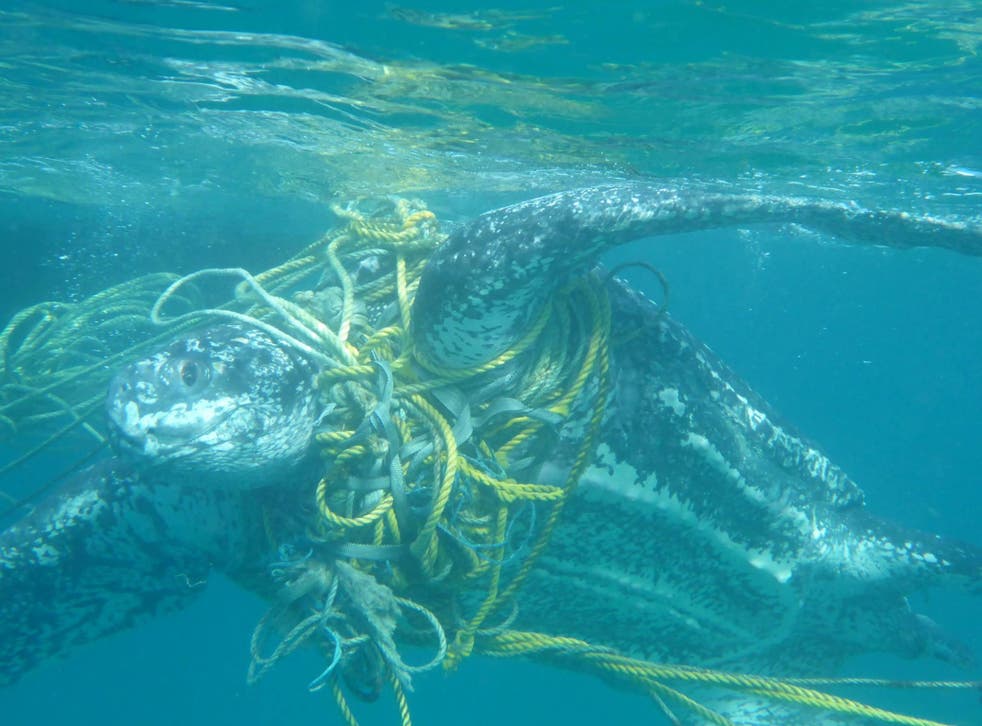 Turtles are dying in large numbers after becoming entangled in plastic debris, according to an international study.
Discarded fishing gear was the main culprit, but turtles were also found trapped in "six pack" beer can holders, plastic chairs and balloon string.
The study's authors talked to turtle experts and analysed the scientific literature to search for examples of plastic entanglement.
Plastic can inflict serious damage on the marine reptiles, amputating limbs, choking them and restricting their movements.
Over 90 per cent of the turtles reported were already dead
The researchers estimate at least 1,000 turtles are dying this way every year.
However, conservation scientist Professor Brendan Godley, who led the study – published in the journal Endangered Species Research – said this is "almost certainly a gross underestimate".
The research team surveyed 106 experts from the Atlantic, Pacific Caribbean, Mediterranean and Indian Ocean coasts.
"Experts we surveyed found that entanglement in plastic and other pollution could pose a long term impact on the survival of some turtle populations and is a greater threat to them than oil spills," said Professor Godley, who is based at the University of Exeter.
Much attention has been drawn to the risk of animals mistakenly consuming plastics instead of food.
Previously environmentalists have found hundreds of shards of plastic in the stomachs of turtles, and many other species are known to eat plastic.
Vast sea of plastic and pollution in the Caribbean: in pictures

Show all 11
But the threat of entanglement is another frontier in the fight against marine plastic pollution, and one that the authors of this study call an "under reported and under researched threat to marine turtles".
A particular problem is "ghost fishing", when lost or discarded fishing equipment continues to effectively trap marine life after fishermen have stopped using it.
Professor Godley and his colleagues hope that raising awareness of this issue will help encourage people to seek alternatives to plastic in fishing and daily life.
"We need to cut the level of plastic waste and pursue biodegradable alternatives if we are to tackle this grave threat to turtles' welfare," said Professor Godley.
"Nearly all species of turtle are endangered and yet research like this shows that the threats from human activity are only getting worse," said Will McCallum, head of oceans at Greenpeace UK.
Mr McCallum said "the throwaway plastic we use for just minutes" is to blame for the creation of "floating traps" for marine creatures.
Following the success of BBC documentary Blue Planet II in the UK, increased interest in plastic pollution has been accompanied by Government interest in implementing measures to tackle the problem.
"If UK ministers are truly feeling inspired after watching Blue Planet II, then a good place to start would be stopping plastics getting into the ocean by pushing ahead with plans for a deposit return scheme," said Mr McCallum.
"And if CEOs of major companies like Coca-Cola want to avoid being part of the problem then they need to start reducing their plastic footprint without delay."
Register for free to continue reading
Registration is a free and easy way to support our truly independent journalism
By registering, you will also enjoy limited access to Premium articles, exclusive newsletters, commenting, and virtual events with our leading journalists
Already have an account? sign in
Register for free to continue reading
Registration is a free and easy way to support our truly independent journalism
By registering, you will also enjoy limited access to Premium articles, exclusive newsletters, commenting, and virtual events with our leading journalists
Already have an account? sign in
Join our new commenting forum
Join thought-provoking conversations, follow other Independent readers and see their replies