More plastic water bottles being sold in UK than ever before
And rolling out biodegradable and compostable plastics too fast could be causing even more pollution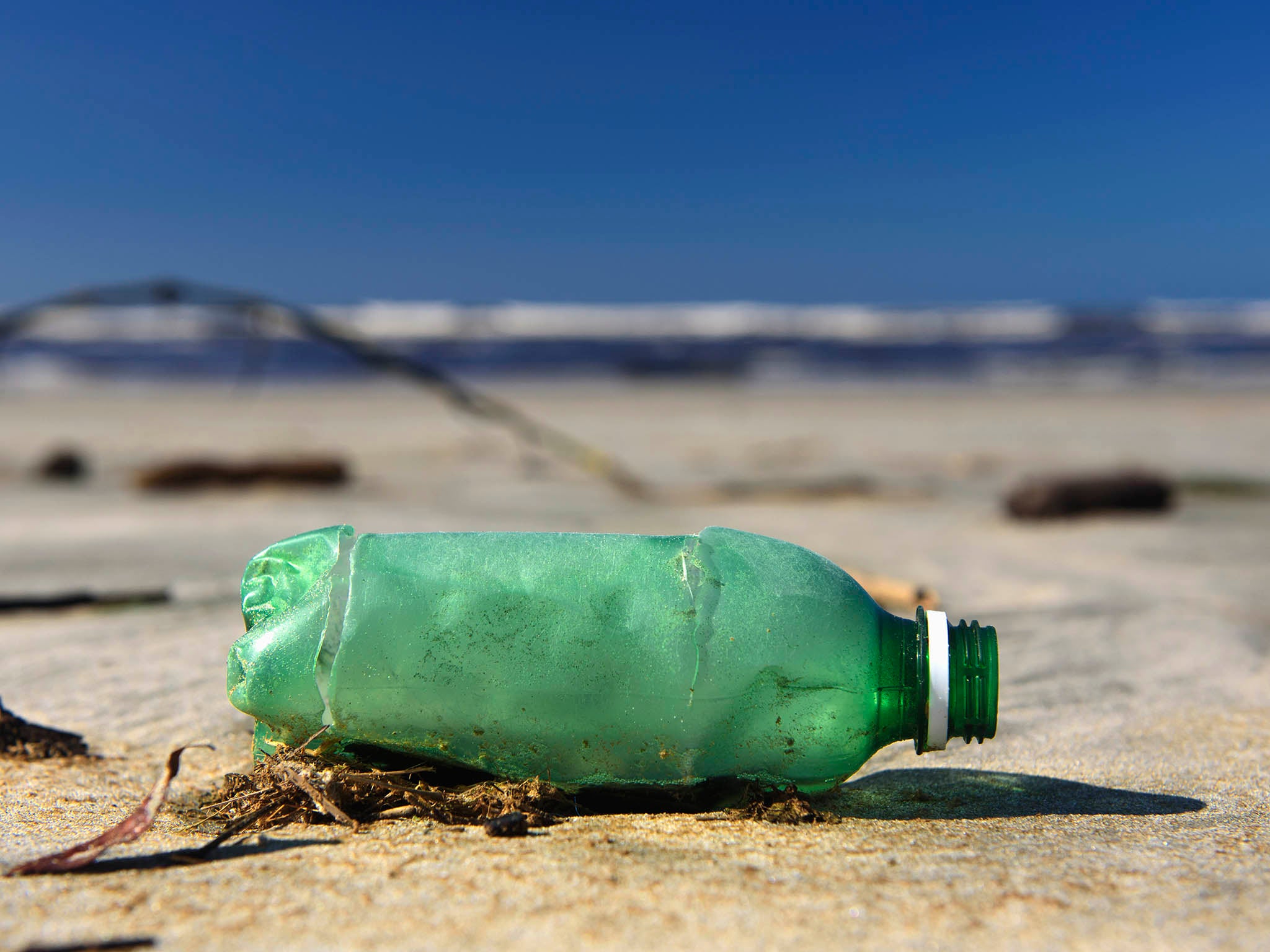 There are more plastic water bottles being sold in the UK than ever – and robust growth is expected for brands using alternative materials despite widespread campaigns to reduce single-use items.
Experts say biodegradable and compostable plastics – which are often billed as more environmentally friendly – could make pollution "even worse".
More of us are carrying reusable bottles to reduce our dependency on single-use plastic – but our thirst for plastic bottles shows no sign of slowing.
In 2018, UK use of plastic water bottles increased by more than 7 per cent, according to market research company Zenith. The industry is worth £3.3bn.
"Everything I've heard suggests that the market will continue to grow," said Libby Peake, a senior policy adviser at independent think tank Green Alliance.
Sea creatures seen tangled in plastic
Show all 8
Her research shows that a shift to aluminium cans, glass bottles, cartons or even compostable plastics is simply creating new environmental problems, without actually decreasing overall consumption of plastic water bottles.
The term "compostable" or "biodegradable" suggests the plastic degrades into nothing. However, researchers have found that biodegradable plastic bags can still be in tact after three years at sea.
Importantly, neither of these terms mean that the material can break down in the natural environment.
Ms Peake said: "I think there's a lot of confusion across the board and also about the different terminology. Some companies are saying 'these are biodegradable' and the term doesn't have a standard attached to it – it doesn't have a time span or condition attached to it.
"I heard a woman talking about biodegradable cups and I heard her say, 'They're a bit more expensive but they're great because you can just chuck them on the ground when you're done'.
"I do think that's a common misconception and people hear the term biodegradable and they do do that. That will make pollution even worse."
According to an investigation by Greenpeace published earlier this month, companies investing in emerging "recycling" technologies are offering "false hope". Their report found that just because a product is compostable, biodegradable or made from plants, that does not mean it is good for the environment.
Ms Peake said: "The rolling-out of compostable plastic is absolutely going too fast at the moment and there is a disconnect in how different government departments are tackling this. Really what you'd want to see is assurance that you're only putting them on the market in places where they make sense."
Support free-thinking journalism and attend Independent events
Experts say tap water in refillable containers is by far the most sustainable option. Greenpeace also found that companies will only reduce their environmental footprint by encouraging people to reuse materials.
"We're looking at how you can tackle plastics in a way that isn't just banning cotton buds or seeing a rise in these other types of materials," said Ms Peake.
The amount of bottled water sold in the UK has doubled in the past 15 years and continues to rise, with the average adult going through 150 plastic water bottles a year.
It is estimated that by 2050 there will be 12 billion tons of plastic polluting the natural environment.
Join our commenting forum
Join thought-provoking conversations, follow other Independent readers and see their replies