Poland broke law by logging ancient forest, rules EU court
Polish government could be fined tens of millions of euros unless it complies with ruling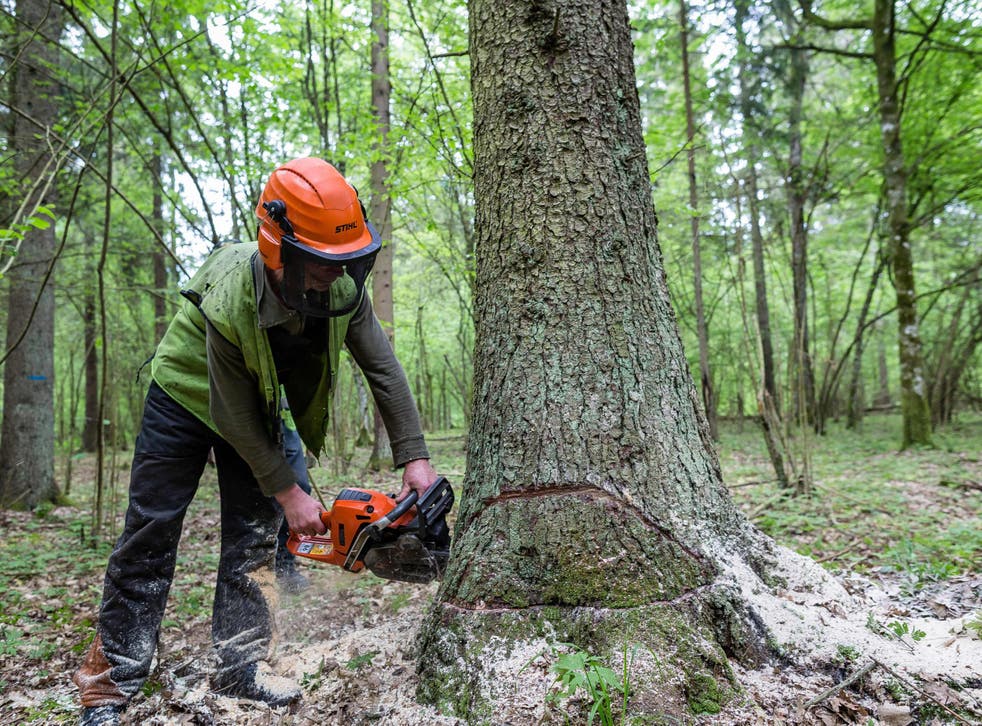 The EU's top court has ruled that increased logging in Poland's Bialowieza forest violates environmental laws.
Bialowieza forest is a Unesco World Heritage site, but in 2016 former environment minister Jan Szyszko tripled its logging limits.
Since then, environmental groups have been fighting against the decision, pointing out the rich animal and plant life found in the ancient forest – including Europe's largest herd of bison.
The ruling on Tuesday came into force immediately, meaning Poland must hastily reverse decisions that allowed the logging.
If this is not done, the government could be fined up to tens of millions of euros.
Scientists across Europe warned the increase in logging would be harmful, but the Polish government initially argued it was necessary to prevent bark beetle infestation.
When the move was made to escalate operations in the forest, environmental lawyers ClientEarth, together with six other organisations, filed a complaint to the European Commission.
ClientEarth chief executive James Thornton said: "This is a huge victory for all defenders of Bialowieza Forest. Hundreds of people were heavily engaged in saving this unique, ancient woodland from unthinkable destruction.
"We warned that the increased logging would breach EU law even before the minister officially authorised it. From a legal perspective, the case has been as clear as day from the beginning – it was very obvious that the law was being broken."
The case saw Mr Szyszko dismissed from him position in March, and Poland has said it will respect the court's ruling.
As the court's verdict is valid immediately, the government will have to act fast to avoid the Commission launching a legal case over non-compliance, which could result in significant fines.
The minimum penalty is €4.3 million, but usually in such cases fines are much higher.
"This is a great win for the Polish people who consider the Białowieża Forest an intrinsic part of our heritage. But the actions and legal violations that led to the ruling are an important reminder that our efforts cannot stop here. The Białowieża national park must be extended to protect one of the last natural forests in Europe," said Dariusz Gatkowski, biodiversity specialist at WWF-Poland.
"This is not the end of our fight. The ruling is just on paper for now: we need to see concrete action. First, the decisions that allowed logging must be withdrawn," said Mr Thornton.
"Then, the Polish government should also consider enlarging the national park so it encompasses the whole of Bialowieza Forest.
"This is the only way to guarantee that devastation of the forest will not happen again. We believe that this World Heritage site and one of the last primeval forests in Europe deserves it."
Register for free to continue reading
Registration is a free and easy way to support our truly independent journalism
By registering, you will also enjoy limited access to Premium articles, exclusive newsletters, commenting, and virtual events with our leading journalists
Already have an account? sign in
Register for free to continue reading
Registration is a free and easy way to support our truly independent journalism
By registering, you will also enjoy limited access to Premium articles, exclusive newsletters, commenting, and virtual events with our leading journalists
Already have an account? sign in
Join our new commenting forum
Join thought-provoking conversations, follow other Independent readers and see their replies