Hungry polar bears invade Russian town for food because no longer enough ice for them to travel further north to hunt
Special buses taking children back and forth from school and public events cancelled
Zoe Tidman
Saturday 07 December 2019 13:50 Comments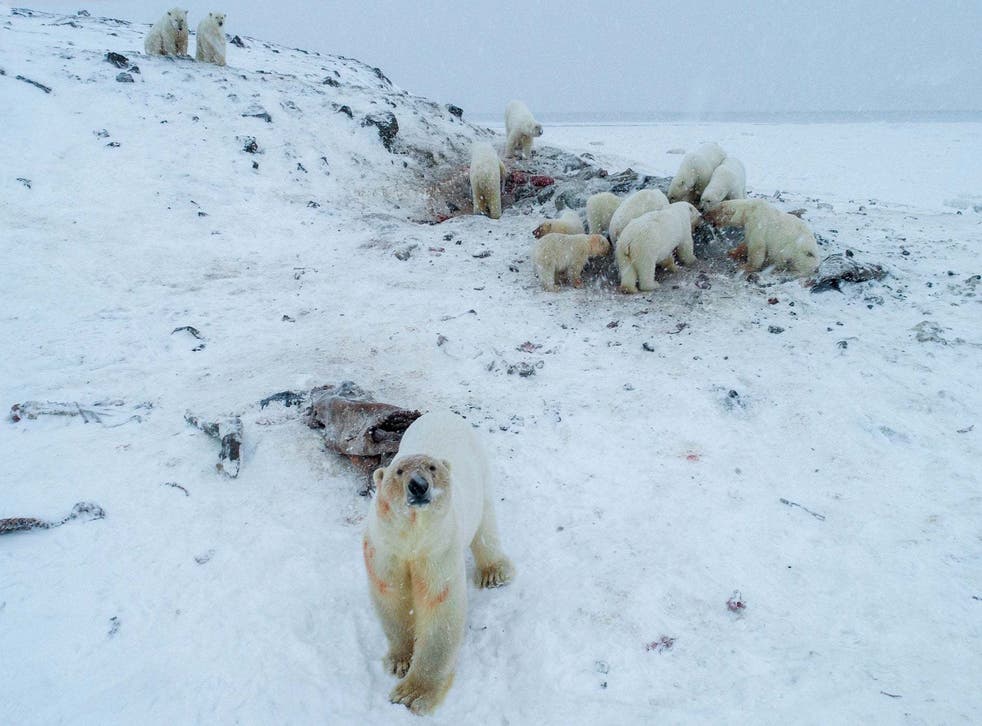 A Russian village is on high alert over fears of a polar bear "invasion", according to a conservationist group.
The region's branch of World Wide Fund for Nature (WWF) said more than 50 bears are roaming the shore on the lookout for food near Ryrkaypiy in northeast Russia.
"Polar bear patrol" officers are working to keep the animals outside the village and are standing guard near schools, WWF Russia said.
Inspections are reportedly being carried out on snowmobiles and all public events have been cancelled during the "bear invasion" in the Chukotka region.
The organisation said special buses are also taking children back and forth from school.
Polar bear cub and mother pictured together for the first time

Show all 9
WWF polar bear patrol reportedly counted 56 bears on a small area of shore near the village.
The animals usually live on Cape Schmidt, around 2km from Ryrkaypiy, according to the BBC.
Areas are losing sea ice due to climate change, forcing animals to go on land to find food in the Arctic, according to WWF Russia.
Mikhail Stishov, its Arctic biodiversity projects coordinator, said: "If there is enough ice, the bears would go further north to hunt the seals.
"Until the ice is thick enough, they will stay ashore and can visit the village due to curiosity and hunger."
Tatyana Minenko, the head of bear patrol on Ryrkaypiy said "almost all" of the bears look "thin".
Rod Downie, WWF's chief polar adviser said: "Climate change is causing Arctic sea ice to thaw earlier in the year and freeze later, which means polar bears are spending longer onshore, where they stray into villages, attracted by the smell of food."
He said: "These conflicts are becoming commonplace and the only long-term solution is to halt the climate crisis."
Last week, Anatoly Kochnev ​from the Institute of Biological Problems of the North told Tass news agency he believed Rykaypiy should be evacuated because of the threat posed by polar bears.
Russian villagers have come face to face with the Arctic creatures before.
In February, a region declared a state of emergency after more than 50 polar bears reportedly stormed houses and offices.
Some animals even attacked residents on the Novaya Zemlya islands, according to an official.
Register for free to continue reading
Registration is a free and easy way to support our truly independent journalism
By registering, you will also enjoy limited access to Premium articles, exclusive newsletters, commenting, and virtual events with our leading journalists
Already have an account? sign in
Join our new commenting forum
Join thought-provoking conversations, follow other Independent readers and see their replies